The Diesel Page
---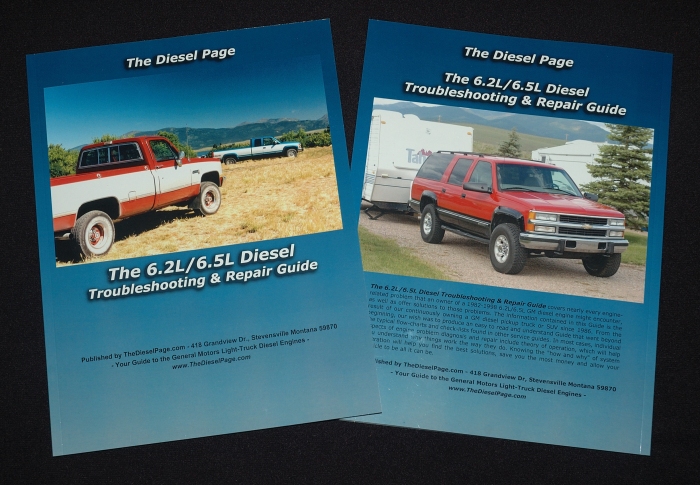 The 6.2L/6.5L Diesel
Troubleshooting & Repair Guide

---
New Sixth Edition!
Introduction:
The concepts, procedures and methods contained in The 6.2L/6.5L Diesel Troubleshooting & Repair Guide are original to The Diesel Page. Through the years, we've invested considerable time, effort and money doing research that helped us find solutions to all of the common and sometimes not so common 6.2L/6.5L diesel engine-related problems. This research included discussing GM diesel service issues with the diesel engineers at GM Powertrain and at GM's Romulus Engineering Center. In addition, some of the recommendations found in this Guide, about the cast-iron components of these engines, were the result of spending time in engine remanufacturing facilities. We also toured the AM General/GEP 6.5L diesel engine manufacturing plant in Franklin, Ohio multiple times to learn how these engines were originally assembled and tested, and the TDP has freely answered many tens of thousands of technical and troubleshooting questions from as many 6.2L/6.5L diesel owners. Lastly, we also provided valuable HMMWV tech support for the U.S. Military following 9/11. From all of this we developed the best solutions to 6.2L/6.5L diesel engine problems.
But, equally important to TDP's qualifications is our continuous first-hand ownership experience with these engines going back to 1986. All of this information resulted in an essential Guide that is both easy to read and easy to understand. In most cases, individual aspects of engine problem diagnosis include theory of operation, which will help you understand why things work the way they do. Knowing the "how and why" of system operation will help a diesel owner analyze individual problems and help provide a more long-term solution. Our mission here at The Diesel Page has always been to expand the knowledge base for these engines and to improve ownership satisfaction. What you'll find here are time-tested and proven methods, techniques and strategies that will improve the 1982 to 2000+ model year 6.2L/6.5L diesel engines.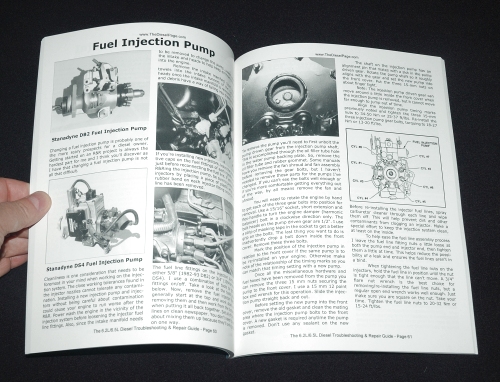 The 6.2L/6.5L Diesel Troubleshooting & Repair Guide: This brand new sixth edition includes glossy full-color photo-quality front and back covers (actual front/back covers shown above), along with a completely updated, reformatted and revised interior that includes 98 glossy B/W pages filled with 147 updated photos and graphics.
This beautifully printed and perfectly bound full-size 8-½" x 11" guide covers two major areas - Troubleshooting & Repair. We've performed nearly every conceivable maintenance operation involving these engines many times and have learned what it takes to produce a long-lasting and reliable repair. This Guide will show you parts of your engine you've probably never seen, and it will explain many innovative and money saving maintenance procedures not discussed in any other manual of this kind. You'll learn what recommended sealants are required and how to apply them, what tools are required and how to use them, what fastener torque values are required and in what sequence they need to be tightened. The procedures and recommendations found in this Guide are the result of knowing with certainty what works and what doesn't. We don't sell any of the products discussed in this Guide nor were we paid to include any product discussion, so you know you're getting only the best and most unbiased information.
Troubleshooting:
No Start

Hard Starting

Rough Running

Excessive Black Smoke

Excessive White Smoke

Engine Stalls

Low Power

Low Fuel Mileage

Coolant Leakage

Excessive Oil Consumption

Unusual Engine Sounds and Vibration

1982-84 Glow Systems

1985-93 Glow Systems

1994+ Glow Systems

Overheating

Surviving a Trip to the Mechanic

The Removal & Replacement section contains removal and replacement information for most diesel and mechanical systems that bolt to the 1982 6.2L to 2000 model year 6.5L shortblock. This Guide is different from most other maintenance manuals covering this subject in that not only will you find the specific information you need to do the work, but we'll also explain why some of the procedures and techniques are necessary, which can help you to produce a longer-lasting repair.
Removal & Replacement
Starter
Flywheel & Flexplates
Intake & Exhaust Manifolds
Fuel Injectors
Fuel Injection Pump
Water Pump
Fuel Lift Pump (both electric and mechanical)
Vacuum Pump
Glow Plugs
Cylinder Head Gaskets
6.2 Rear Main Seal
Timing Set & Aluminum Front Timing Cover
Coolant Crossover Housing & Thermostat(s)
Fuel Filters (82-99)
GM Diesel Parts Suppliers
Bolt Torque Specifications
Diagnostic Trouble Codes
---
Click this link to see what others have said about our books and guides. The 6.2L/6.5L Troubleshooting & Repair Guide was our very first publication, and it has always been popular with diesel owners - and for good reason. We've been doing this longer than anyone, and we're the best. This revised and updated 2018 edition is visually stunning while remaining vitally important, and is a "must have" for any 6.2L/6.5L owner. Every single 6.2L and 6.5L book we offer is each a tremendous value, but if you can afford only one, this is it.
To get your copy of the latest 6.2L/6.5L Troubleshooting & Repair Guide, please visit our secure on-line form or call to place your order - $29.95 + $8.40 USPS Priority mail (additional mailing costs for non - U.S. addresses). Please note: up to 3 books can be shipped for a single shipping fee.
---
More Great Books From The Diesel Page
---
Thank you for helping to support The Diesel Page.
---
TheDieselPage.com
What's New: | Feature Articles: | Product Reviews: | Member's Area:
Join Us: | Duramax Diesel Page: | Advertisers: | Classified Ads: | Books:

Send e-mail to: turbo@TheDieselPage.com
Copyright © 1996-2022 by The Diesel Page
www.TheDieselPage.com