The Diesel Page
---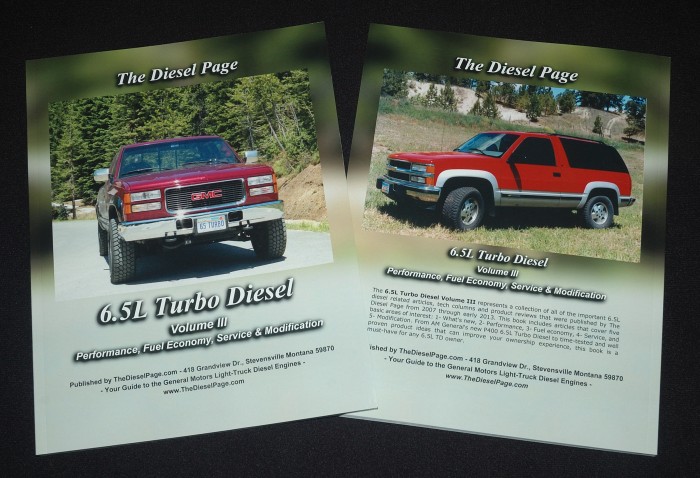 6.5L Turbo Diesel
Volume III
Performance, Fuel Economy, Service & Modification
---
New Second Edition!
Introduction:
The 6.5L Turbo Diesel Volume III represents a collection of all of the important 6.5L diesel related articles, tech columns and product reviews that were published by The Diesel Page from 2007 through early 2013. Our mission here at The Diesel Page has always been to expand the knowledge base for these engines and to improve ownership satisfaction. What you'll find here are time-tested and proven methods, techniques and strategies that will improve the 1992 to 2000 model year 6.5L Turbo Diesel.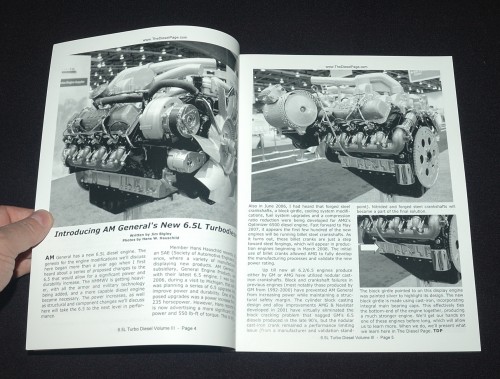 6.5L Turbo Diesel Volume III - This latest Second Edition now includes glossy full-color photo-quality front and back covers (actual front/back covers shown above), along with a completely updated, reformatted and revised interior that includes 132 glossy B/W pages filled with 264 updated photos and graphics.
This beautifully printed and perfectly bound full-size 8-½" x 11" volume includes articles that cover five basic areas of interest: 1- What's new, 2- Performance, 3- Fuel economy, 4- Service, and 5- Modification. Improving performance, saving money by increasing fuel economy, demonstrating the best service procedures and knowing what modifications improve your truck are all vital, and we strive to help 6.5L diesel owners achieve the very best results. We don't sell any of the products discussed in this volume nor were we paid to include any product discussion, so you know you're getting the best and most unbiased information possible.
The 6.5L Turbo Diesel Volume III begins with an introduction of AM General's P400 6.5L diesel engine, which significantly improved both performance and durability when compared to all earlier engines. This is how the 6.5 should have been designed from the start. Next, we discuss performance topics that let you know what's possible and describe how to get there with a different turbocharger. Fuel economy is always a hot topic, and the related articles included here present all we know about saving money by improving fuel economy. The service portion of this book includes an in-depth discussion about the more common diagnostic trouble codes that owners of an electronic 6.5 might encounter, and we give you the important information that will help you deal with the problem. Learning more about diagnostics helps you save money on service. And, we venture into topics usually reserved for engine rebuilding. Whether you do none, some or all of the work yourself, the information presented here will help you get a better result, and allow you to save money at the same time. And finally, we're including some time-tested and well proven product ideas that can improve your ownership experience. Please review the table of contents appearing below to learn more about what each article includes.
All of us here at The Diesel Page hope you enjoy this book, and perhaps more importantly, we hope you learn how to improve your 6.5 in any or all areas you feel your truck or Suburban needs improvement in. Your success is our success. TDP
To get your copy of the latest 6.5L Turbo Diesel Volume III, please visit our secure on-line form or call to place your order - $26.95 + $8.40 USPS Priority mail (shipping extra for non - U.S. addresses). Please note: up to 3 books can be shipped for a single shipping fee.
---
Contents:

Introducing AM General's New 6.5L Turbodiesel


AM General released its latest P400 6.5L diesel engine to the public in early 2008. The genesis for the engine modifications we'll discuss here began a couple of years earlier when I first heard about a series of proposed changes to the 6.5 that would allow for a significant power and durability increase. The HMMWV was getting heavier, with all the armor and military technology being added, and a more capable diesel engine became ever more necessary. The power increases, as well as the structural and component changes we'll discuss here allow the 6.5 to reach the next level in performance.



AM General's New P400 6.5L Turbo Diesel


The redesigned AM General P400 6.5L Turbo Diesel is without a doubt the best production 6.5L diesel engine ever produced. Member Mike Robertson bought one of first ones, and installed this engine in his 1993 Chevy K3500. Though this engine was designed for the military's HMMWV, we'll show you what modifications were required to install the engine in a pickup truck, and we'll show you the dyno data that demonstrates the performance improvement after recalibrating the factory fuel injection system.



Optimizer 6500
Diesel Power for AM General's HMMWV


Since the early 1980s, AM General's High Mobility, Multi-purpose Wheeled Vehicle (HMMWV) has been powered by the Detroit Diesel designed GM 6.2L & 6.5L diesel engines. GM's production capacity, overall low cost and adequate performance made the original GM engines a natural choice for AMG's front-line military rig. Many evolutionary changes were made to this engine family through the years, but one significant improvement occurred in November 2001. AM General assumed control of engine production in 2000, and immediately began making plans to improve the durability and performance of the 6.5L Turbo Diesel engine, which they called the Optimizer 6500. This engine remained in production through 2007 before being replaced by the newest 6.5, the P400. In addition to showing you the Optimizer 6500, we'll also take you on a guided tour of the AM General HMMWV production facility located in Mishawaka, Indiana.



AM General's 6.5L Diesel Engine
Identifying Genuine AMG Cylinder Blocks


I guess it was only a matter of time. The rising popularity of diesel pickups since 2001 has created many new market opportunities for both manufacturers and aftermarket vendors. Even the 6.5L diesel has seen its popularity increase among both diesel owners and the aftermarket. This rising popularity is mostly positive, but it does have a darker side - counterfeiting... We'll show you how to identify the "real deal".



6.5 Dyno Data
What's the real story?


Knowing what to expect when buying performance products for your 6.5L Turbo Diesel should be a part of your shopping experience, and advertised power gains should be reflected by those seen during real-world tests. Though individual trucks and powertrains can produce some variability in the power they produce with a particular choice in performance programming or modification, the averages should reflect reality. The author has seen the dyno results for hundreds of 6.5L Turbo Diesels. Those who have followed The Diesel Page through the years have undoubtedly noticed that we include actual dyno data whenever possible in the articles we publish - to prove what we're saying. The information in this article is here to provide a historical perspective on 6.5L power going all the way back to 1997 (yes, we've been doing this for a long time), and to provide a reality check.



Performance Turbochargers
for the 6.5L Turbo Diesel


To take the 6.5L Turbo Diesel to the next level of performance, we have to consider using another turbocharger. The factory GM-series of turbochargers are very good at helping the 6.5L diesel produce excellent low to mid-range performance, but the factory turbocharger becomes a hindrance when adding power. The Diesel Page has been promoting aftermarket turbochargers for the 6.5L diesel since the 90's, and we dug deep into turbocharger theory with a comprehensive article now available in our 6.5L Turbo Diesel Volume I that laid out what these engines require in terms of air flow across the RPM range. Analyzing the compressor maps clearly showed that the factory turbochargers were a limiting factor in producing power, especially at higher engine RPMs. What turbocharger options are available to 6.5L TD owners looking for better performance? This article answers that question.



6.5L Turbo Diesel
HX-35W Turbocharger Installation


The Holset HX-35W has been discussed here in The Diesel Page as an alternative to the factory GM-series of turbochargers - for the performance oriented 6.5 owner. Member Jerry Giedeman dropped by recently to show me his 1994 light-duty K2500, and discuss a few of his engine mods. Included among those modifications was the installation of an HX-35W turbocharger. Follow along as we show you Jerry's turbo setup and explain how it was integrated into his overall 6.5L performance goals.



300+ Rear Wheel Horsepower
13-Second 6.5TD Race Truck


Since 2001, most or nearly all of the GM diesel performance news has been about the Duramax. The 6.5L diesel engine may not have been designed to compete at the race track, but we know it has a whole lot more potential than many believe. Just as in the world of competitive auto or motorcycle racing, track events are an excellent venue to force the evolution of engines and performance products. Some of these developments trickle-down to the typical vehicle owner who is simply looking for perhaps a modest bump in performance or to improve reliability and longevity. Here's a good-news story about 6.5L Turbo Diesel performance that includes an in-depth look at what it takes to run the 1/4-mile in the 13s.



DIY 6.5TD Charge Air Cooler
Cooler Boost for less than $400!


The stock GM 6.5L Turbo Diesel does a fine job for everyday driving, but less so for heavy towing. Many of us begin the modification cycle with a performance exhaust system and an electronic upgrade. If you tow heavy, you'll soon discover that these two initial upgrades help, but your 6.5 still doesn't quite reach your performance goals. High EGT (exhaust gas temperature) can be a problem, which usually appears while towing heavy on most grades. A charge air cooler (aka intercooler) should be considered an important component in a diesel power package, which helps to provide the cooler and denser air necessary to burn the fuel (more power) while helping to keep EGT within safe limits.



Adjustable Turbo Wastegate Actuator
for the 1992-95 6.5L Turbo Diesels


Everyone can appreciate a good deal, an inexpensive upgrade or a quick fix. Making the factory GM 1992-93 turbo wastegate actuator adjustable is all these, plus it'll allow your 6.5 to produce more power. The modified factory GM turbocharger wastegate actuator shown here will fit all of the GM factory turbos produced from 1992 to 1995, and its adjustability can be used to produce an increase in boost pressure. Before showing you how to modify the factory actuator, let's look at what the turbocharger wastegate does and how it does it.



6.5L Turbo Diesel Fuel Injection Tech
Marine vs. On-Road


A lot has been said in recent years about using marine fuel injection system components for an on-road 6.5L turbo diesel application. For those who may not know, connecting the word "marine" with the GM 6.5L diesel began with the development efforts at Peninsular Diesel. Specially calibrated marine fuel injectors, marine fuel injection pump calibrations and marine oriented turbochargers all came from the "boat" point of view at Peninsular. A marine 6.5L diesel must be equipped to cruise at approximately 2600-2800 RPM for extended periods of time, and make efficient power at those engine speeds. Not coincidentally, Peninsular's marine 6.5L turbo diesels produce maximum torque and deliver an efficient fuel consumption rate at that same RPM range. It's all about the torque peak... To work with the marine paradigm in engine speeds, the fuel injection system must meet the needs of the engine RPM (and of course, meet the expectations of the boat owners). Here's what we know about marine 6.5L fuel injectors and marine fuel injection pumps.



18 to 1 Compression Ratio
Improving 6.5L Durability


An update: The 18:1 Peninsular pistons were incorporated into our project 6.5TD engine build in late 1998. The advantage of a lower compression ratio (in the context of the project engine) is that a lower CR allows for more boost. More boost allows for more fuel, which means the engine will make more power, while a lower CR helps maintain reasonable combustion temperatures & pressures. The folks at Peninsular Diesel told me they use a lower CR for the durability advantage - as important for an on-road 6.5L diesel as it is for a marine 6.5L diesel.



Brake Specific Fuel Consumption
Power, Load & RPM
How these factors affect diesel fuel economy.


We here at The Diesel Page have been telling folks for years that, in general, a diesel engine produces its best fuel economy when run at or near the RPM that coincides with its torque peak. In June 2006, we actually dyno tested a new 6.5L fuel economy engine while using Peninsular Diesel's calibrated fuel metering and engine dynamometer system, in hopes of confirming that fact. What did we discover?



6.2L/6.5L Diesel Fuel Economy
Cylinder Heads & Ricardo Comet


Following hurricane Katrina in 2005 and the big petroleum price increases that appeared in 2008, GM diesel owners became increasingly concerned about the $3.00 and eventually $5.00 per gallon diesel fuel. In an effort to help owners better understand the 6.2L/6.5L engine design and to illustrate ways to improve fuel economy, we discuss cylinder head and pre-cup design to show how you can squeeze even more fuel economy from your GM diesel.



Maximizing Fuel Economy
Top Ten Proven Ways to Stretch Your Diesel Dollars.


We've always been concerned about fuel economy. That's why many diesel owners bought a diesel in the first place, and is precisely why I bought a 6.2L diesel powered GMC K1500 in the 1980s. Compared to today, fuel was relatively cheap back in the day, but nearly everyone was still concerned about the cost of fuel. During that time period, most of my friends and family urged me to drive whenever we traveled together because of the tremendous fuel economy advantage that my 6.2L diesel produced. Beginning in 2001, fuel costs began a surge upward, pushed higher by the war on terror, then hurricane Katrina, the falling dollar and tightening supplies of world petroleum. Where we once saw diesel fuel at less than $1.30/gallon in the mid 90's, by 2008 we were seeing a painful $4.30 or higher. Since 2008, diesel fuel cost has risen and fallen. What we hope to do here is illustrate the most effective powertrain management strategies and truck modifications that can help improve fuel economy and save you money.



Diesel Fuel Additives
What to use and when to use it.


Diesel fuel additives - are they recommended, are they necessary or should they be avoided? The answer depends on the product and who you talk to. The oil companies, most Diesel Fuel Injection Equipment (DFIE) and vehicle manufacturers agree that if the diesel fuel you're using meets the current industry standard of ASTM (American Society for Testing and Materials) D-975 & D-6079, no additional fuel treatment is necessary. That's the qualifier - if. However, there is a significant interest in fuel additives among diesel pickup owners - with concern over fuel lubricity at the top of the list. The multi-thousand dollar replacement cost for today's fuel injection systems and the concern over the new Ultra-Low Sulfur Diesel fuel are prime motivators.



Save Diesel!
GM's Locking Diesel Fuel Cap


All those who haven't been living under a rock have probably noticed that the cost of diesel fuel has risen to the "Arm & Leg" level at your neighborhood fuel station. You have to know that the "five finger discounters" have also noticed. Save money on your fuel costs by buying a genuine diesel locking fuel cap directly from your local GM dealer for about $18.



6.2L/6.5L AERA Technical Bulletin Tech


The roots of the Automotive Engine Rebuilders Association (www.aera.org) go all the way back to 1922. With thousands of members worldwide, the AERA has focused on member service through its publications, the web and in meetings and seminars. Networking on a professional level allows its members access to the best and most up-to-date engine service information, which can result in the best overall vehicle owner satisfaction. Diesel engines have always been a part of the AERA's program, and some of the best 6.2/6.5 problem-solving information originated with the large network of AERA member techs. I first became aware of the value of the AERA when rebuilding my first 6.2L diesel engine. Here's a run-down on a selection of 6.2/6.5 related bulletins that we've often referred to here in The Diesel Page.



1996-99 6.5L Diesel Fuel Lift Pump Circuit


A member and owner of a 1998 6.5TD called recently with a fuel lift pump problem that was a bit confusing. He reported that he had recently replaced the lift pump and the oil pressure switch, but the pump would not function. Hmmm... So, I dug out the schematics and we discussed over the phone how the lift pump circuit should function in the 1996+ GM trucks. Here are the results of our discussion.



6.5L Diesel Diagnostic Trouble Codes
DTC-36/P1217


Two of the most common trouble codes produced by the DS4 electronic fuel injection pump are a result of either a fuel solenoid response time short or long. While the troublesome electronic Fuel Solenoid Driver module usually winds up being the cause of a short response time, a problem with the mechanical fuel solenoid components inside the injection pump are the usual cause of a long response time. What we'll do here is look at those fuel solenoid components, explain how they operate and describe how to improve reliability.



6.5L Diesel Diagnostic Trouble Codes
DTC-13/P0215/P0219


The Engine Shut-Off (ESO) solenoid has long been thought to be a potential cause for an engine stalling problem or any sort of intermittent engine running condition. While a failing ESO remains a potential cause for these conditions, it is not the most likely. This DTC update will discuss the ESO and we'll explain how to troubleshoot an ESO related failure.



6.5 Turbo Diesel Accelerator Pedal Position Module
Tech & Troubleshooting


Beginning in the 1994 model-year, the GM 6.5L diesels began using the "drive-by-wire" Stanadyne DS4 electronic fuel injection system. While it may appear to be a problematic engine control system component, the Accelerator Pedal Position (APP) module has performed reliably through the years. However, the first electronic 6.5 appeared in late 1993, so learning how to troubleshoot a problem related to the APP could save you a lot of money.



6.5L Turbo Diesel
DTC-34/P0216- Injection Timing Control Circuit
DTC-18/P0251 Injection Pump Cam System
DTC-88/P1214 - Injection Pump Timing Offset


The 1994 and newer electronic 6.5L diesel PCM (Powertrain Control Module) has the ability to control fuel injection timing, depending on a variety of conditions and sensor inputs. This DTC discussion will hit the high points for DTC-34/P0216, DTC-88/P1214 and DTC-18/P0251, the titles for which are indicated above. A correct fuel injection timing is critical for performance, drive-ability and fuel economy. These codes do not necessarily mean an expensive repair, if you are equipped to resolve the problem yourself. Knowing what these codes mean and knowing how to effectively diagnose the cause of a fuel injection system generating these codes could save to a lot of time and money.



Replacing a 6.5L Diesel with a 6.2L Diesel
What's Involved?


It's entirely possible to replace an ailing 6.5 with a good running 6.2, but there are a few "need to know" details that will make the swap easier and perform more reliably. The 6.2 and 6.5 share the very same basic architecture and accessory mount requirements. This means that, other than a few details discussed here, you will be able to replace any model year 6.5 with any model year 6.2. The military application for these engines have created opportunities to acquire a replacement engine without spending a lot of money, which has increased the interest level in swapping a 6.2 in place of a 6.5. Let's show you how it's done.



1996-2000 6.5L Turbo Diesel Mechanical Fuel Injection Conversion


An opportunity presented itself recently to learn more about a mechanical fuel injection conversion in a 1996 6.5TD Chevrolet K3500. A local shop bought a really nice black 1996 crew cab dually, that was already equipped with a cowl induction hood, Alcoa aluminum wheels and a high-end aluminum flat bed. The DS4 electronic fuel injection system had become so unreliable that the original owner sold the truck for an unbelievably low price. Because this truck was equipped with the NV4500 5-speed manual transmission, the new owner wanted to convert the fuel system to mechanical fuel injection. This is not an in-depth step-by-step how-to guide, but rather a discussion that includes information for how to work through the harder-to-do aspects of an electronic to mechanical fuel injection system conversion.



6.2L/6.5L Diesel Crankcase Depression Regulator


The Crankcase Depression Regulator (CDR) has been a part of the 6.2/6.5 diesel emissions system since the first 6.2L diesel equipped truck rolled off the assembly lines in the fall of 1981. The CDR's primary purpose is to maintain something less than 5" of water vacuum within the crankcase. It does this by incorporating a spring and diaphragm that can modulate the air flow path between the engine's crankcase and air intake system. A slight negative pressure within the engine's crankcase also helps in preventing oil leaks. We sacrificed a perfectly serviceable CDR by cutting it apart to have a look inside, and to show you how it operates.



Grease
Eleven Steps to Success


These GM trucks have eleven grease fittings on the front-end. GM recommends greasing these eleven fittings at every oil change, which can vary from 3,000 miles to 7,500 miles, depending on how the truck is used and under what conditions. What we'll do here is suggest a type of grease and grease gun, and show you where all of the fittings are and how to grease them.



Battery Service
Power Starts Here


Own a vehicle long enough and you'll eventually have to replace the batteries. They don't last forever, and diesels demand more from the batteries when compared to vehicles equipped with a gas engine. All GM 6.2/6.5/6.6 diesels came from the factory with two hi-capacity automotive batteries, wired in parallel to double the amperage capacity. This higher capacity is necessary because the 6.2L/6.5L glow plug systems add to the load on the batteries during a cold start. And, these diesels are high compression ignition engines that require more power to crank. The combustion heat generated during the compression stroke is what ignites the diesel fuel, and a faster cranking speed increases that heat. Knowing this, it's no surprise that diesels start easier with a faster cranking speed. Let's have a look at the choices we diesel owners need to consider when buying a replacement set of batteries and look at how to prolong the life of the batteries we already own.



Peninsular Diesel's Variable Time-Delay Glow Plug Controller


Peninsular Diesel's glow plug controller is a great addition to any 6.2/6.5 diesel vehicle. The kit includes the timer/controller, a solenoid, and a 2-position switch. The 2-position switch can be used to turn the system ON or can be used as a momentary-ON, which allows you to power the glow plugs for as long as the switch is held. Adjustability is a key feature - longer glow times can be dialed-in during the winter months, and then reduced once warmer temperatures arrive. The current AC-60G glow plugs or other PTC (Positive Temperature Coefficient) glow plugs are a must. GM's early style glow plugs could burn out with extended glow cycles.



Diesel-Rated Motor Oil
Synthetic/Conventional - Which is Best?
Important Facts About Motor Oil


The question of whether we should be using synthetic diesel motor oil in our GM diesel engines has been a popular subject for a long time. Synthetic oil has some definite advantages over the available conventional motor oils, but are there any measurable benefits that justify the added expense? Let's answer that question.



Stanadyne's New "Bullet-Proof" PMD
New & Improved Pump Mounted Driver


Arriving at GM dealerships in the fall of 1993, the newest 1994 model-year 6.5L diesels were equipped with the much-touted and not-quite-ready-for-primetime Stanadyne DS4 drive-by-wire electronic fuel injection pump. While GM may have wished it turned out differently, the 1994 6.5L turbo diesels went on to become the most unreliable of all model-year 6.5 GM diesels. Owners loved their 1992-93 mechanically injected diesels, but this new all-electronic engine soon developed a less than stellar reputation - all because of the new DS4 electronic fuel injection pump and related support system. If any group disliked the EFI 6.5 more, it was the dealer technicians. A bit late to the party, but Stanadyne released a new and updated electronic driver module in 2009 that was advertised as a "bullet-proof" cure. Bold talk, to be sure... Stanadyne canceled a plan to advertise here in The Diesel Page because of this article. Let's find out why.



A Look At 6.5L Diesel Piston Clearance


Here at The Diesel Page we've not gone into much detail about engine rebuilding because the required knowledge and access to specialized equipment are beyond most of us. We've recommended you locate a local engine rebuilding center near where you live, and use them to do your diesel engine rebuilding for you. Being local allows better communication between yourself and them, and they may be more conscientious in trying to satisfy a local customer. However, it appears more individuals nowadays are getting into the rebuild process - some to save money and some to get a better result. Saving money and getting a better engine are good things. Engine rebuilding is a pretty complex process, and correct piston clearance is vital to success. Let's talk about piston fit.



Measuring & Fitting 6.5L Diesel Pistons
Getting the Proper Fit


I mentioned in an earlier article that precision engine work and assembly requires a certain level of knowledge, skill and ability. I was reminded of that about a week ago during an initial attempt to measure pistons and bores. That was just a first look intended to get some idea whether the pistons and bores were close to specification, and to provide an opportunity to get acquainted with the new-to-me micrometers and dial bore gage. Unfortunately, I made a number of mistakes in interpreting the readings, which lead me to believe the cylinder bores were approximately 50-thousandths oversize. I posted my experience in our bulletin board hoping for guidance from those who have been there and done that. My thanks to them for pointing me in the right direction. While learning how to use these tools takes time, what follows is a primer for measuring the bores & pistons.



A Look At 6.5L Diesel Piston Protrusion, Head Gaskets and More


At the time of rebuild, a percentage of 6.2/6.5 block decks must be resurfaced because of wear caused by the head gasket's fire ring. The removal of a few thousandths is usually enough to clean up the deck surfaces, which also produces a clean and flat surface for the new Fel-Pro gaskets to seal against. If the machine shop is doing its job, the machined surface doesn't need any further hand preparation. Otherwise, a flat sanding block and 80-grit paper can be used to carefully prep the deck surfaces when not re-machining the decks. Milling the block deck changes the piston protrusion, requiring the use of thicker head gaskets. We show you how to measure piston protrusion and how to choose the correct head gaskets.



Measuring & Fitting 6.5L Diesel Main & Rod Bearings
Getting the Proper Fit


Aside from a huge investment in precision machining equipment that your local engine rebuild shop might own, they also have years of experience that can be indispensible when rebuilding an engine. As previous articles have shown, I've delved into some aspects of engine rebuilding recently and for a variety of reasons. For one, I wanted to learn something new. And two, I wanted to show whether a typical 6.2/6.5 owner could or even should attempt an engine assembly project at home. This series of related articles discussing the assembly of a newly machined 6.5 block were not intended to provide a step-by-step guide to rebuilding an engine, but rather to hit the highlights of an engine assembly so you can better judge for yourself whether you're equipped for such an endeavor. The information contained in this series also provides essential information for which you can judge the knowledge possessed by your chosen engine rebuild shop.



AirLift Air Springs
Leveling the Load For the 1992-2008 GM Trucks & Suburbans


Like many of you who use your diesel pickup truck or Suburban to tow trailers or haul heavy loads, I use my Suburban to tow a 30 foot travel trailer that tips the scales at a hefty 8500#. Over time, this has caused the rear springs on my 3/4 ton Suburban to relax so that the rear now sits lower than the front even while unloaded. I tried compensating for this with a weight distributing hitch, but have had limited success. In addition to just looking bad, a sagging rear affects headlight aiming and steering control while towing. With models available to fit all 6.5L or Duramax powered pickup trucks and Suburbans, I eventually settled on the AirLift adjustable air springs as being the best solution to this problem. Follow along as we take you through the kit introduction, installation and show how the air springs solved the problem.



Critical Speeds & Harmonic Damping
Introducing Fluidampr's new Viscous Fluid Vibration Damper for the GM 6.2/6.5


Most 6.5L diesel owners don't give a lot of thought to the harmonic damper, but the 6.5 and indeed all diesel engines depend on their harmonic damper to produce a smoother running engine and to reduce the destructive effect of harmonic vibrations in the crankshaft. Whether due to age or accumulated mileage, more 6.5L diesel engines are suffering from crankshaft failure - some of which are undoubtedly a result of deterioration of the factory harmonic damper. Until recently, our only choice was the factory damper. Fluidampr's recent release of their viscous damper for the 6.2/6.5 changes everything. Go here to learn more about the new damper and see how to detect deterioration in your 6.5's existing damper.



Headlight & Taillight Polishing
Renewing Plastic Lenses


It seems today that vehicles are utilizing more plastic than ever before. Care of plastics presents unique challenges that many of us are not immediately accustomed to. After finishing eight years of continuous sea duty in the U.S. Navy, I decided that I would take better care of my vehicles now that I have the time. In researching ways to improve the appearance of my Suburban's taillight assemblies I turned to Griots Garage to assist in that goal.



Conventional Wisdom
Lessons learned about the 6.5L Diesel


Helping owners of these GM vehicles has been our primary focus since early 1996, and we've covered a lot of ground during this time. Based on some of the discussion topics appearing in our bulletin board and from reading the email I receive, it appears that some of what we've published about the 6.5L diesel during the early days of The Diesel Page might need to be restated for the benefit of the new 6.5 owners. The 6.5L cooling system upgrades, compression ratios, boost pressures and more are what we'll discuss this time.



More than the sum of its parts?
The Economics of Repairing/Upgrading/Customizing - an Editorial


For most people, once the cost of repair exceeds ½ the current value of that vehicle, the repair cannot be economically justified. It's time to move on. On the other hand we also know that there are considerations beyond economics, and that many GM diesel owners sometimes spend more than what the economics alone would suggest is reasonable. Let's have a look at vehicle repair and upgrade costs, and from an enthusiast's point of view, illustrate some points you may not have considered.
---
Click this link to see what others have said about our books and guides. The 6.5L Turbo Diesel Volume III was a tremendous addition to our list of publications, and it has been popular with 6.5L diesel owners since first published - and for good reason. Revised and updated in late 2018, this 2nd edition is visually stunning while remaining vitally important, and is a "must have" for any 6.5L owner.
We're often asked what book a 6.5L diesel owner should buy first. The answer depends on what is most important to them. If you're looking to improve your engine's performance, cooling efficiency or fuel economy, the 6.5L Turbo Diesel Volumes I, II & III (preferably all three) would be the best choice (please see the table of contents for each volume to see what each includes). On the other hand, if your primary interest is in solving a problem that your engine is experiencing, then The 6.2L/6.5L Diesel Troubleshooting & Repair Guide should be your first choice. That said, we believe every 6.5L diesel owner should have all four books. You'll be glad you have them.
To get your copy of the new 6.5L Turbo Diesel Volume III, please visit our secure on-line form or call to place your order - $26.95 + $8.40 USPS Priority mail (shipping extra for non - U.S. addresses). Please note: up to 3 books can be shipped for a single shipping fee.
Thank you.
---
More Great Books From TDP
---
TheDieselPage.com
What's New: | Feature Articles: | Product Reviews: | Member's Area:
Join Us: | Duramax Diesel Page: | Advertisers: | Classified Ads: | Books:

Send e-mail to: turbo@TheDieselPage.com
Copyright © 2022 by The Diesel Page
www.TheDieselPage.com