---
TheDieselPage.com
Classified Advertisements
Please visit our classified ad page in our free bulletin board forum for many more ads.
Click here.
---
If you have a diesel light-truck or SUV, or related part that you would like to sell or would like to buy, you can advertise here. Current subscribing members of The Diesel Page can advertise at no charge by sending the ad copy to turbo@TheDieselPage.com. If you aren't yet a subscribing member, you can still advertise a 20 word ad for just $1.00/month (3-month min.). No commercial classified advertising, and please limit ad size to no larger than the largest ad found here. Also, please list your location in any ad, and let us know when your ad should be removed.

Disclaimer: Buyers and sellers assume all risk. TheDieselPage.com has little or no control over any transaction occurring here. We reserve the right to edit ad copy, and remove/refuse any advertisement if another buyer or seller reports a problem. Attention sellers: Scammers working the Internet are contacting those who offer items for sale on classified ad web pages. They may offer you a certified check for more than the asking price, then ask that you send the balance to a third party. These sorts of transaction offers are all scams, as far as we know. The checks are phony. Please read this link to learn how to protect yourself from auto classified ad scams.

Click here to go to our Parts: section.
---
Diesel Trucks & SUV's
---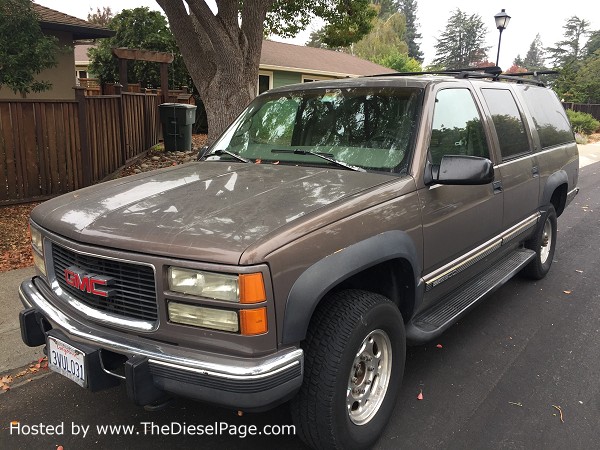 1997 GMC K2500 3/4ton Suburban LS 6.5TD TurboDiesel 4x4 : Located in SF Bay Area, willing to deliver within a 500 mile radius. Northern California car all its life, zero rust, great paint. Fastidious maintenance and upgrades. Runs Excellent. Not perfect, but very fine. Selling due to downsizing. My 3 kids are grown and gone, sniff. Has tow package with 2.5" hitch. The 2nd and 3rd row seats are perfect. The front seat covers and steering wheel cover needs to be renewed. All window motors and locks work. New a/c compressor, dryer but we found a visible hole in a hard line. I acquired this vehicle in 2002 with 65k miles. In the intervening 100k miles, it was maintained fastidiously and improved, including relocated pmd, boost&egt gauges, larger turbo downpipe installed, manual wastegate control, vacuum pump delete, Walbro lift pump with relay off OPS, (easily returned to stock) LED headlights and interior lights. Very recent Bilstein's, front rotors, calipers, hoses, master. Lots of afternoons washing and waxing. Windows, Locks, wipers, etc work. All glow plugs work, engine is fine, turbo spools predictably, 4x4 pushbutton actuators work. Asking $7000. Contact: stuart.kreitman -at- gmail.com (10/4/18)
---
1983 C20 2wd Suburban: Only 88k sm (statute miles) on this Avant- remanufactured 6.2L (or 6.5) diesel engine. You can drive it home because it's already in a 'burb. No block cracks because its seasoned and inspected before the overhaul; has main cap girders; ceramic coated pre cups and pistons; intake manifold ported to match the factory heads; matched ports; 1-dot precups for best mileage (22.3 mpg in this 'burb); larger air filter housing; burns a quart in 3.3 k miles. A donor truck is included with doors, barn doors, and hood in really good condition to sub-out on this one. Can trade/ exchange for ??? Located in CA. Asking $2,260 Contact towplane -at- gmail.com (9/26/18)
---
1999 K2500 Suburban: 4WD fully loaded except for a sunroof, 454 7.4L vortec, 4L80 transmission, 9.25 front axle and 10 1/2 rear axle/w G80 option code for the limited slip rear, 3.73 gearing. The motor puts out 300hp and 410 ft lbs torque. It has heated mirrors and seats. Front and rear A/C and heat. Third row seating and leather interior. The interior is in good shape. Asking $5500 Contact fintokz4 -at- gmail.com (12/27/17)
---
1995 K2500 Suburban: Interior and exterior are in really good shape, tires are good, transmission is 4L80E GM rebuild with 80,000 miles on it. The vehicle needs a different 6.5 engine, headgaskets are out of the original one. Too good of a truck to send to the salvage yard. My email is kccs98 -at- hotmail.com (12/14/17)
---
1984 High Sierra 2500: New batteries, new Radiator, new Fuel Pump, rebuilt heads, low mileage short block. New Banks Turbo, new exhaust front to rear. Rebuilt 700R4 4-speed automatic overdrive transmission. Body needs some attention, mostly patching I have all patch panels to repair. Interior needs headliner and seat covers. Contact email or text 423 494 7041 (Price reduced 10/23) Asking $3,000.00 (10/13/17)
---
1983 6.2L Beauville Van: original owner, 425000 miles, runs great, synthetic oil used since new. Located in Benton, LA. Email: ottohudson -at- aol.com or Call: 318-965-4757 (8/6/14)
---
2007 Chevy LT Duramax Extended Cab For Sale: Own your own locomotive! 39,950 miles. LOADED. Save thousands off new. Topper, grill guard, good rubber, steps, air, cd, airbags, power locks, new spare, power towing mirrors, power seat, hitch, xmission cooler, AM/FM CD, never wrecked never on snow, remote locks, privacy glass, back seat never sat in, extended warranty available. Call: 605 480 1125. Real cherry! Located in S.D. (12/6/13)
---
1991 V2500 Suburban for sale: I am the 2nd owner. Transmission has been rebuilt and engine built. 6.2 J code built by Diesel Depot runs PERFECT. I have had this Suburban since 90's, just don't use it. NO rust, began restoration by sanding to metal, primed, painted, clearcoated. Never buffed out. Needs bumpers re-installed(they are in the back of the burb. Grill is installed now. Needs new dash as existing dash is cracked. It's been sitting in garage for the last few years, I crank it~ weekly. Has 4L80e transmission. Truck was speced out and ordered by South FL physician. I bought it from him. I have paperwork down to the original window sticker. It hasn't been run many miles at all in last 5 years, but I would expect one could fly in and drive it home. If you are interested in a J-code great Suburban, this is it. Located in Florida. $4500.00 Email: dharrisonk -at- gmail.com (8/22/13)
---
For Sale: 1995 Mini-Bird Bluebird 16 passenger school bus. Engine is 6.5 turbo with automatic transmission. The bus has 52,000 actual miles. I don't know if it will fit other vehicles. I am asking $5,000 for the complete and running bus. I am located in Rossville, Ga. on the state line with Chattanooga, Tn. Please contact me by e-mail connie-mc -at- live.com or cell phone # 423-902-3002 (2/17/12)
---
For Sale: 1995 6.5 TD Suburban, 1500, 2 wheel drive, 256k miles, rebuilt tranny at 190k, new starter in last 10k, no rust, good tires (e rated), batteries less than 1 year old. Has dent in rear driver's side door and another in passenger side rear above tail pipe ( from blown tire). Interior is in good condition, no rips in seats, does have the typical cracks in plastic dash. Starts right up and runs good when cold. Has intermittant electronic engine control issue when hot (fast idle, or lack of top end power or unintended acceleration). Needs a/c compressor. $1800 OBO 352-694-6134 or 352-239-4304 Email: robthomson1 -at- cox.net (1/11/12)
---
For Sale:1997 6.5TD Diesel Chevrolet Suburban 4wd 1500LT heavy half ton , dark cherry and silver.Chassis has 330,000 miles on it. I had extended warrantee and a cylinder wall /coolant galvanic problem GM said was they had wrong coolant and put in New Engine at 103,000 miles. Oil n filter changed every three thousand miles....very good Goodyear all terrains...never off road....all freeway miles to Arizona...freeway to Idaho...Freeway to Florida....freeway to New Brunswick.....some times pulling a single axle Aluma with two Harleys in it. Always driven at 67 mph on cruise....20 plus mpg solid Driver side door needs hinge lock adjustment. Headlight lenses need defogging $3000.00 Bruce Harten 952 431 1123 Apple Valley Minnesota (12/5/11)
---
For Sale: 1984 2500 Sierra ( with camper shell full cord of wood ) 2 wheel drive 121,00 miles. Same family 27 years, Gale Banks shop installed turbo. 27,000 miles ago installed factory crate 6.5 engine ($14,000) also Gear Vendor 6 speed gear splitter over drive also limited-slip. Beautiful upholstery, glass, shocks, brakes all good. New tires, New radiator, NEW dual batteries. Truck has been only in AZ/CA. NO rust!! never an accident, body is ''perfect , AZ sun is working on clear coat. Looking for $ 12,500. Located in Bullhead City AZ
Email: mikemachinist -at- gmail.com (10/29/11)
---
For Sale: 1996 6.5L turbo diesel, 1500, 2dr. copper color Tahoe w/l.fr. fender damage, hit deer, 2008 miles, runs exe., interior has wear, very strong and tight SUV, 18 highway mpg, asking $6,500.00 before repair, email if serious only. Email: saw249 -at- frontier.com (7/1/11)
---
For Sale: 2005 Chevy Silverado Duramax diesel, Allison automatic, gray cloth interior, p/w, PDL, tilt, cruise, extended cab long bed 2wd 119k miles. been rolled. still starts, runs, steers, yard drives. will email pictures if interested. $4500 or best serious offer. 520-235-5347, Call and leave message or text. I only check email a couple of times a day. (6/30/11)
---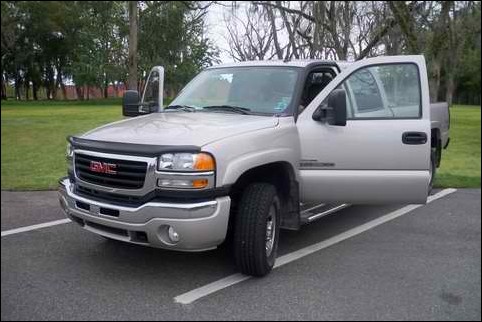 FOR SALE: 2007 GMC 3500 SIERRA SLT, CREW CAB, LONG BOX, 4 X 4. In addition to most available GM factory options this truck has LUVERNE STEPS along the front & rear entry doors and along the box, LINE-X above-the-rail spray-on BEDLINER, and K & W below-the-body GOOSE-NECK HITCH which can be converted (with adaptor purchased from K & W) to a fifth wheel hitch. It has approximately 7000 miles on new Cooper 60,000 mile tires. I purchased this truck brand new and have driven it most of its approximately 55,000 miles. It has been garaged most of the time and has had meticulous care. It still has factory drive train warranty to 100,000 miles or until late September, 2011.

The asking price: $35,900. Call: 417.699.4960, or email: shinaberyag -at- yahoo.com with questions. Serious inquiries only, please. Thank you. (4/26/11)
---
For Sale: 1990 Dodge 250 diesel. 6BT with around 150k, newer IP pump. 3 speed auto. and of course Dana 60 frt axle and Dana posi rear axle. I want to sell all or parts. The truck is in BAD SHAPE body panel wise. It runs and drives great. Tranny was rebuilt about a year ago. Thanks 360-749-0492 Longview, WA Chris (2/23/11)
---
For Sale: 2001 Silverado 2500HD/Duramax $17,500. One owner truck is in great shape for an 01.NO rust No body damage.It is an extended cab. Was ordered with the trailer towing package. Has trailer towing wireing hook up in bed and on hitch.Aftermarket mirrors with large blind spot mirror. The truck was used to haul a 5th wheel trailer for 3 years. The bed has mounting holes for a Pullrite Hitch and the brackets are still mounted on the frame. Also has Airlift Load Controller with compressor that can be adjusted from in the cab to level loads and add extra support while towing.or hauling. I also installed a BD Engine Exhaust Brake to help with braking on hills and mountains. It has a chromed stainless brush guard on the front with chromed Piaa fog lights.I have used Amsoil Synthetic oil starting with the first oil change and replaced the differential and transfercase with synthetic. I have a Hypertech towing controller that comes with it and can be used to program 3 power settings for towing. I will send pics (14) if you are interested. Email me at Dmax -at- fastmail.us (10/28/10)
---
For Sale: 1986 GMC 1500 Suburban 4x4 - $2200. 173K miles, runs well and body/interior is in fair shape. 6.2 diesel starts right up and drives down the road straight. I have a clean Texas title in hand. Looking for local cash sale in Austin. Email me with questions at phatcyclist(at)yahoo.com (10/27/10)
---
Wanted: Looking for a Fuso FG 4 X 4 class 3 truck. Just the cab and chassis. If you have something like this please contact jasondasher -at- mac.com (10/4/10)
---

---
Parts:
---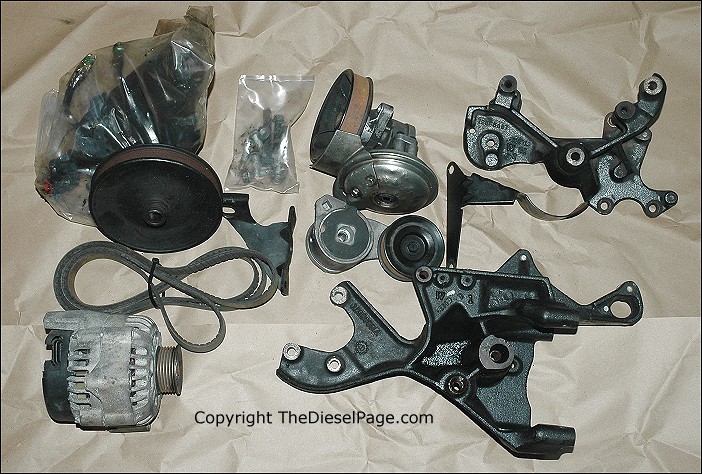 For Sale: 1996+ Serpentine Belt Drive brackets and accessories: Only those items shown are included. Vacuum pump not operational. Power steering pump, alternator, some but not all fasteners and a usable belt are included. Package will weigh approximately 60-lbs. Located in western Montana. $300.00 + UPS shipping. PayPal accepted. Email: turbo@thedieselpage.com (8/27/17)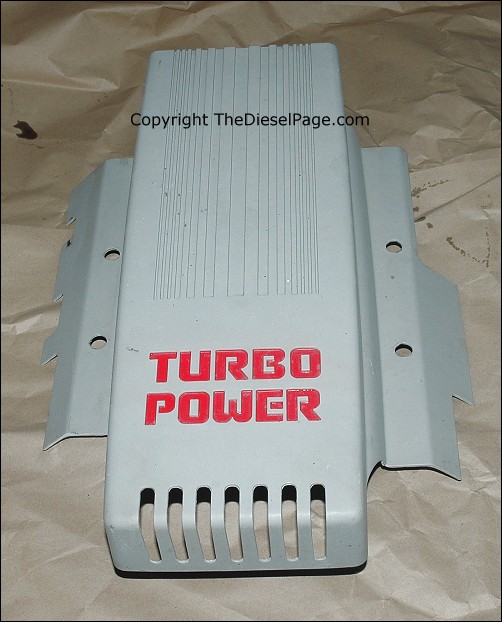 For Sale: 6.5L Turbo Diesel engine cover: No hardware included. Package will weigh approximately 5-lbs. Located in western Montana. $40.00 + UPS shipping. PayPal accepted. Email: turbo@thedieselpage.com (8/27/17)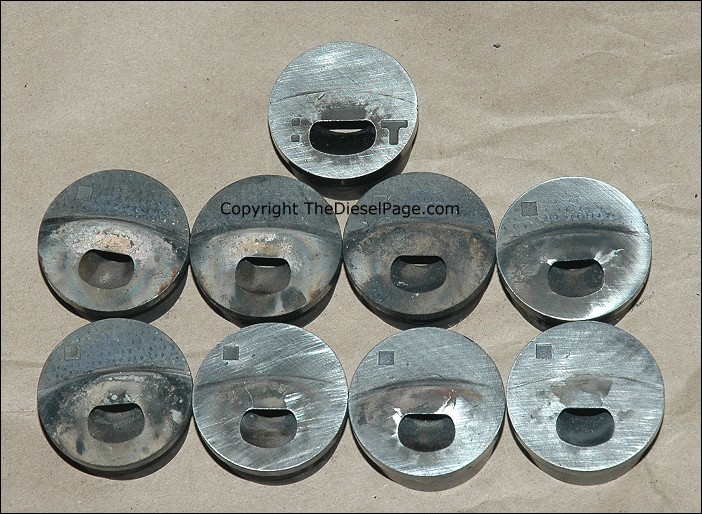 For Sale: Small port 6.5L precup set: Center top 6.5TD large port cup shown for comparison. The set of eight are the small port variety - good for fuel economy. Most cups have thermal cracks - all are within GM specs, none cross the head gasket fire ring. Package will weigh approximately 8-lbs. Located in western Montana. $60.00 + UPS shipping. PayPal accepted. Email: turbo@thedieselpage.com (8/27/17)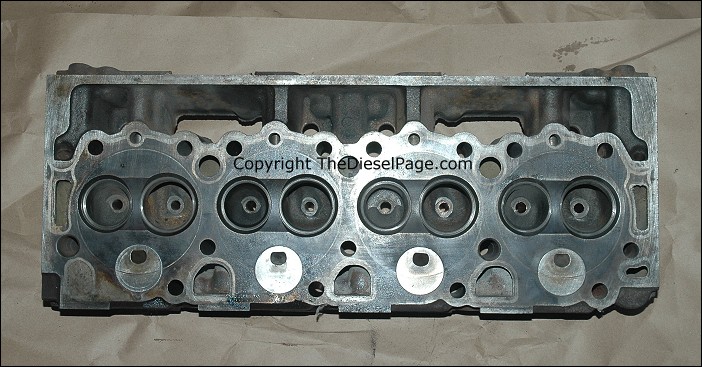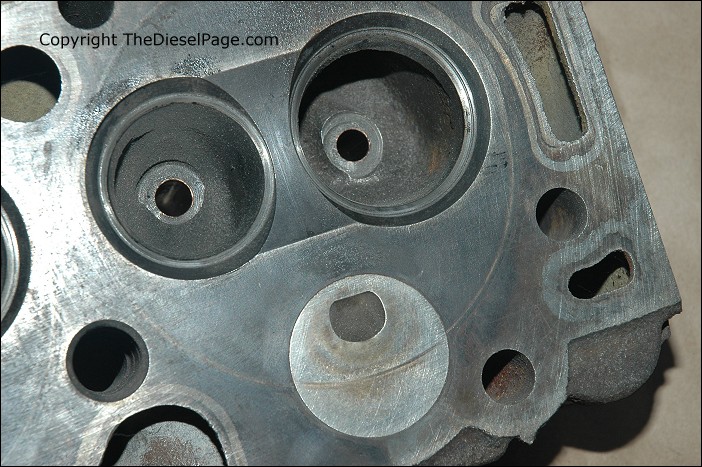 For Sale: 6.2L Diesel bare remanufactured GM cylinder head - casting number 14077162: No valves or valve hardware included. The head was produced to use 39mm exhaust valves and 46mm intake valves - the most common size valves. Already has valve guides installed and valve seats have been ground. Package will weigh approximately 60-lbs. Located in western Montana. $60.00 + UPS shipping. PayPal accepted. Email: turbo@thedieselpage.com (8/27/17)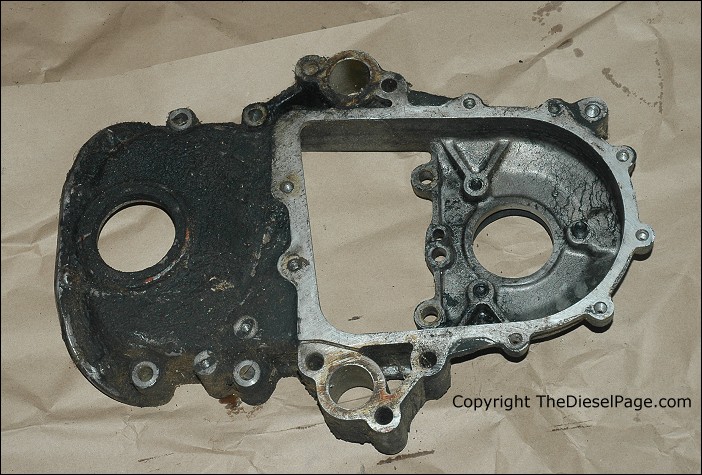 For Sale: 6.2L Diesel aluminum front timing cover: It's dirty, but perfectly OK to use once cleaned. Timing index plate is not included. Package will weigh approximately 8-lbs. Located in western Montana. $60.00 + UPS shipping. PayPal accepted. Email: turbo@thedieselpage.com (8/27/17)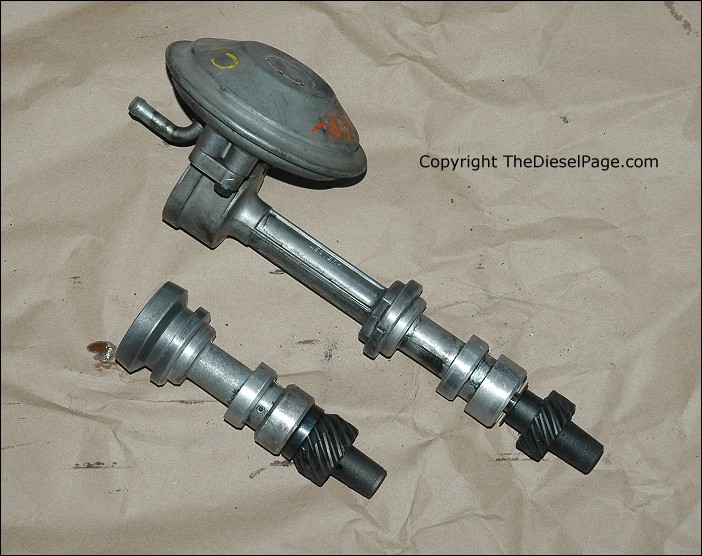 For Sale: Oil pump drive - 6.5L and 6.2L: Condition of the 6.2L vacuum pump unknown. The 6.5 oil pump drive does not include an engine speed sensor. Available separately. Each package will weigh approximately 5-lbs. Located in western Montana. $60.00 + UPS shipping for either oil pump drive. PayPal accepted. Email: turbo@thedieselpage.com (8/27/17)
---
For Sale:
6.5 DIESEL WITH INJECTOR PUMP AND CENTER MOUNT TURBO.
ENGINE STAND
2 TON SHOP CRANE
6.2 INJECTOR PUMP
5.7 INJECTOR PUMP WITH LINES
LOCATION NEW MEX
EMAIL TIGGER_6 @ BEYONDBB.COM
(11/11/12)
---
For Sale: Parts were for a 1997 Chevrolet C3500 Dually 6.5L Turbo Diesel. All Parts are Brand New in Box. Truck is gone. Parts no longer needed. Raising money/Looking for an LBZ EC/LB. Make reasonable offers.

* Delco Water Pump -- 251-590
* Delco Fan Clutch
* GM Ignition Switch -- 26061330
* Front Brake Pads -- Napa CMX-7339
* Rear Brake Shoes -- 452
* 2 -- Wheel Cylinders
* Moog Inner Tie Rods -- ES2837RL
* Moog Outer Tie Rods -- ES2836RL
* Moog Tie Rod Sleeves -- ES2004S
* Moog Pitman Arm -- K6335
* Moog Idler Arm -- K6447
* Moog Idler Arm Bracket -- K6532
* GM Universal Joints -
* Steering Wheel Position Sensor
Location - Long Island, NY. Email Billmann -at- optonline.net Billy (10/24/12)
---
For Sale: SuperChip programmer, by (Flashpaq) for the GMC / Chevy 6.6 diesels, better HP, mileage, and performance for the 2007 through 2011 model years (LMM engines). Paid: $340.00, and want to sell it for $200.00. We sold our truck, and don't need this anymore. (used only once; new condition. excellent cond.) ph: 760-247-2934 (5/21/12)
---
Wanted: Looking for several turbo 400 4wd transmission pullouts. Prefer ones out of CUCV ¾-ton Chevy, like what the military uses behind 6.2, but would consider others. Paying $200 to 250 depending on condition. Call: Johnny Green 800-551-5195 fax: 318-388-0947 (6/3/11)
---
For Sale: New Accelerator Pedal Position Sensor installed but never drove truck afterwards. Paid $463 asking $350. Can ship via USPS. It was for a 95 Chevy K2500 6.5 Turbo Diesel. Please call with any questions 267-235-6648 or email at mrr11282 at hotmail dot com (6/2/11)
---
For Sale: 1996 6.5 injection pump. 200K miles. Email: drum4iam -at- aircanopy.net, 972-816-1944... $200.00, thanks (5/31/11)
---
For Sale: 2 starters for 6.2L engine. One is new with a new solenoid, asking $125. The other is used, but works great, complete with solenoid $75. If interested or question please call 317-509-7557 (3/25/11)
---
For Sale: 2007.5-2010 Heavy Duty 2500/3500 Hood Louvers - Chrome (These will not work on 2011 models). I purchased these for my 2011 and found out that they apparently changed the size of the louver for 2011, so I'm stuck with them as a non-returnable part ordered from my dealer. I paid $265 and they were never mounted. mint condition. The decal for "Vortec" or "Duramax" is removed and replaced onto these, so they aren't included with the kit. It's a simple snap fit item. paypal or wire/deposit cash into account. $200+ your choice of shipping. cheapest is USPS $12.95 Email: sjsamaha -at- me.com (10/29/10)
---

For Sale: 164K on the engine, full tins, front timing cover, new chain set and gears, new glow plugs. Engine ran perfectly well, average blow-by for age of engine. Started pressurizing the cooling system, the rest is history. This is a "929" block. I did a short video of this motor running the day before I yanked it...you're welcome to see and hear it run. Engine is in Stratford, Ct. Best offer will take it. Winters on the way, wife doesnt like my new driveway ornament/monument! E-mail rameye -at- optonline.net (10/19/10)
---
WANTED: Oil dipstick & tube assembly 6.2J. This part was missing from a vehicle I recently purchased; CUCV Chevrolet 1985 M1008 w/6.2J engine. For those not familiar, this vehicle is comparable to the K30. Please note that according to my research, any model 6.2 LATER then 1987 or from 1990's HUMVEE's IS NOT the same assembly because the oil pans are different. Any help from the members here would be greatly appreciated. Please email: traphead -at- hotmail.com (10/9/10)
---
For Sale: Heath Diesel PMD-Isolator for 6.5 turbo diesel 4X4. This unit was installed on my 1994 Chev 6.5 TD & worked perfectly until the engine seized. Cost was $566 (inc. handling & freight) when I purchased it - still have the invoice. I am located in McMinnville, Oregon: but price includes shipping within the continental US. The unit is listed on Ebay & the transaction will be handled through that format for everyone's peace of mind. Call or email with questions: stewart -at- barefootconsulting.us / 503-857-7772 (6/1/10)
---
TheDieselPage.com
What's New: | Feature Articles: | Product Reviews: | Member's Area:
Join Us: | Duramax Diesel Page: | Advertisers: | Classified Ads: | Books:

Send e-mail to: turbo@TheDieselPage.com
Copyright © 2018 by The Diesel Page
www.TheDieselPage.com