The Diesel Page
---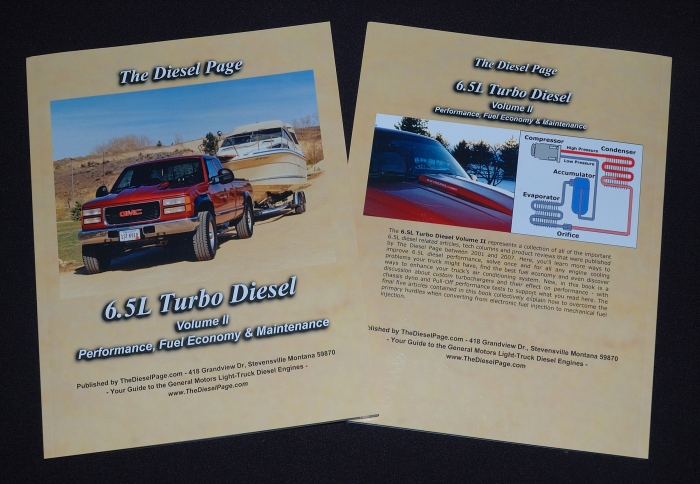 6.5L Turbo Diesel
Volume II
Performance, Fuel Economy & Maintenance
---
Introduction:
The 6.5L Turbo Diesel Volume II represents a collection of all of the important 6.5L diesel related articles, tech columns and product reviews that were published by The Diesel Page between 2001 and 2007. What you'll find here are time-tested and proven methods, techniques and strategies that will increase 6.5L TD performance, fuel economy and reliability - covering the 1992-2000 6.5L diesel equipped GM vehicles.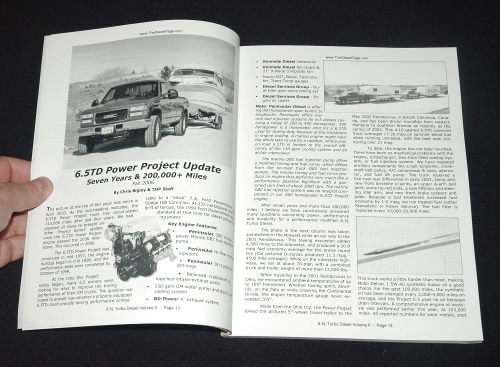 6.5L Turbo Diesel Volume II - This newest second edition includes glossy full-color photo-quality front and back covers (actual front/back covers shown above), along with a completely reformatted and revised interior that includes 39 articles in 160 glossy B/W pages filled with 291 updated photos and graphics.
This beautifully printed and perfectly bound full-size 8-½" x 11" volume includes articles that cover three important areas of interest: 1- Performance, 2- Fuel economy and 3- Maintenance. Improving performance, saving money by increasing fuel economy, and demonstrating the best service procedures are all important, and we strive to help GM 6.5L diesel owners achieve the very best results. We don't sell any of the products discussed in this volume nor were we paid to include any product discussion, so you know you're getting the best and most unbiased information possible.
Our focus here at The Diesel Page has always been to expand the knowledge base for these engines and to improve ownership satisfaction. Improving performance, fuel economy, drive-ability and reliability are all important, and we strive to help 6.5L diesel owners achieve those goals.
This book includes articles that will help the first-time buyer choose the right 6.5L diesel equipped vehicle, as well as understand the basics of diesel ownership. In addition, we have included 5 articles covering performance-built (and customized) 6.5L engines. The sky is quite literally the limit when it comes to customization and degrees of performance. We've proven the 6.5 can compare favorably to the contemporaries of the 6.5 produced some years ago. These articles contain the results of that effort.
Fuel economy has always been a hot topic among diesel owners, and fuel economy is among the top three reasons why people buy a diesel equipped vehicle even today. We've included a range of information within this book that will help you learn more about improving 6.5L fuel economy. Also included in Volume II is a discussion about custom turbochargers and their effect on performance - with chassis dyno and Pull-Off performance tests to support what you read here. Turbocharger selection has become even more important when defining the power potential of the 6.5L Turbo Diesel. We don't sell any of the products discussed in this volume nor were we paid to include any product discussion, so you know you're getting only the best and most unbiased information possible.
The final five articles contained in this book collectively explain how to overcome the primary hurdles when converting from electronic fuel injection to mechanical fuel injection. When combining this information with a set of injector fuel lines, throttle pedal assembly, throttle cable & brackets and DB2-4911 fuel injection pump, you'll be able to make the switch and perhaps improve reliability. These five articles are not a step-by-step guide to completing an electronic to mechanical fuel injection conversion, but they will provide solutions for the biggest challenges. We've been involved in several of these conversions, so we encourage you to contact us to help answer any remaining questions you might have as you work your way through a conversion. We can help you.
All of us here at The Diesel Page hope you enjoy this book, and perhaps more importantly, hope you learn how to improve your 6.5 in any or all areas you feel your truck or Suburban needs improvement in. We want to see you succeed! TDP
To get your copy of the latest 6.5L Turbo Diesel Volume II, please visit our secure on-line form or call to place your order - $26.95 + $8.40 USPS Priority mail (shipping extra for non - U.S. addresses). Please note: up to 3 books can be shipped for the single shipping fee.
---
Contents:
Buying a Used GM 6.5L Diesel
What Year 6.5 is best? What to look for?


I've answered a lot of questions through the years concerning the GM diesel engines. The hardest question goes something like this: "I'm considering buying a 199x Chevy with the 6.5L turbo diesel. I've heard some bad things about this engine, and I don't want to buy into more problems. I want a diesel, but is this a good engine?" That's a tough one. Go here for the answers.

Diesel Primer
Getting acquainted with your GM diesel.


Ok, you just bought a 6.5L turbo diesel truck or Suburban. You might be wondering what you need to know about diesel engines to get the fuel economy, power and reliability diesel engines are noted for. What you'll find here is essential information specific to GM diesel engines that could help eliminate some of the problems experienced by new diesel owners, and help you get more out of your "new" diesel engine.

DS4 Electronic Fuel Injection Pump
Warranty Replacement Policy #00064D


The DS4 electronic fuel injection pump was a near disaster for GM's 6.5L diesel. GM recognized the problem and extended the warranty for that fuel injection pump to an unprecedented length of time - 11 years or 120,000 miles (193,000 km). The 11-year time schedule began on the date when the vehicle first went into service, and could be carried forward to any subsequent owners. This tech page looks at the problem faced by owners of the electronic 6.5L diesels, and illustrates what GM did to help - an historical look-back.

6.5TD Power Project Update
Seven Years & 200,000+ Miles


As the sub-heading indicates, at the time this book was originally published, the 6.5TD Power Project truck had accumulated more than 200,000 miles in seven years. This article discusses the total engine mileage, performance issues and service history since accumulating 200,000+ miles. I think you'll be surprised.

Power by Design
Performance 6.5TD


Imagine a 6.5L Turbodiesel that incorporates just about every power product known to exist, and many more custom touches that take the electronic 6.5 to a whole new level. This story is about modifying the electronically fuel injected 6.5TD to produce huge horsepower and torque.

Electronic 6.5L TD Power Project
1995 Chevrolet Suburban LS K2500
Part I: Down, But Not Out!


This story is about a quest for more power, improved engine cooling, and increased durability for the electronic 6.5L Turbo Diesel.

Electronic 6.5L TD Power Project
Part II - Building a more durable and more powerful engine.


18:1 pistons, splayed main caps, and balancing & blueprinting allow for a more powerful and more durable 6.5L TD engine. Follow along as we show you the improvements incorporated into the engine shortblock.

Electronic 6.5L TD Power Project
Part III - Building a more durable and more powerful engine - Final Assembly.


This is the third article in a short series documenting an engine project striving for improved performance and reliability from our 1995 6.5 TD Suburban LS K2500. In a previous segment, we discussed the machining operations performed to prepare the engine block for this project as well as the mechanical configuration that was selected. This build also included 18:1 compression pistons, ARP head and main studs and a Phazer gear drive timing set. Follow along as we show you the final steps in assembling our electronic 6.5L TD Power Project engine.

Phoenix
A performance 6.5 rises from the ashes.


There were a couple other trucks that ran the hill during the Diesel Day Pull-Off, here in Montana on September 7th, 2002. A 1996 6.5TD GMC K3500 Crew Cab did a pretty fair job on the hill, managing 45-mph at the one-mile point from a dead stop on the 6% grade with a 10,000-lb trailer. Unfortunately, this level of performance came at a price. Find out what went wrong and how we built a better 6.5.

6.2/6.5 Main Cap Stud Girdle Kit


Some 6.2/6.5 engine blocks have developed cracks that originate from the outer main bearing bolt holes. The Stud Girdle Kit from Diesel Services Group was designed to help solve this problem. By joining the center three main-webs together, dynamic forces are better contained and the studs eliminate the spreading force put on the block while torquing the main cap fasteners.

The Stanadyne DS4 Electronic Fuel Injection Pump


Come with us to a Stanadyne authorized service center and learn the basics of DS4 fuel injection pump service, and see how the pumps are tested and calibrated before being sent out to a customer. This is an interesting look at the central component in the GM diesel fuel injection system.

Fuel Solenoid Driver Calibration Resistor


Back in March of 2000, The Diesel Page published a technical article showing how to produce a variable boost pressure controller for the electronically controlled 6.5TD vehicles. That same article also discussed increasing/decreasing fuel delivery of the DS4 electronic fuel injection pump by varying the FSD calibration resistor value. This new article expands on the relationship between calibration resistor values and DS4 fuel delivery. Does it actually work? More power? Improved fuel economy? You decide.

DSG 6.5TD Engine Oil Cooling Kit


Anyone who has owned a 6.5 for any length of time has had to deal with leaking engine oil cooling lines. Because of age-hardening and countless temperature cycles, all factory oil cooling lines eventually begin leaking at the hose joints. The braided stainless-steel flexible lines and leak-proof hydraulic fittings included in the DSG kit should offer a permanent solution to this age-old problem, and the new high-efficiency engine oil cooler should help to reduce oil and engine temperatures.

6.5TD Fan-Clutches
Engine Cooling Solutions


Cooling the 6.5 requires a systems approach. We've talked about the importance of a clean radiator, 130-gpm water pump/dual thermostats and other system components that improve engine cooling. One often overlooked (but equally important) component in the cooling system is the ubiquitous fan-clutch. Kennedy Diesel sent us one of their new re-calibrated 6.5 fan-clutches last summer, which is designed to engage sooner and improve engine cooling. This gave us an opportunity to evaluate the fan-clutch through an entire summer towing season and consider its effect on engine cooling.

6.5TD Cooling Solutions That Work


Cooling the 6.5 requires a look at all of the cooling system components (and some components not usually thought of) when trying to solve a temperature problem. Certainly, the fan-clutch is an extremely important part of the system, but individually and collectively, the different cooling system components we'll discuss here can and will make all the difference in helping your 6.5 keep its cool.

6.2L/6.5L Fuel Economy
Cylinder Heads & Ricardo Comet


The 6.2L diesel engine was introduced during a time when the world energy market sent fuel prices skyrocketing. While it may surprise you, gas & diesel pump prices during the early 1980's were actually higher than they are now - when adjusted for inflation. GM's 6.2L diesel was designed and developed for tight fuel supplies and high pump prices, and we may need to revisit the 6.2/6.5 to help provide a solution to the high fuel costs we're seeing now. The early light-duty 6.2L diesel powered trucks would consistently deliver 22-24 mpg when driven conservatively, while the later 6.5L Turbodiesels produced 5 or more miles per gallon less. Why is that? The answer to that question is what we're investigating this time.

The Last 6.5 Engine Oil Cooling Lines You'll Ever Need


The last 6.5 engine oil cooling lines you'll ever need are already installed on your truck. Follow along as we show you a home-grown repair for leaking lines, which could help you avoid spending $150+ for new GM replacements every couple of years.

Improving Cold Starts
for the Electronic 6.5L Diesels


The AC-60G glow plugs are the current GM recommended replacements for all 6.2L and 6.5L diesel engines. However, these plugs are somewhat cooler when compared to the older AC-9G and AC-11G plugs, which can affect cold starting. Extending the initial glow cycle improves cold starts, which can be important when using "cooler" glow plugs or for any situation when longer glow cycles improve starting. This procedure explains how to increase glow cycle time in all 1994 and newer electronically controlled 6.5L diesel equipped vehicles.

Manual Glow Control for the Electronic 6.5TD
Extending the Glow Cycle for 18:1 Compression Engines


As the weather turned cooler in the late fall of 2005, we learned that our 18: low compression engine needed more glow cycle time to produce quick and clean cold starts. This article illustrates a simple and inexpensive modification designed to provide manual control for the electronic 6.5 glow system.

Air Conditioning Service
Converting an R-12 system to R-134a
Servicing an existing R-134a System


Part of the mystery in servicing automotive air conditioning systems for most people is a lack of understanding in the technology. While it does require specialized equipment and training to know all that is knowable, acquiring a basic understanding of what the various system components do and learning how they work together to produce cool air inside your vehicle will help in maintaining your A/C system - whether you do the work yourself or choose to hire the professionals. In addition to learning how to evaluate and recharge existing R-134a systems, we'll also show you the basics of converting an older R-12 system to R-134a.

6.5TD Fuel Filter Maintenance Tips


Changing the 6.5TD fuel filter is a routine procedure that has been covered before (in The 6.2/6.5 Diesel Troubleshooting & Repair Guide). However, we recently learned about a potential problem that could result in contaminating your fuel injection system or might help explain some of the chronic fuel injection pump failures we hear about.

6.5L Diesel Alternator Pulleys
How To Improve Tachometer Accuracy


The tachometer used in the 6.5 diesel trucks and SUV's derives its signal from the alternator, which means varying the diameter of the alternator pulley will affect tachometer accuracy. With a plethora of pulley diameters available for these GM alternators, it's easy to get a replacement with the wrong diameter pulley. What we'll do here is show you how pulley diameter affects tach readings, and explain how to improve tachometer accuracy.

Serpentine Belt Tensioner


The serpentine belt tensioner/pulley assembly is something that we don't give a lot of thought to, but is one of those essential parts that can leave you stranded by the side of the road if it fails. This story discusses the common problems associated with belt tensioners, and offers suggestions for overcoming a situation that could strand you a long way from home.

Chains or Gears? Which is Best?
6.5 Timing Set Pros & Cons


What are the advantages and disadvantages of using a DSG gear-drive timing set? Let's consider this question, and have a look at some of the related issues involving the 6.2/6.5 gear and chain timing sets.

Bypass Cooling For the 6.2/6.5


The concept for "bypass cooling" has been around for years, and someone usually brings it up here in The Diesel Page about once a year. I'm not a fan of re-routing coolant flow through the engine in an effort to improve cooling. It may actually cause more harm than good. Go here to find out why.

SOL-D DS4 Solenoid Driver


Product Review: The SOL-D module from RemarQ is a complete redesign of the original Stanadyne FSD/PMD (Fuel Solenoid Driver - Pump Mounted Driver - same part) module using automotive and military grade Mosfet power transistor technology. We're interested in solutions to problems. Certainly, any innovative product deserves our full attention which promises to address the FSD related stalling issues affecting the electronically fuel injected 6.5L diesels. Is the SOL-D an improvement in reliability? Go here to learn more.

Texaco/Havoline Dex-Cool
Engine Coolant Facts


GM made the switch to the new orange-colored Texaco/Havoline Dex-Cool in the 1996 model year due to its longer service cycle, longer water pump seal life, high temperature aluminum protection, and a higher coefficient of heat transfer. Recently, a bit of a controversy has developed concerning engine and cooling system corrosion involving some GM vehicles using the orange-colored Dex-Cool long-life coolant. This article looks at the facts regarding this issue, and discusses whether we as GM diesel owners need to be concerned. I think you'll be surprised.

BD TorqLoc
Electronic Torque Converter Lock-Up Control


The BD TorqLoc provides additional driver control of GM's 6.5TD and 4L80-E automatic transmission by providing automatic and manual operation of the lock-up torque converter. Improved engine grade-braking and lower transmission temperatures are things all owners can appreciate while towing, and this is what the BD TorqLoc was designed to deliver. Go here to learn how to install and use a TorqLoc.

Hydraulic Brake Booster


All of the GM diesels from 1982 to the present use a hydraulic brake booster. Find out what is involved in changing a brake booster, and where to get the best prices.

Axle Swap
6.5TD Project Truck Gets a GM 14-Bolt Full-Floater


If you can't get it to the ground, doesn't matter how much power your engine makes. Our 6.5TD Power Project truck's original 14-bolt semi-float rear axle finally reached the end of the road, and had to be replaced. The combination of 240,000 miles (already rebuilt once) and living behind the 6.5TD Power Project engine for 100,000 miles finally took its toll. We chose to upgrade to a GM Corporate 14-bolt full-floater with a 10½" diameter ring gear. Go here to see what's involved.

Randy's Ring & Pinion
Rebuilding GM's 9½" Corporate Rear Axle


We had to replace the original half-ton 10-bolt rear axle in our latest 1989 Chevy K1500 project truck. The rather small 8½" diameter ring gear and 1330 U-joint pinion yoke were deemed "not up to the task" when twisted by more than stock power. The best replacement axle turned out to be GM's 9½" 14-bolt semi-floater for this six-lug application. After acquiring a 1997 model-year rear axle replacement, we visited the experts at Randy's Ring & Pinion in Washington state for a professional installation of an Eaton Posi differential, as well as new pinion/ring gears, and all new bearing and seals. We show you how the experts at Randy's Ring & Pinion properly set up our truck's ring & pinion.

Electrical System Upgrade
Dual Alternator Installation for the 1996-2000 6.5L TD Equipped Vehicles


In a quest to accessorize our vehicles to our tastes with items such as lights, stereos and so on, we sometimes overlook what gives life to these accessories - the charging system. The original charging system is generally adequate for a factory-equipped vehicle, but increasing the electrical load on your factory alternator could lead to problems. There are two options to alleviate the power shortage: a custom high-output single alternator or dual factory alternators. Dual alternators were optional for the 6.5TD, which makes acquiring the factory brackets and hardware easy to obtain and install. Go here to see how to acquire the parts and make the install.

Rear Disc Brake Upgrade


The 1997 model-year GM 9½" semi-float 6-lug rear axle has been installed in our latest project truck, and to improve braking ability, we've decided to upgrade the rear drums to disc brakes. Rear discs help with two important areas - they reduce unsprung weight and they increase stopping ability. Demands on the braking system increase as vehicle speeds increase, and stopping can sometimes be more important than going fast.

Rear Disc Brake Upgrade - Part II


A rear disc conversion generally offers better braking ability - both when dry and especially when wet, weighs less than most drum brakes, sheds heat faster - more fade resistant, and discs just look way cooler... Our rear disc brake installation is now complete. Find out how they look and stop.

Powertrain Control Solutions
Electronic Transmission Controller


The Diesel Page published its first article about converting an electronically fuel injected 6.5 diesel to mechanical fuel injection way back in 1998. Since then, a couple of additional articles have appeared here that added new information and insight into the technical aspects of such a conversion. During this time, we've learned that the biggest hurdle to overcome during an EFI-MFI conversion has been maintaining proper control of the 4L80-E automatic transmission. This article takes this discussion a step farther, in that it offers a clean and relatively simple solution to effectively maintain control of the 4L80-E.

Throttle Position Switch
4L80-E Shift Calibration


The ubiquitous 4L80-E Throttle Position Switch first appeared as part of the GM diesel powertrain in 1991 with the introduction of the then brand new 4L80-E electronically-controlled 4-speed automatic overdrive transmission. Whether for gas or a diesel application, the TPS relayed throttle position information to the transmission control module (TCM), which allowed the TCM to control shift scheduling and shift quality. At the same time, GM designed a new TPS for the 1992 model year that bolted onto the passenger side of the DB2 fuel injection pump, making for an easy-easy installation. Go here to learn how to adjust the TPS for the best 4L80-E shift calibration.

TurboMaster
Mechanical Turbo Wastegate Actuator

With a GCVW of more than 20,000 lbs while towing, power was an issue the author thought about. The new TurboMaster wastegate actuator goes a long way to improve power for the 1992-93 6.5L Turbo Diesels. The TurboMaster is a mechanical wastegate actuator, which can be installed on any of the factory GM 6.5L turbochargers produced between 1992 and 2000. A mechanical actuator is required when converting to mechanical fuel injection. We'll show you how to both install the TurboMaster and adjust it for optimum boost pressure control.

Cruise Control Interfacing
Retrofit, Troubleshooting & Repair


Since the late 1980's, GM has used a firewall-mounted electronic cruise control module that remained more or less unchanged through 1999. The 6.2L/6.5L diesels used this cruise control module in the 1988-1993 model-year 6.2/6.5 diesel (mechanical fuel injection) equipped GMT-400 trucks and in the gasoline engine equipped C/K trucks & SUV's through the 1999 model year. Millions of these cruise control modules exist, and knowing how to retrofit a gas module into a diesel application can save you a ton of money if you're having a problem with the one you have now. In addition, these cruise control modules can be used when converting an electronically fuel injected 6.5 to mechanical fuel injection. If you fit into either category, or if you need to troubleshoot your existing cruise control system, this article is for you.

1992-93 6.5TD
Hi-Capacity Cooling Mods


We covered this topic in early 1999, but did not provide much detail about the dual thermostat housing and throttle bracket modifications. This time, we'll focus directly on making the new throttle bracket and show how to modify the new dual thermostat housing. This cooling system modification is necessary when installing GM's factory hi-capacity 130-gpm water pump and dual thermostats on a mechanically injected 6.5L diesel.
---
Click this link to see what others have said about our books and guides. The 6.5L Turbo Diesel Volume II was a welcome addition to our list of publications, and it has been popular with 6.5L diesel owners since it was first published. This revised and updated 2018 2nd edition is visually stunning, literally packed with the best information, and is a "must have" for any 6.5L owner.
We're often asked what book a 6.5L diesel owner should buy first. The answer depends on what is most important to them. If you're looking to improve your engine's performance, cooling efficiency or fuel economy, the 6.5L Turbo Diesel Volumes I, II & III (preferably all three) would be the best choice. Please see the table of contents for each volume to see what each includes. On the other hand, if your primary interest is in solving a problem that your engine is experiencing, then The 6.2L/6.5L Diesel Troubleshooting & Repair Guide should be your first choice. Of course, we believe every 6.5L diesel owner should have all four books. You'll be glad you have them.
To get your copy of the latest 6.5L Turbo Diesel Volume II, please visit our secure on-line form or call to place your order - $26.95 + $8.40 USPS Priority mail (shipping extra for non - U.S. addresses). Please note: up to 3 books can be shipped for the single shipping fee.
Thanks for helping to support The Diesel Page.
---
More Great Books From The Diesel Page
---
TheDieselPage.com
What's New: | Feature Articles: | Product Reviews: | Member's Area:
Join Us: | Duramax Diesel Page: | Advertisers: | Classified Ads: | Books:

Send e-mail to: turbo@TheDieselPage.com
Copyright © 2022 by The Diesel Page
www.TheDieselPage.com