The Diesel Page
---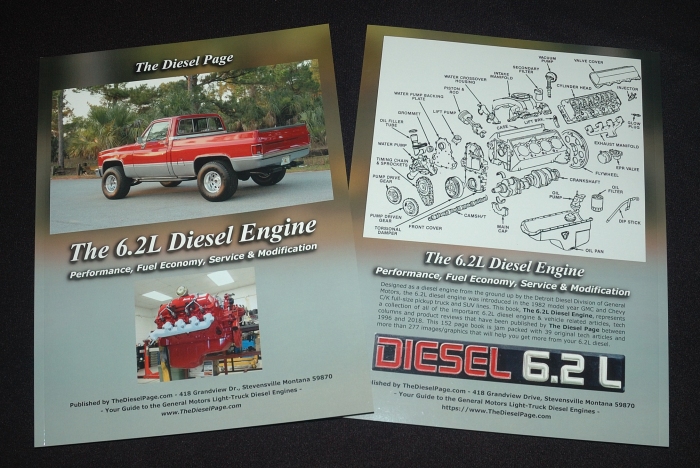 The 6.2L Diesel Engine
Performance, Fuel Economy, Service & Modification
---
The GM 6.2L diesel engine has been providing owners with excellent fuel economy and routine service since the 1982 model year. The Diesel Page has been providing continuous coverage for this engine family since early 1996, and this book - The 6.2L Diesel Engine - represents a collection of all of the important 6.2L diesel engine & vehicle related articles, tech columns and product reviews that have been published by The Diesel Page between 1996 and 2018.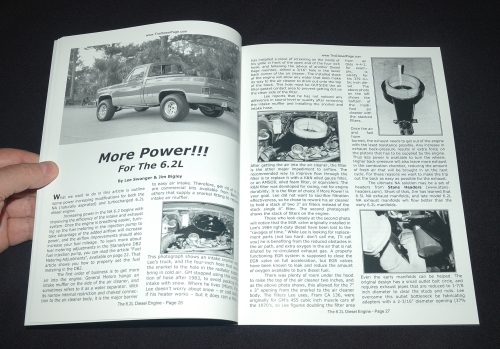 The 6.2L Diesel Engine This brand new edition combines the former 6.2L Diesel Volumes I & II into one 8-½" x 11" volume and for nearly $10 less than the cost of the earlier combined price for the two separate volumes. This edition includes glossy full-color photo-quality front and back covers (actual front/back covers shown above), along with a completely updated, reformatted and revised interior that now includes 39 articles and more than 277 photos/graphics in 152 glossy B/W pages.
This beautifully printed and perfectly bound full-size 8-½" x 11" volume includes articles that cover four basic areas of interest: 1- Performance, 2- Fuel economy, 3- Service, and 4- Modification. Improving performance, saving money by increasing fuel economy, demonstrating the best service procedures and knowing what modifications will improve your truck are all important, and we strive to help GM 6.2L diesel owners achieve the very best results. We don't sell any of the products discussed in this volume nor were we paid to include any product discussion - no advertising in this volume, so you know you're getting only the best and most unbiased information possible.
The GM 6.2L diesel engine first became available in the 1982 model year, and was an optional engine in GM's full-size pickup truck, SUV and utility markets. GM's brochures at the time promoted a real sense of optimism for their new diesel. Excellent fuel economy was a frequently mentioned theme along with references to this engine being "tough", "durable", or for those who "demand power for hauling heavy loads". The early 80's brochures indicated that the 6.2L diesel was available in either a 2WD or 4WD 3500 series pickup with a GVW rating of up to 10,000-lbs. In addition, a properly equipped 6.2L diesel C3500 was rated for a maximum trailering capacity of 13,500-lbs. Now that's optimism!
GM's 6.2L diesel engine was a brand new "ground-up" design that was conceived and manufactured as a light-truck diesel engine by GM/Detroit Diesel. Prototypes saw extensive testing at the GM Proving Grounds located in both Milford, Michigan and Mesa, Arizona. When operated within its design and real-world performance limits, the 6.2L diesel is a fine engine. It is capable of delivering stellar fuel economy, excellent drivability and performance that meets its design criteria.
This book begins with an explanation of why the GM 6.2L diesel was developed and what market it was designed for. The Banks Sidewinder turbocharger system was the most popular turbo kit on the market beginning in the late 1980s, and we installed one to find out what was involved and how it affected performance. Our 2-part article included here explains what you can expect. For those who prefer to run their 6.2 without a turbocharger, Dr. Lee Swanger contributed a series of articles and updates that explain how to improve 6.2L non-turbo power and performance.
Our focus here at The Diesel Page has always been to expand the knowledge base for these engines and to improve ownership satisfaction. See below to discover a wide ranging list of included articles explaining how to improve the reliability of the glow system, cooling system, engine oil system, cruise control system and a lot more. We also included articles that walk you through building/rebuilding a diesel-oriented TH700R4 automatic overdrive transmission, and we show you how to upgrade your vehicle's air conditioning system from the original R12 refrigerant to the much cheaper and more widely available R134a. This book is totally jam packed with the best information. Check out the Table of Contents below to learn more.
Written by enthusiasts for enthusiasts. All of us here at The Diesel Page hope you enjoy this book, and perhaps more importantly, hope you learn how to improve your 6.2 in any or all areas you feel your truck or Suburban needs improvement in. Our goal has always been to help you succeed!
TDP
To get your copy of The 6.2L Diesel Engine, please visit our secure on-line form or call to place your order - $29.95 + $8.40 USPS Priority mail (shipping extra for non - U.S. addresses). Please note: up to 3 books can be shipped for a single shipping fee.
---
Contents:

The GM 6.2L Diesel Engine - Introduction

Why was the 6.2L diesel engine developed? We discuss the concept and design philosophy behind the General Motors 6.2L diesel engine. Also included are 6.2L engine specifications, technical data and a discussion about performance improvements.

Installing the Banks 6.2L Sidewinder Turbo System
Part I


This two part series discusses the Banks turbocharger installation for the 6.2L diesel engine. In part one we discuss the quality of instructional materials and of the individual components, and present some installation tips.

Installing the Banks 6.2L Sidewinder Turbo System
Part II


In part two we complete the installation, and discuss the performance improvements. Jim also discusses basic operation and describes how to get the most from your own 6.2L diesel turbocharger installation.

6.2L/6.5L Glow Plugs

Which glow plugs should you use? How often should you change them and what symptoms develop when they need to be replaced? How do you deal with burned and broken glow plug tips? We purposely burned out a bunch of used and new glow plugs trying to find answers to these questions.

6.2L/6.5L Diesel Myths

Here we discuss many of the common myths about the GM diesel and hope to set the record straight.

Turning Up The Pump
DB2 Fuel-Rate Adjustments


An illustrated guide for adjusting the fuel metering in a DB2 injection pump. We'll also discuss why fuel adjustments are sometimes necessary, what these adjustments do to fuel mileage, and what the impacts are on power.

More Power!!! for the 6.2L

This More Power!!! installment concerns the 6.2L engine. Dr. Lee presents what he's done to improve the performance of his own 6.2L diesel truck, and we discuss the areas you'll need to consider when looking for More Power. The 6.2 can be made to run. Tune in here to get the details.

6.2L Performance Update

Making the naturally aspirated 6.2L diesel perform has been an interest of mine for some time. Last time, we showed you some of the many performance improvements made to our 1984 Chevy C10. For this update, we'll discuss "Turning Up The Pump", installing a pyrometer and exhaust temperature gauge, and show you the instrumentation used to document the performance improvements.

Bypass Oil Filtration and Filters for the 6.2L Diesel

One of the more frequent inquiries we receive here at the Diesel Page concerns the merits of adding bypass oil filtration to the engine lubricating system. To test a bypass filter for our light truck diesels, I installed an Amsoil BE-90 bypass filter element on my 1984 C10. I'll show you how to install it, and through oil analysis I'll demonstrate the relative merits of this system.

GM Diesel Radiators (Part I)

The radiator is arguably the most important component in your engine cooling system. We'll show you what works to keep the engine temperature in check, ways to maintain peak cooling efficiency, and show you what may be the ultimate in GM diesel radiators (a custom 5 row high-efficiency core).

GM Diesel Radiators (Part II)

Last time, we talked about radiator construction and included some photos showing some common radiator problems. This month we'll cover some additional areas of concern for radiator efficiency, as well as discuss aluminum radiators and the new orange colored Dex-Cool coolant.

TH700R4 Rebuilding Tips

This is not a step-by-step 700R4 rebuilding tutorial, but rather a collection of tips and related information that will help if your truck's transmission needs to be replaced/rebuilt. The author has experience with rebuilding the 2004R and 700R4. This process should help any competent home mechanic be successful.

Towing With The 6.2L Diesel

A lot can be learned from someone who is an expert in towing with a Banks turbocharged 6.2L. This article will have the information you need to be successful by focusing on engine setup and powertrain management. Knowing what to expect and how to equip your GM diesel can make all the difference in towing satisfaction.

6.2L Engine Upgrades

Earlier this year we added a number of upgrades to our 6.2L diesel. A "J" model open plenum intake manifold, new timing set, new style rocker arm set, and a new injection system were installed to improve performance and operation of my 6.2. Find out what was learned and what tips you can employ in your own upgrades.

6.2L Engine Upgrades, Part II

In Part I, we showed you what tips you could employ in your own upgrades. In Part II, we'll share what was learned as the engine went back together and was started for the first time.

Modifying/Repairing the 1985-93 Glow Controller

Learning more about the 1985-93 glow controller will help you modify or repair it. The information included here should help you better understand the 1985-93 glow controller and allow you to fine-tune the glow operation to suit your individual situation.

Aftermarket Cruise Control

We installed an aftermarket cruise control when the factory cruise control failed in our 1984 C-10. Go here for an installation overview and discussion.

Electric Lift Pump and Racor Filter for the Early Diesels
and a Performance Update

To continue with the technical improvements to our 6.2L truck, we added an electric fuel lift pump to assist in starting, to be an on-board backup to the engine-driven mechanical lift pump, and to easily reprime the Stanadyne fuel filter on the firewall after routine (or emergency) fuel filter changes. The electric fuel lift pump installation also allows us to complete (and document) the performance improvements we experienced after the last performance upgrades. This article completes that story.

6.2/6.5 Crankshaft Failures

Crankshaft failures are often a catastrophic end to an otherwise perfectly good 6.2/6.5 engine. It is wrong to assume that these crankshafts are weak. Rather, we believe other engine components at fault. This article will discuss these failures, and discuss ways to prevent them.

Replacing the 82-84 Glow Plug Controller
with the more reliable 1985-93 version


The original 1982-84 glow system controller was not as reliable as that used by GM beginning in 1985. The 1985-1993 glow system controller has proven itself to be reliable and even less expensive than the earlier version. We show you how to convert to the newer controller.

Diesel Primer
Covering the basics in diesel ownership.


Ok, you just bought a (new to you) diesel truck or Suburban. You might be wondering what you need to know about diesel engines to get the best fuel economy, power and reliability these diesel engines are noted for. What you'll find here is essential information (specific to the GM diesel engines) that could help eliminate some of the problems experienced by new diesel owners, and help you get more out of your 6.2L diesel engine.

The Right Stuff
Custom-Built GM 6.2/6.5 Diesel Engines


Dr. Lee promoted the naturally aspirated (non-turbocharged) 6.2L/6.5L diesels here at TheDieselPage.com in a series of articles that discussed the incremental steps taken to improve the performance of his own 1984 6.2L Chevrolet C10 pickup. Since the last story, Lee wanted to take his 6.2L to the next level of performance, but found that the truck's original engine wasn't up to the task. Follow along as we show you a custom-built non-turbo 6.5L diesel engine (that began life as a 6.2L), and evaluate the synergistic effect on performance when combining all of "The Right Stuff" into one carefully assembled custom engine.

Chevy 6.2L - Twin-Turbo Project


Peter Bierman came to the conclusion that he could make the 6.2L diesel more powerful with turbocharging. The easiest solution would have been to order a Banks Sidewinder turbo kit, but after considering the costs involved, doing his own turbo project made more sense and would provide a certain degree of satisfaction when finished. Smaller turbochargers are more widely available in Europe, so he experimented using a pair of turbochargers. Using twin turbos also meant Peter would have to make new exhaust headers, upgrade the cooling system and make a new exhaust and intake system. Follow along as we show you the process and discuss the performance payback.

6.2L/6.5L Fel-Pro Head Gaskets


We recommend using the 6.5L Fel-Pro head gaskets when performing cylinder head work on a 6.2L. This article explains what 6.2L cylinder heads are candidates for using the 6.5L gaskets, and what this upgrade can do for 6.2L owners regarding head gasket durability.

Chains or Gears?
6.2/6.5 Timing Set Pros & Cons


What are the advantages and disadvantages of using a DSG gear-drive timing set? Let's consider this question, and have a look at some of the related issues involving the 6.2/6.5 gear and chain timing sets.

6.2/6.5 Glow Plugs
Quickheat & AC60G Test


This article contains a direct comparison between the aftermarket "Quick Heat" glow plugs and the GM recommended AC-60G glow plugs. Both bench tests and engine startability testing confirm what we could see with our eyes. Which is best? Find out here.

6.2/6.5 Fuel Economy - Cylinder Heads


Aside from the turbocharger and power ratings, what's the biggest difference between the cylinder heads used in the early naturally aspirated (non-turbo) 6.2L diesel and the later turbocharged 6.5L diesel? Certain components used in the cylinder heads are quite different, and that's what this fuel economy update is about. We'll show you how to build or select cylinder heads for the best fuel economy.

Brake Specific Fuel Consumption - Power, Load & RPM


Brake Specific Fuel Consumption is a measure of fuel use for work being produced. Many operational factors combine to produce the fuel economy for a given set of conditions. This article discusses these conditions and engine operating parameters, and explains how you can operate your 6.2L diesel engine in ways that will help you obtain maximum fuel efficiency.

Hydraulic Brake Booster Replacement


All of the GM diesels from 1982 to the present use a hydraulic brake booster. Hydraulic pressure generated by the power steering pump is used to provide power assist to the braking system. Though very reliable, find out what can go wrong, learn how to replace the hydraulic brake booster, and find the best deals on replacements.

Air Conditioning Service & R12 to R134a Conversion

For most people, part of the mystery in servicing automotive air conditioning systems is a lack of understanding the technology. Go here to find out how the system operates, and learn how to troubleshoot an air conditioning system problem. We also show you how to convert an R12 system to use the newer and far less expensive R134a refrigerant. Staying cool is important too!

Performance 700R4 Automatic Transmissions - Part I


This is an indepth look at what it takes to build a reliable and durable TH700R4 automatic overdrive transmission for the 6.2L diesel. From case selection through parts selection, Dr. Lee walks us through the entire process.

Performance 700R4 Automatic Transmissions - Part II


Part II completes the story we began last time, and we get to discuss the vehicle performance benefit from having a correctly built and set up TH700R4.

Rear Disc Brake Upgrade
for the early GM diesel trucks


The 6.2L diesel powered trucks and SUVs were all equipped with rear drum brakes. Upgrading to discs help in two important areas - reduce unsprung weight and improve stopping performance. Demands on the braking system increase as loads or vehicle speeds increase, and stopping can sometimes be more important than going fast. Besides, discs look great too. Everything you need to know about this brake upgrade is right here.

Tachometer Alternatives
for the 6.2L Diesel


The aftermarket has produced a plethora of tachometers for the gasoline engine enthusiast, but only a couple of examples exist for those who drive a 6.2L diesel equipped pickup or Suburban. My goal was to adapt one of the many excellent tachometers made to work with a spark-ignition engine. We did it! Follow along as we take you through the process.

Variable Time-Delay Glow Plug Controller


A variable timer allows you to power the glow plugs automatically, or for as long as the switch is held in the momentary-ON position. Adjustability is a key feature - longer glow times can be dialed-in during the winter months, and then reduced once warmer temperatures arrive - simple to install and easy to use.

6.2L/6.5L Diesel Crankcase Depression Regulator


The Crankcase Depression Regulator (CDR) has been a part of the 6.2/6.5 diesel emissions system since the first 6.2L diesel equipped truck rolled off the assembly lines in the fall of 1981. The CDR's primary purpose is to maintain a slight negative pressure within the engine's crankcase. Why is that important? Does it ever fail? What information does a 6.2L/6.5L diesel owner need to know about the CDR? We answer these questions and more by sacrificing a new CDR - cutting it apart to have a look inside, and to show you how it operates.

300+ Rear Wheel Horsepower - 13-Second GM Diesel Race Truck


Here's a good-news story about a performance 1980s GM diesel pickup that includes an in-depth look at what it takes to run the 1/4-mile in the 13s. The modifications made to the 6.5L used in this truck are directly applicable to the 6.2L diesel.

TH700R4 Throttle Valve Bracket - Make Your Own


The 6.2L/TH700R4 TV bracket was discontinued some time ago and is no longer available from GM. With salvage yard brackets made for the 6.2L diesel impossible to locate, 6.2L diesel owners need help in locating a TV bracket when preparing for a custom 700 installation. The photos of an original factory bracket along with the drawings solve that problem by allowing you to produce your own bracket.

A Look At The 1984 GMC C/K Brochure


We close this volume with a fascinating look at the 1984 GM new vehicle brochure where they discuss the 6.2L diesel engine and the vehicles that were available with this engine option. Find out how GM promoted the 6.2L diesel.
---
Click this link to see what others have said about our books and guides. The original 6.2L Diesel Volumes I & II were among our very first publications, and they had always been popular with 6.2L diesel owners - and for good reason. This updated, revised and expanded for 2018 edition combines the former 6.2L Diesel Volumes I & II into one 8-½" x 11" volume, adds 4 new articles, and is being offered for nearly $10 less than the cost of the earlier combined price for the two separate volumes. This new for 2018 combination volume, The 6.2L Diesel Engine, is visually stunning and is now an even better value - certainly a "must have" for any 6.2L diesel owner.
We're often asked what book a 6.2L diesel owner should buy first. The answer depends on what is most important to them. If you're looking to improve your engine's performance, increase fuel economy, learn more about engine/vehicle service, or discover ways to improve your engine/vehicle using time-tested and proven modifications, this new combination volume, The 6.2L Diesel Engine, would be your best choice. On the other hand, if your primary interest is in solving a problem that your engine is experiencing, then The 6.2L/6.5L Diesel Troubleshooting & Repair Guide should be your first choice. That said, we believe every 6.2L diesel owner should have both.
To get your copy of The 6.2L Diesel Engine, please visit our secure on-line form or call to place your order - $29.95 + $8.40 USPS Priority mail (additional shipping for non - U.S. addresses). Please note: up to 3 books can be shipped for a single shipping fee.
---
More Great Books From The Diesel Page
---
Thank you for helping to support The Diesel Page.
---
TheDieselPage.com
What's New: | Feature Articles: | Product Reviews: | Member's Area:
Join Us: | Duramax Diesel Page: | Advertisers: | Classified Ads: | Books:

Send e-mail to: turbo@TheDieselPage.com
Copyright © 2022 by The Diesel Page
www.TheDieselPage.com