The Diesel Page
---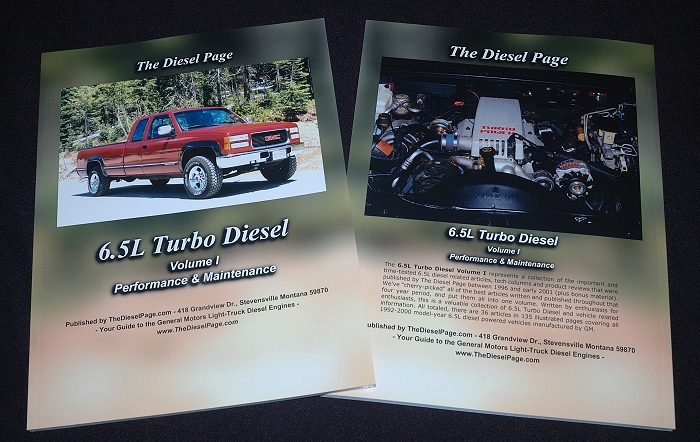 6.5L Turbo Diesel
Volume I
Performance & Maintenance
---
The 6.5L Turbo Diesel Volume I is jam-packed with important 6.5L diesel related articles, tech columns and product reviews that were published by The Diesel Page between 1996 and 2001 (plus a newer article on turbochargers). We've "cherry-picked" all of the very best articles written and published throughout that 5 year period, and put them into the updated for 2018 volume you see here. Written by enthusiasts for enthusiasts, this is a great collection of 6.5L Turbo Diesel and vehicle-related information. All totaled, there are 36 articles in this volume covering all 1992-2000 model-year 6.5L diesels manufactured by GM.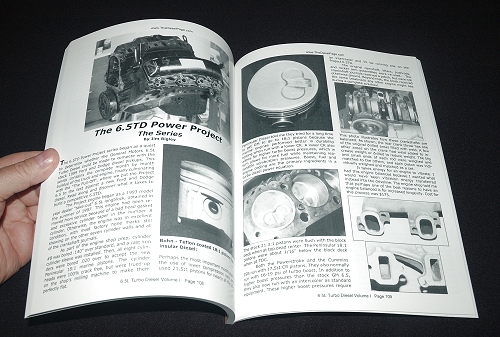 6.5L Turbo Diesel Volume I: This new and updated second edition now includes glossy full-color photo-quality front and back covers (actual front/back covers shown above), along with a completely updated, reformatted and revised interior that includes 136 glossy B/W pages filled with 293 updated photos and graphics.
This beautifully printed and perfectly bound full-size 8-½" x 11" volume includes articles that cover the basics: Performance and Maintenance. Information that will help you improve your 6.5TD's performance and enable you to learn more about the best service procedures will never go out of date. We don't sell any of the products discussed in this volume nor were we paid to include any product discussion, so you know you're getting only the best and most unbiased information possible. Our mission here is to help GM 6.5L diesel owners achieve the very best results.
The 6.5L Turbo Diesel engine option first became available in GM's 1992 model year 2500/3500 series pickup trucks. Looking back, we now know that the 1992 & 93 model years were the best years for the 6.5L in terms of performance, customer satisfaction and sales volume. From 1994 on, the 6.5 tried to compete with its Ford & Dodge rivals, but it needed help. This is in part what this volume is all about, that is, beginning with a factory 6.5, then work with the aftermarket and knowledgeable 6.5 enthusiasts in finding ways to improve performance, increase cooling efficiency and find solutions for the reliability problems some owners have experienced with their trucks. The information found in this volume has made it possible for owners to be satisfied with the 6.5's performance and vehicle ownership in general.
This volume begins with a look at the introduction of the 6.5, and what the automotive press had to say about it at that time. From there to the end of this volume, we'll show you how to make your 6.5 perform the way it should have right from the factory.
This volume was first revised in 2008 and then completely updated and remade for 2018 (the beautiful version you see here). During the first update we added a newer article about turbochargers because of how tremendously important turbocharger selection is where 6.5L Turbo Diesel performance is concerned. This article on turbochargers answers many questions about power, cooling and reliability, and it takes our knowledge of the 6.5 a giant leap forward - allowing the 6.5L Turbo Diesel to be competitive in the new millennium.
All of us here at The Diesel Page hope you enjoy this book, and perhaps more importantly, hope you learn how to improve your 6.5 in any or all areas you feel your truck or Suburban needs improvement in. We want you to succeed! TDP
To get your copy of the latest 6.5L Turbo Diesel Volume I, please visit our secure on-line form or call to place your order - $26.95 + $8.40 USPS Priority mail (shipping extra for non - U.S. addresses).
---
Contents:
GM Powertrain Launches 6.5L Turbo Diesel


This article first appeared in the October 1991 issue of Diesel Progress magazine and we were granted permission to run it here in The Diesel Page. Even though it's from the early '90s, this article contains many insights and industry practices involving the GM 6.5L Diesel that you might find interesting. Included is a brief history of the 6.2 and 6.5 diesel engine, pictures, and explanations of some of the individual engine components.

6.5L Glow Plugs


Which glow plugs should you use? How often should you change them and what symptoms develop when they need to be replaced? How do you deal with burned and broken glow plug tips? We purposely burned out a bunch of used and new glow plugs trying to find answers to these questions.

6.2L/6.5L Diesel Myths


Here we discuss many of the common myths about the GM 6.5L diesel and try to set the record straight.

Turning Up The Pump


An illustrated guide for increasing the fuel metering in a 1992-93 DB2-4911 fuel injection pump. We'll also tell you why fuel adjustments are sometimes necessary, what these adjustments do to fuel mileage, and what the impacts are on power.

GM Diesel Radiators
Part I


Let's look at what is arguably the most important component in your engine cooling system, the radiator. We'll show you what works to keep the engine temperature in check, ways to maintain peak cooling efficiency, and show you the ultimate in GM diesel radiators (a custom 5 row high-efficiency core).

GM Diesel Radiators
Part II


Last month we talked about radiator construction and included some photos showing some common radiator problems. This month we'll cover some additional areas of concern for radiator efficiency, and discuss aluminum radiators and Dex-Cool coolant.

Modifying/Repairing the 1985-93 Glow Controller


Learning more about the 1985-93 glow controller will help you modify or repair it. I've been fortunate in that the glow systems in the trucks I've had all worked well. I know some owners haven't been so lucky, and sometimes resort to the less recommended manual glow control. What follows should help with the understanding of the 1985-93 glow controller, and allow you to fine-tune the glow operation to suit your individual situation.

6.2/6.5 Crankshaft Failures


Crankshaft failures are often a catastrophic end to an otherwise perfectly good 6.2/6.5 engine. It could be wrong to assume that these crankshafts are weak. Rather, we believe other engine components are at fault. This article will discuss these failures, and show what you can do to prevent them.

Peninsular Diesel


Peninsular Engines, Inc. began producing marine versions of the 6.2L diesel engine in 1985 and evolved with the introduction of the 6.5L diesel in 1992 - continuing through to 2017. While the business was sold to Unique Diesel in 2017, this article has some really great photos of Peninsular's marinized 6.5L engines, and we'll tell you what they did to get 300 HP out of their top-of-the-line 6.5L marine turbo diesel.

BD Power Chips for the 1994-1995 GM 6.5L EFI Turbo Diesel


BD says, "With the introduction of GM's PCM computer system and electronic injection pump, BD Performance Chips provide a simple way to give your truck up to 35 more horsepower." I tested both the BD "RV" and "Race" power chips in a 1995 6.5TD C1500 to find out what kind of a performance gain there REALLY was. In this article, I'll also show you how to properly install an aftermarket power chip, EGT pyrometer and gauge, and a boost pressure gauge.

The Electric Fuel Lift Pump


The electric lift pump GM installed in the newer 6.2 and all 6.5 diesel C/K/P/G vehicles has been a source of trouble for a few owners. This tech article will show you how the electric lift pump operates, explain how to troubleshoot lift pump problems and provide a few tips that will make ownership a little easier.

1994 Engine Oil Cooler Lines


The engine oil cooler lines used on the 6.5 have been a source of oil leaks. This tech piece will show what happens when these lines fail, and we'll show you how to change them. You may want to check your oil cooler lines after reading this.

Phaser
Dual-Idler Gear Drive Timing Set


The Phazer Diesel Pro Dual-Idler Gear Drive produced by Diesel Services Group for the 1994 and newer 6.5L Turbo Diesel replaces the stock chain driven timing set and OEM reluctor wheel on the 6.5TD crankshaft. DSG claims "Our "Phaser" performance kit allows 3-5 degrees of timing advance right off the crankshaft, which we found to increase fuel economy, produces cleaner starts, and improves throttle performance." Not only do we show you how to install the Phaser, but we also test the performance of the completed project.

Bilstein Shock Absorbers


Factory installed Bilsteins can be found on Chevrolet Corvettes and Z-71 trucks, Mercedes Benz, Ferrari, and Porsche. Bilstein also produces a complete line for all GM trucks. These mono-tube gas shocks are advertised as being superior to the competition. I'll show you how easy they are to install, and discuss what they do for the ride quality.

Oil Pressure Switch & Lift Pump Fix


The electric fuel lift pump used in the 1988 and newer GM diesels is powered through an oil pressure switch while the engine is running and 5-7 psi of oil pressure is present. Some 6.2/6.5 owners have experienced a high rate of either oil pressure switch or lift pump failures. Some of these could be attributed to the design of the associated components and not having a suitable rating for the electrical load. This article will show what you can do to increase the reliability of the lift pump system.

Vehicle Speed Sensor Buffer


The 1992-00 GM trucks utilize a VSSB to modify then relay vehicle speed to the computer. Located beneath the glovebox, these VSSB modules are specific to gearing and tire diameter, and need to match the effective final gearing. Replacement VSSB modules can be re-configured (via jumper settings) by the truck owner to correct for speedometer error if you install taller tires or change the differential gearing. I'll have all the details in this article.

VSSB Update


In the previous article, we learned about the Vehicle Speed Sensor Buffer (aka Digital Ratio Adapter), and showed how to modify a 14-jumper VSSB to correct the speedometer for different tire diameters or gearing changes. This article shows how even the more common 7-jumper module can be modified.

1995 and Earlier Hi-Capacity Cooling Mods


GM began installing a 130 gpm water pump and a dual thermostat crossover on the 6.5TD in the late 1996 and early 1997 model years (previous models were rated at 87 gpm). These components increased coolant flow through the engine block by 74% and through the radiator by 9%. This detailed article will show you what modifications are necessary to install these hi-capacity cooling components on 1995 and earlier 6.5TD engines. (13 images and a scale template drawing)

6.5 Oil Pressure Switch Replacement


The oil pressure switch/sender has been the topic of a couple of Diesel Page articles, but instructions for changing a bad one hasn't made it into the "Page" till now. I recently discovered the lift pump wasn't being powered up in my 1994 6.5TD Chevy Blazer, and I quickly discovered the oil pressure switch as the cause. This article will show you what tools are necessary (and where I bought them), and I'll show you how I changed my switch.

Turbo Technology Intercoolers


Turbochargers create heat as a by-product of compressing air. Higher air inlet temperatures rob power and create higher exhaust temperatures. Intercoolers help restore that lost power by removing excess heat from the turbo boosted air. Find out how to install a Turbo Technology intercooler in a 1988-98 GM truck.

JET Performance 4L80-E


The JET Performance 4L80-E automatic transmission has been installed and tested. With the 6.5TD Project engine operating at or above competitive power levels, the original TH400 had to be replaced with a suitably rated automatic. Find out how the JET 4L80-E performs. This review contains the TH400-4L80 conversion process (10 pages & 18 photos).

Towing With The 6.5L Turbo Diesel


These guys are experts at towing with the 6.5L Turbo Diesel. This article will have the information you need to be successful by focusing on engine setup and powertrain management. Knowing what to expect and how to equip your GM diesel can make all the difference in towing satisfaction. If you tow with your GM diesel, you can't afford to miss this article.

Gale Banks Instrumentation
EGT & Boost Gauges


Adding a series of gauges should be one of the first aftermarket upgrades added to your truck before increasing power. The factory builds in a safety margin when programming the power output of a stock truck. They know how it will be used and they carefully regulate both fuel and boost so the engine won't self destruct. However, increase power, and the health of your engine will be in your hands. These gauges will allow you to tune for more power while still operating within safe limits.

Gale Banks Instrumentation
Tach & Trans Temp


Last time we talked about adding an EGT and boost pressure gauge to the 6.5TD Project truck. These were added first because of their importance in tuning the engine for More Power. This time I'll show you the Banks diesel tachometer and automatic transmission temperature gauge mounted in a dash mount pod, which will be the subject for this installation.

BD's Monster Pipe


It's hard to get an appreciation for how big 4 inch pipe really is till you see a complete exhaust system kit laying in front of you. The 3 inch systems I've worked with before seemed big at first, but this new pipe from BD is HUGE! Discover what the 4" pipe is all about.

Light Booster


Here in the north country, we spend a lot of time driving to and from work in the dark, and I appreciate all the illumination a good set of headlamps can deliver. Recently, Diesel Services Group began offering a performance headlamp wiring kit for GM cars, vans and light-trucks that offers a significant improvement in headlamp intensity.

FSD Cooler


The FSD Cooler is a product whose time has come. The Stanadyne DS4 began as a marvelous concept in electronic diesel fuel injection, but it has produced enough problems for people to warrant a closer look at the most common types of failures. The FSD Cooler featured here offers a cure for many of these problems. Perhaps more importantly, this article explains how and why the FSD fails, and illustrates the basic concepts for improving reliability - no matter what product you select as a replacement.

FSD Resistors, MAP Sensors
and More Power


Now that the FSD Cooler has made a big splash, more people are thinking about how the electronic systems can be modified to increase boost pressure and fuel rate. This article discusses some basic concepts that allow for inexpensive modifications to increase power in the 1994 and newer 6.5TD trucks.

Mag-Hytec
Aluminum Differential Covers


Mag-Hytec produces a complete line of finned aircraft aluminum differential covers and transmission pans designed to reduce running temperatures by 15-20 degrees, substantially increase fluid capacity, and make service a snap. All this should help prevent lubrication failures and extend the life of these powertrain components. Besides being good for your truck, they also look pretty cool!

Windshield Wiper-Motor Solutions


Do your wipers not come on or shut off, or does your wiper-delay not operate the way it should? As we've learned, the wiper function can be frustrating for owners of the 1990's C/K trucks and Suburbans. Mounted to the driver's side of the firewall, the wiper motor and control components are easily accessed, and most wiper system problems are easily cured.

Kennedy Diesel
Performance 6.5TD Exhaust Systems


Performance exhaust systems make it possible to increase power through fueling and boost increases. But, what happens to fuel economy? This product review is the first in a series that will concentrate on fuel economy improvements. We expect power will be also improve, but the primary motivation for this series is to improve economy. This series will show you everything we've learned. The first segment is available now.

1988-98 K-Model IFS Service


Rebuilding the independent front suspension on a K2500 - The rebuild included replacing the upper and lower ball joints, torsion bars, control arm bushings and stabilizer bar bushings. We'll show you how to do it.

The 6.5TD Power Project
The Monthly Series


The complete 6.5TD Power Project Series (60 pages) shows every detail of the 6.5TD engine buildup and truck modifications. Internal engine modifications and aftermarket performance parts are installed that allow the 6.5 to perform at a level that satisfies those looking for performance. See what it takes to build a competitive 6.5L Turbo Diesel.

The 6.5TD Power Project
The Pull-Off


The 6.5TD Project series began as a quest to determine if the General Motors 6.5L Turbo Diesel could be competitive with Ford and Dodge if given equal boost pressure, fueling and engine cooling. This is the final segment of the Project series, where the performance data is presented and we discuss the diesel performance contest between the Project Truck and a new Ford and Dodge diesel, which was moderated by the staff of Four Wheeler magazine. I think you'll be surprised at how well the 6.5 runs.

The 6.5TD Power Project, Epilog


By early 2005, the Power Project 6.5 had accumulated more than 155,000 miles over six years without a single problem occurring with the engine, turbocharger, or fuel injection system. Go here for a wrap-up on the series.

Turbochargers
For the 6.5L Turbo Diesel


Turbochargers are the final frontier for 6.5L diesel performance development. Certainly, there have been aftermarket 6.5L turbo options available for several years now, but a lack of understanding about how turbocharger design contributes to diesel performance has hampered a serious investigation - till now. This article shows what it takes to allow the 6.5 to achieve a level of cool-running, smoke-free and long-term performance no one would have thought possible.
---
Click this link to see what others have said about our books and guides. The 6.5L Turbo Diesel Volume I was a tremendous early addition to our publications, and this book has been popular with 6.5L diesel owners since it was first published - and for good reason. This updated and revised for 2018 2nd edition is visually stunning, and is a great addition to any 6.5L owner's library.
We're often asked what book a 6.5L diesel owner should buy first. The answer depends on what is most important to them. If you're looking to improve your engine's performance, cooling efficiency or fuel economy, the 6.5L Turbo Diesel Volumes I, II & III (preferably all three) would be the best choice. Please see the table of contents for each volume to see what each includes. On the other hand, if your primary interest is in solving a problem that your engine is currently experiencing, then The 6.2L/6.5L Diesel Troubleshooting & Repair Guide should be your first choice. Of course, we believe every 6.5L diesel owner should have all four books. Everyone loves them.
To get your copy of the latest 6.5L Turbo Diesel Volume I, please visit our secure on-line form or call to place your order - $26.95 + $8.40 USPS Priority mail (non-U.S. shipping extra). Please note: up to 3 books can be shipped for a single shipping fee.
---
More Great Books From The Diesel Page
---
Thank you for helping to support The Diesel Page.
---
TheDieselPage.com
What's New: | Feature Articles: | Product Reviews: | Member's Area:
Join Us: | Duramax Diesel Page: | Advertisers: | Classified Ads: | Books:

Send e-mail to: turbo@TheDieselPage.com
Copyright © 2022 by The Diesel Page
www.TheDieselPage.com