The Diesel Page
---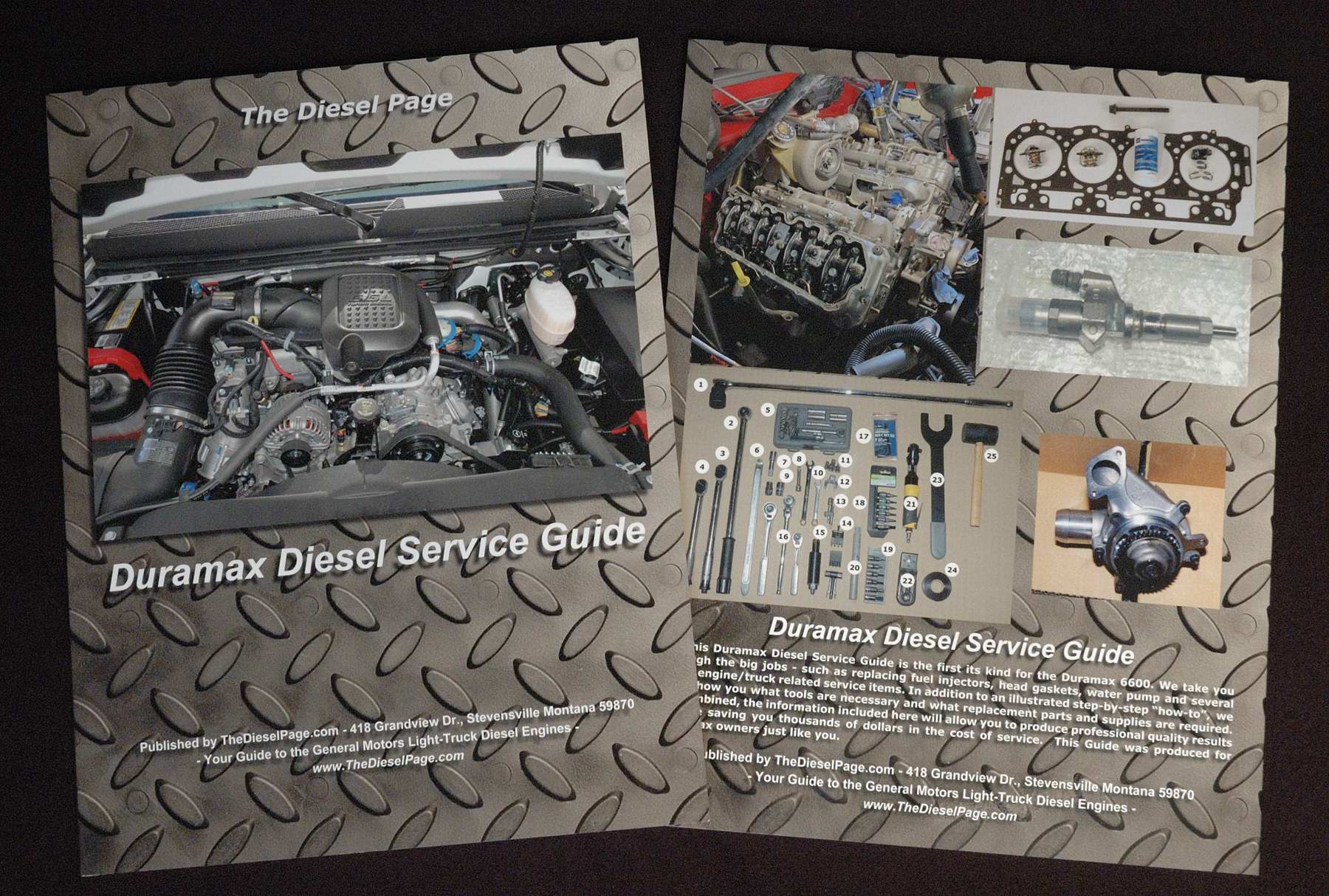 Duramax Diesel Service Guide
Servicing the Fuel Injectors, Head Gaskets, Water Pump, and more!
---
This beautifully printed and perfectly bound full-size 8-½" x 11" volume includes complete instructions for replacing your engine's fuel injectors, head gaskets, water pump, and a range of other replaceable parts on your truck. This book, the - Duramax Diesel Service Guide - represents a collection of all of the most important Duramax and truck-related service information developed by The Diesel Page for the Duramax 6600 equipped trucks. Inside this brand new book you'll find 20 chapters and more than 256 color and B/W professional quality photos/graphics all printed on 120 high quality glossy pages.
If your Duramax 6600 powered truck needs a fresh set of head gaskets, the 40 hours of shop rate labor could very well push the cost of repair beyond $6,500. Doing the exact same repair yourself would reduce the cost to only a few hundred dollars. A similar savings can be realized when replacing the water pump and/or fuel injectors. This is why more of us are finding the will to work on our out-of-warranty trucks. In the end, doing the work yourself will provide far more value and truck performance/longevity than you could expect by hiring someone else to work on your Duramax.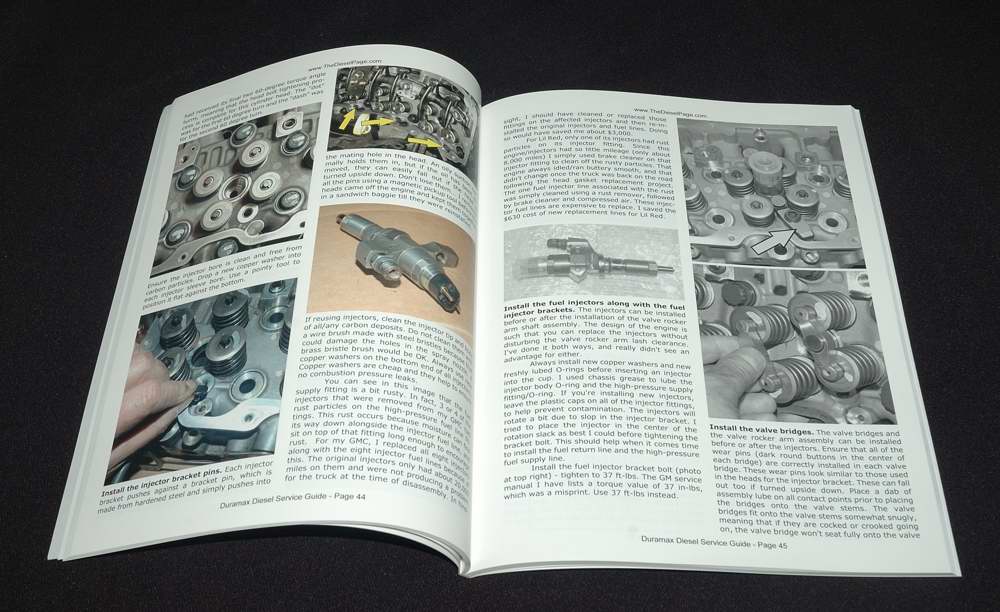 Duramax Diesel Service Guide - Introduction
The information contained in this Service Guide is the result of our having owned a Duramax 6600 powered truck since December 2000. We toured the DMAX engine production facility in Moraine Ohio two separate times, and have had direct communication with GM Powertrain and Allison over a number of years. As a consequence of operating a web site and bulletin board forum, we have had discussions with GM certified and trained diesel mechanics from all across North America for more than 20 years, we have spent time in performance engine rebuilding shops, and of course we have communicated with countless other GM Duramax Diesel owners and potential owners from around the world.
Our goal here at TheDieselPage.com was to produce an easy to read and understand Service Guide that goes far beyond what can be found in any other service manual. As good as they are, most service manuals were written by tech writers who likely never owned a Duramax powered truck, had never driven one and had never turned any wrenches on one. They worked from the theoretical. TheDieselPage.com excels in this work because of the training and communication skills that have been honed through the years. Not only are we passionate Duramax enthusiasts, but our background in professional automotive writing, communication and photography make this Service Guide the best place for truck owners to learn how to perform their own service work.
Here in this Guide, practical hands-on information and individual aspects of engine problem diagnosis and repair include theory of operation which will help you understand why things work the way they do. Knowing the "how and why" of system operation will help a diesel owner analyze individual problems which will help owners just like you to find a solution - the best solution - one that is affordable and yet provides for a long-term repair. In addition to all of the information contained in this Guide, we also include our address, phone number and email address on the last page should you need an answer to a question not found within these pages. Who else does that?
Through the years, The Diesel Page has helped many tens of thousands of GM diesel owners perform their own diesel service work. We hope that those who feel they are equipped to tackle any of the projects discussed in this Guide will now have the confidence to move forward.

Thank you, TheDieselPage.com.
---
Contents:


3 - Duramax Diesel Service Guide - Introduction
6 - Tools - Special Tools and Supplies
11 - General Practices and Hacks
15 - Head Gasket - Injector Replacement
56 - Just Replacing the Injectors?
59 - Duramax Injectors and Combustion Rattle
61 - Diagnosing a Head Gasket Failure
64 - Why Do Head Gaskets Fail?
67 - Duramax Water Pump Replacement
76 - Front Hub Bearing Assembly Replacement
80 - NSBU - Neutral Safety Back-up Switch Replacement
83 - 1999-2007 GMT-800 Power Window Regulator Replacement
89 - MAF - Mass Air-Flow Sensor Service & Replacement
92 - Battery Selection and Tray Maintenance
95 - Duramax Intake Hose Replacement
97 - GM Tailgate Service
100 - Allison 1000 - Annotated Diagnostic Trouble Codes
106 - Duramax 6600 - Annotated Diagnostic Trouble Codes
112 - Engine Fastener Torque Specifications
118 - Source Listing
---
Click this link to see what others have said about our books and guides.
If you're looking to save money, do the job right the first time, or learn how to make your engine even more reliable, this new Duramax Diesel Service Guide, would be your best choice.
Duramax Diesel Service Guide: $89.95 + S&H - New for 2022!
Or call to place your order.
---
More Great Books From The Diesel Page
---
Thank you for helping to support The Diesel Page.
---
TheDieselPage.com
What's New: | Feature Articles: | Product Reviews: | Member's Area:
Join Us: | Duramax Diesel Page: | Advertisers: | Classified Ads: | Books:

Contact Us
Copyright © 2022 by The Diesel Page
www.TheDieselPage.com