---
The Diesel Page
6.2L Diesel Volume II
---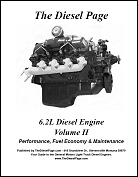 Now Available! - $19.95 + USPS Priority mail.
Introduction:
The 6.2L Diesel volume II represents a collection of all of the important 6.2L diesel engine & vehicle related articles, tech columns and product reviews that were published by The Diesel Page between 2001 and early 2007. What you'll find here are time-tested and proven methods, techniques and strategies that will increase 6.2L vehicle performance, fuel economy and reliability. This 70 page 6.2L Diesel volume II includes 15 articles and 132 photos, and which builds on our coverage of the 1982-93 6.2L diesel equipped GM vehicles found in the first volume. A list of included articles and a brief synopsis of what each contains is included below.
We begin with an article that will help the first-time diesel owner understand the basics, regarding diesel fuel, motor oil, fuel filters and general operation.
Dr. Lee's custom engine article will show you what is involved in correctly building a performance oriented and highly durable non-turbo engine. From block selection to individual component selection to machining techniques, everything you need to know is here to help you build a first-rate 6.2L or 6.5L diesel engine.
Peter Bierman's Twin Turbo project story is a fascinating look at 6.2L power and custom fabrication. Sometimes just knowing what is possible inspires all of us to push the envelope.
Power improvements had been our main focus for most of the past 10 years, and we've somewhat neglected the primary reason why GM developed the 6.2L diesel in the first place - that being fuel economy. Fuel economy has become a hot topic among diesel owners since the cost of fuel rose above $3/gal in 2005, and fuel economy is among the top three reasons why people buy a diesel equipped vehicle. In response, we began a new fuel economy series in 2006 that explains how to improve 6.2L MPG, and added two new articles to this book that delve into the theory of 6.2/6.5 diesel fuel economy.
All of us here at The Diesel Page hope you enjoy this book, and perhaps more importantly, hope you learn how to improve your 6.2 in any or all areas you feel your truck or Suburban needs improvement in. Our mission is to help you succeed! TDP
Note: This volume is available separately. Please see the Member's Area page to see what articles are currently online and available to current Option A or B subscribers. Most articles included in this volume are no longer available online and are not included with a subscription.
---
Diesel Primer
Covering the basics in diesel ownership.

Ok, you just bought a (new to you) diesel truck or Suburban. You might be wondering what you need to know about diesel engines to get the fuel economy, power and reliability diesel engines are noted for. What you'll find here is essential information specific to GM diesel engines that could help eliminate some of the problems experienced by new diesel owners, and help you get more out of your 6.2L diesel engine.
The Right Stuff
Custom-Built GM 6.2/6.5 Diesel Engines

For the past several years Dr. Lee has been promoting naturally aspirated (non-turbocharged) diesels here on TheDieselPage.com and in the Forums, and has described the incremental steps taken to improve the performance of his 1984 6.2L Chevrolet C10. Since the last naturally aspirated story, Lee had been wanting to take his 6.2L to the next level of performance, but found the original engine wasn't up to the task. Follow along as we show you a custom-built non-turbo 6.5L diesel engine (that began life as a 6.2L), and evaluate the synergistic effect on performance when combining all of "The Right Stuff" into one carefully assembled custom engine.
Chevy 6.2L
Twin-Turbo Project

Peter Bierman came to the conclusion that he could make the 6.2L diesel more powerful with turbocharging. The easiest solution would have been to order a Banks Sidewinder turbo kit, but after considering the costs involved, doing his own turbo project made more sense and would provide a certain degree of satisfaction when finished. Smaller turbochargers are more widely available in Europe, so he experimented using a pair of turbochargers. Using twin turbos also meant Peter would have to make new exhaust headers, upgrade the cooling system and make a new exhaust and intake system. Follow along as we show you the process and discuss the performance payback.
6.2/6.5 Fel-Pro Head Gaskets

We recommend using the 6.5L Fel-Pro head gaskets when performing cylinder head work on a 6.2L. This article explains what 6.2L cylinder heads are candidates for using the 6.5L gaskets, and what this upgrade can do for 6.2L owners regarding head gasket durability.
Chains or Gears?
6.2/6.5 Timing Set Pros & Cons

What are the advantages and disadvantages of using a DSG gear-drive timing set? Let's consider this question, and have a look at some of the related issues involving the 6.2/6.5 gear and chain timing sets.
6.2/6.5 Glow Plugs
Quickheat & AC60G Test

This article contains a direct comparison between the aftermarket "Quick Heat" glow plug and an AC-60G. Both bench tests and engine startability testing confirms our results. Which is best? Find out here.
6.2/6.5 Fuel Economy
Cylinder Heads

Aside from the turbocharger and fuel-rates, and regarding fuel economy, what's the difference between the early naturally aspirated (non-turbo) 6.2L diesel and the later turbocharged 6.5L diesel? Certain components used in the cylinder heads are way different, and that's what this fuel economy update is about. We'll show you how to build for fuel economy.
Brake Specific Fuel Consumption
Power, Load & RPM

Brake Specific Fuel Consumption is a measure of fuel use for work being produced. Many operational factors combine to produce the fuel economy for a given set of conditions. This article discusses these conditions and engine operating parameters, and explains how you can operate your 6.2L diesel engine to obtain maximum fuel efficiency.
Hydraulic Brake Booster Replacement

All of the GM diesels from 1982 to the present use a hydraulic brake booster. Hydraulic pressure generated by the power steering pump is used to provide power assist to the braking system. Though very reliable, find out what can go wrong, learn how to replace the hydraulic brake booster, and find the best deals on replacements.
Air Conditioning Service
& R12 to R134a Conversion Information
Part of the mystery in servicing automotive air conditioning systems for most people is a lack of understanding in the technology. Find out how the system operates, and learn how to troubleshoot an air conditioning problem. Also included is a section on converting an R12 system to the newer R134a refrigerant. Staying cool is important too!
Performance 700R4 Automatic Transmissions
Part I

This is an indepth look at what it takes to build a reliable and durable TH700R4 automatic overdrive transmission. From case selection to set up. Dr. Lee takes us through the entire process in both Part I & Part II.
Performance 700R4 Automatic Transmissions
Part II

We complete the story with Part II, and discuss the vehicle performance benefit from having a correctly built and set up automatic overdrive transmission.
Rear Disc Brake Upgrade
for the early GM diesel trucks

The 6.2L diesel equipped trucks and SUV's were all equipped with rear drum brakes. Upgrading to rear discs help in two important areas - reduce unsprung weight and improve stopping ability. Demands on the braking system increase as loads or vehicle speeds increase, and stopping can sometimes be more important than going fast.
Tachometer Alternatives
for the 6.2L Diesel

The aftermarket has produced a plethora of tachometers for the gasoline engine enthusiast, but only a couple of examples exist for those who drive a 6.2L diesel equipped pickup or Suburban. My goal was to adapt one of the many excellent tachometers made to work with a spark-ignition engine. We did it! Follow along as we take you through the process.
Variable Time-Delay Glow Plug Controller

A variable timer allows you to power the glow plugs automatically, or for as long as the switch is held in the momentary-ON position. Adjustability is a key feature - longer glow times can be dialed-in during the winter months, and then reduced once warmer temperatures arrive - simple to install and easy to use.
---
To order the 6.2L Diesel Volume II, please send the information in the secure on-line form.
Thanks for helping support The Diesel Page.
---
TheDieselPage.com
What's New: | Feature Articles: | Product Reviews: | Member's Area:
Join Us: | Duramax Diesel Page: | Advertisers: | Classified Ads: | Books:

Send e-mail to: turbo@TheDieselPage.com
Copyright © 2014 by The Diesel Page
www.TheDieselPage.com