---
The Diesel Page
6.2L Diesel volume I
Improving Performance & Economy
---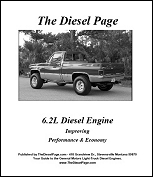 By 2018, the GM 6.2L diesel engine had been on the road for more than 36 years, providing owners with excellent fuel economy and routine service. The Diesel Page has been providing continuous coverage for this engine family since 1996, and this 6.2L Diesel Volume I includes every important 6.2L diesel & vehicle related article, tech column and product review published by The Diesel Page between 1996 and 2001. What you'll find here are time-tested and proven methods, techniques and strategies that will increase 6.2L vehicle performance, fuel economy and reliability.
Our focus here at The Diesel Page has always been to expand the knowledge base for these engines and to improve ownership satisfaction. Improving performance, fuel economy, drive-ability and reliability are all important, and we strive to help 6.2L diesel owners achieve those goals.
The GM 6.2L diesel engine first became available in the 1982 model year, and was an optional engine in GM's full-size pickup, SUV and utility markets. GM's brochures at the time promoted a real sense of optimism for their new diesel. Excellent fuel economy was a frequently mentioned theme along with references to this engine being "tough", "durable", or for those who "demand power for hauling heavy loads".
The early 80's brochures indicated that the 6.2L diesel was available in either a 2WD or 4WD 3500 series pickup with a GVW rating of up to 10,000-lbs. In addition, a properly equipped 6.2L diesel C3500 was rated for a maximum trailering capacity of 13,500-lbs. Now that's optimism!
The 6.2L diesel was a brand new "ground-up" design that was conceived and manufactured as a light-truck diesel engine by GM/Detroit Diesel. Prototypes saw extensive testing at the GM Proving Grounds located in both Milford, Michigan and Mesa, Arizona. When operated within its design and real-world performance limits, the 6.2L diesel is a fine engine. It really does deliver stellar fuel economy, excellent drive-ability and performs well for most owners.
This book begins with an explanation of why the GM 6.2L diesel was developed and what market it was designed for. The Banks Sidewinder turbocharger system was the most popular turbo kit on the market, and we installed one to find out what was involved and how it affected performance. Our 2-part article included here explains what you can expect.
For those who prefer to run their 6.2 without a turbocharger, Dr. Lee wrote a series of articles and updates that explain how to improve 6.2L non-turbo power and performance.
Articles explaining how to improve the reliability of the glow system, cooling system, engine oil system, and cruise control system are also included. Check the article list and content description below to learn more. We've "cherry-picked" all of the best articles written and published throughout this four year period, and put them all into one volume. Written by enthusiasts for enthusiasts, this is the most comprehensive collection of 6.2L Diesel and vehicle related information available to truck owners. All totaled, there are 19 articles in 70 illustrated pages covering all 1982-1993 model-year 6.2L diesels manufactured by GM.
All of us here at The Diesel Page hope you enjoy this book, and perhaps more importantly, hope you learn how to improve your 6.2 in any or all areas you feel your truck or Suburban needs improvement in. Our mission is to help you succeed! TDP
Note: This volume is available separately. Please see the Member's Area page to see what articles are currently online and available to current Option A or B subscribers. Most articles included in this volume are no longer available online and are not included with a subscription.
---
The 6.2L Diesel Engine
Why was the 6.2L diesel engine developed?. We discuss the concept and design philosophy behind the General Motors 6.2L diesel engine. Also included are 6.2L engine specifications, technical data and a discussion about performance improvements.
Installing the Banks 6.2L Sidewinder Turbo System
This two part series discusses the Banks turbocharger installation for the 6.2L diesel engine. In part one we discuss the quality of instructional materials and of the individual components, and present some installation tips. In part two we discuss the performance improvements and talk about basic 6.2/6.5 turbocharger operation.
6.2L/6.5L Glow Plugs
Which glow plugs should you use? How often should you change them and what symptoms develop when they need to be replaced? How do you deal with burned and broken glow plug tips? We purposely burned out a bunch of used and new glow plugs trying to find answers to these questions.
6.2L/6.5L Diesel Myths
Here we discuss many of the common myths about the GM diesel and hope to set the record straight.
Turning Up The Pump
An illustrated guide for adjusting the fuel metering in a DB2 injection pump. We'll also tell you why fuel adjustments are sometimes necessary, what these adjustments do to fuel mileage, and what the impacts are on power.
More Power!!! for the 6.2L
This More Power!!! installment concerns the 6.2L engine. Dr. Lee presents what he's done to increase the power in his 6.2l truck, and we discuss the areas you need to consider to get More Power. The 6.2 can be made to run. Tune in here to get the details.
6.2L Performance Update
Making the naturally aspirated 6.2L diesel perform has been an interest of mine for some time. A few months ago we showed you some of the many performance improvements made to our 1984 Chevy C10. This time, we'll discuss "Turning Up The Pump", installing a pyrometer and EGT gauge, and show you the instrumentation used to document the performance improvements.
Bypass Oil Filtration and Filters for the GM Diesels
One of the more frequent inquiries we receive here at the Diesel Page concerns the merits of adding bypass oil filtration to the engine lubricating system. To test a bypass filter for our light truck diesels, I installed an Amsoil BE-90 bypass filter element on my 1984 C10. I'll show you how to install it, and through oil analysis I'll demonstrate the relative merits of this system.
GM Diesel Radiators (Part I)
The radiator is arguably the most important component in your engine cooling system. We'll show you what works to keep the engine temperature in check, ways to maintain peak cooling efficiency, and show you the ultimate in GM diesel radiators (a custom 5 row high-efficiency core).
GM Diesel Radiators (Part II)
Last time, we talked about radiator construction and included some photos showing some common radiator problems. This month we'll cover some additional areas of concern for radiator efficiency, as well as discuss aluminum radiators and the new orange colored Dex-Cool coolant.
TH700R4 Rebuilding Tips
This is not a step-by-step 700R4 rebuilding tutorial, but rather a collection of tips and information that will help if you decide to rebuild your own transmission. I have rebuilt two automatics, a 2004R and now a 700R4. Rebuilding these transmissions has not made me an expert, but I have learned enough and discovered the necessary resources to help any competent home mechanic be successful.
Towing With The 6.2L Diesel
A lot can be learned from someone who is an expert in towing with a Banks turbocharged 6.2L. This article will have the information you need to be successful by focusing on engine setup and powertrain management. Knowing what to expect and how to equip your GM diesel can make all the difference in towing satisfaction.
6.2L Engine Upgrades
Earlier this year we added a number of upgrades to our 6.2L diesel. A "J" model open plenum intake manifold, new timing set, new style rocker arm set, and a new injection system were installed to improve performance and operation of my 6.2. Find out what was learned and what tips you can employ in your own upgrades.
6.2L Engine Upgrades, Part II
In Part I, we showed you what tips you could employ in your own upgrades. In Part II, we'll share what was learned as the engine went back together and was started for the first time.
Modifying/Repairing the 1985-93 Glow Controller
Learning more about the 1985-93 glow controller will help you modify or repair it. The information included here should help you better understand the 1985-93 glow controller and allow you to fine-tune the glow operation to suit your individual situation.
Aftermarket Cruise Control
We installed an aftermarket cruise control when the factory cruise control failed in our 1984 C-10. Go here for an installation overview and discussion.
Electric Lift Pump and Racor Filter for the Early Diesels
and a Performance Update
To continue with the technical improvements to our 6.2L truck, we added an electric fuel lift pump to assist in starting, to be an on-board backup to the engine-driven mechanical lift pump, and to easily reprime the Stanadyne fuel filter on the firewall after routine (or emergency) fuel filter changes. The electric fuel lift pump installation also allows us to complete (and document) the performance improvements we experienced after the last performance upgrades. This article completes that story.
6.2/6.5 Crankshaft Failures
Crankshaft failures are often a catastrophic end to an otherwise perfectly good 6.2/6.5 engine. It is wrong to assume that these crankshafts are weak. Rather, we believe other engine components at fault. This article will discuss these failures, and discuss ways to prevent them.
Updating the 82-84 Glow Plug Controller to the More Reliable 1985-93 Version
The 1982-84 glow system controller was not as reliable as that used by GM beginning in 1985. The 1985-1993 glow system controller has proven itself to be reliable and long-lived. We show you how to convert to the newer controller.
---
To order the 6.2L Diesel volume I, please send the information in the secure on-line form.
Thanks for helping support the Diesel Page.
See the 6.2L Diesel volume II
---
TheDieselPage.com
What's New: | Feature Articles: | Product Reviews: | Member's Area:
Join Us: | Duramax Diesel Page: | Advertisers: | Classified Ads: | Books:

Send e-mail to: turbo@TheDieselPage.com
Copyright © 2018 by The Diesel Page
www.TheDieselPage.com