---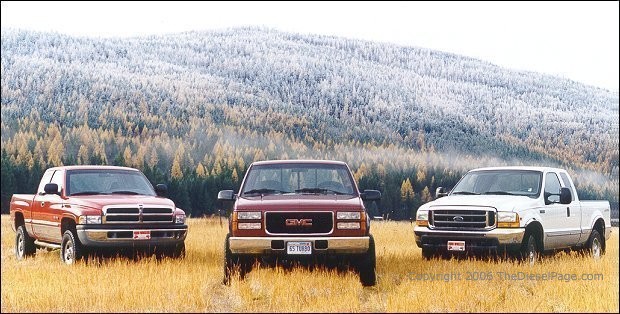 The Diesel Page
6.5TD Power Project
Updated November 12, 2018
---
The Duramax 6600's arrival in the fall of 2000, with its class-leading power and torque, created quite a buzz among Ford and Dodge owners. They immediately said that with modifications, their trucks could equal a "stock" Duramax 6600 powered GM pickup truck. Perhaps...
The concept for The Diesel Page 6.5TD Power Project came from this same thought process. That being, if you added the right equipment, the 6.5TD could provide competitive levels of performance. In 1999, we compared a properly equipped 6.5L Turbo Diesel to both a stock 1999 Dodge ISB Cummins and Ford Super Duty Powerstroke during our first annual Pull-Off, which included a 10,000-lb trailer and a 6% grade. This and other performance tests have proven that the 6.5 could compete while pulling heavy trailers, and could easily outrun a stock 1999 Ford & Dodge while running solo.
Note: The 6.5TD Power Project series began in late 1997, and was completed by mid 1999. At the time this series began, Ford & Dodge set the standards for diesel towing power, and many 6.5 owners were looking for ways to improve the towing performance of their GM trucks. The question we hoped to answer with this project back in 1997-99 was whether a properly equipped 6.5TD could provide towing performance comparable to a "stock" 1999 model-year 7.3L Ford Powerstroke and Dodge ISB Cummins. After driving this truck more than seven years and 250,000 miles, I believe we've answered this and many other questions concerning power, performance and durability for a performance-modified 6.5L Turbo Diesel.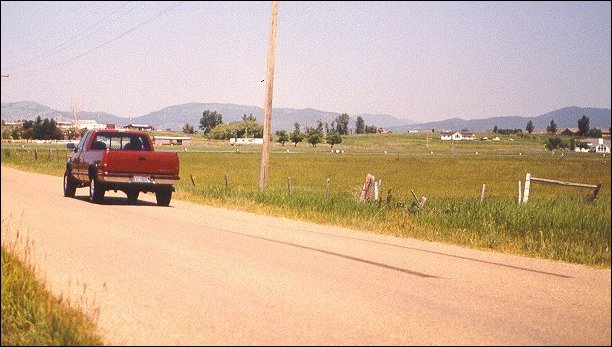 Boost pressure, fuel and engine cooling are the three main ingredients that determine diesel engine power. The concept for this project truck was not about creating a "hot-rod", or a touchy or hard-to-manage engine, but rather give it the same levels of boost pressure, fueling and engine cooling used by Ford and Dodge, then see how the 6.5 compares.
The process of modifying the 6.5 began by fitting a set of Peninsular Engine's 18:1 compression ratio pistons. These lower compression ratio pistons make it possible to safely increase boost pressure and fueling. Ford and Dodge diesels were already equipped with 17.5:1 pistons, where the original 6.5 pistons were at 21.3:1. A lower compression ratio reduces the combustion flame temperature, which significantly improves piston and head gasket durability.
An intercooler was then installed to reduce the charge-air temperature generated from a sustained boost pressure of 15 psi. Both Ford and Dodge already run with 15-20 psi of boost pressure and a factory installed intercooler. The maximum boost pressure for all stock 6.5 diesels is about 7 psi, and the stock 6.5 trucks run without an intercooler. The new pistons, intercooler and factory GM-8 turbo allowed us to safely run competitive levels of boost pressure.
To get a fuel-rate matching these boost pressure levels, we installed a Peninsular marine DB2 fuel injection pump and matching hi-flow Bosch marine injectors, calibrated for an advertised 300 horsepower. An aftermarket turbocharger would have allowed this engine to fully utilize the fuel-rate produced by the marine DB2, but our initial goal was to learn how far we could push the factory turbo system.
The final ingredient in this power equation involved improving the engine's ability to reject heat. An increase in power also means an increase in BTU production. Fortunately, GM's newest 6.5 cooling system satisfied our engine cooling requirements by giving us an off-the-shelf 130-gpm water pump, high-flow dual thermostats, specially calibrated fan-clutch and 21" 9-blade composite cooling fan. Now finally, we would learn how the 6.5 compared to Ford & Dodge when the playing field was level.
In late October 1999, we had an opportunity to run the 6.5TD Project truck against a new Powerstroke and ISB Cummins. The GM 6.5 averaged over two seconds faster than both Ford and Dodge in the dozens of 0-60 mph acceleration runs we performed, and pulled right with the Ford SuperDuty PowerStroke on a loaded hill-climb while towing a 10,000 lb trailer. Dodge was a distant third in the hill-climb competition. This level of power produces a trailering performance capable of pulling a 10,000 lb trailer up a 6% grade at the legal speed limit.
So what's all this prove? These carefully controlled performance comparisons prove the 6.5TD can be competitive with the 1999 model year Ford and Dodge. This also dispels a ton of myths about the 6.5 with regard to engine design (Indirect Injection), durability and capability. With the diesel option cost for Ford, Dodge and GM, upgrading the 6.5 now becomes a cost effective option for those who prefer the GM classic C/K trucks, but need more power.
Engine Durability: As of April 2006, the 6.5TD Power Project engine had logged more than 250,000 miles in seven years without a single problem occurring with the engine or fuel injection system. While a life of ease might not prove much, these miles were mostly driven with a trailer in tow.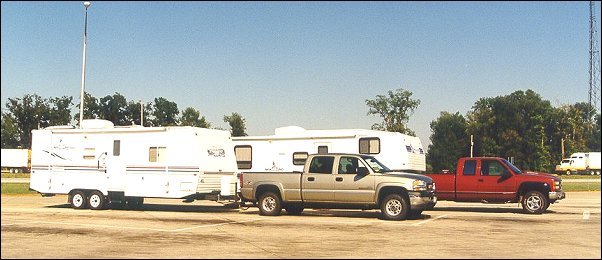 Above - Two thousand miles from our home in western Montana, we stop at a rest area in Indiana, on our way to Dayton, Ohio and The Diesel Page 2001 Rendezvous. This towing excursion added 4,500 miles to the odometer, and produced a 10.8 mpg average for the entire trip (the pictured Duramax produced 11.3 mpg for the same trip). While on the interstate highways, we tend to run at about 70-mph with a combined truck and trailer weight of more than 13,500-lbs. This 4.10 geared 6.5TD powered truck averages 17-20 mpg on summer blend fuel when running unloaded, with the best tank producing over 21 mpg.
During the Ohio trip, we encountered ambient temperatures of up to 105° Fahrenheit. Whether towing uphill, downhill, on the flats or while crossing the Continental Divide, the engine temperature gauge never exceeded 205°.
The 6.5TD Project Truck was accompanied on that trip by the 2001 GMC crew cab Duramax/Allison shown above, which was towing a similarly sized travel-trailer. Aside from being competitive with a Ford 7.3L Powerstroke & Dodge 5.9L Cummins, we also know that a properly equipped 6.5 compared favorably to the 2001 model-year Duramax powered GM truck while traveling cross-country.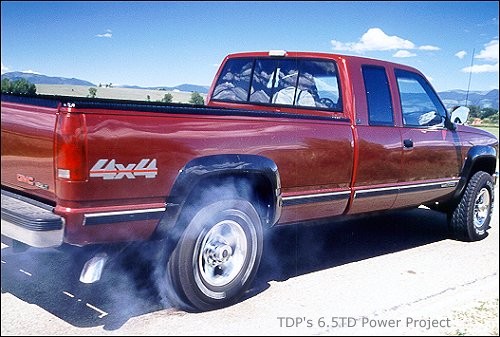 The complete 6.5TD Power Project Series is available as part of the "updated for 2018" 6.5L Turbo Diesel Volume I. This series shows every detail of the 6.5TD engine buildup and truck modifications. The final segment in the Project series ends with a feature article covering the performance Pull-Off competition in the fall of 1999, where we compared the Power Project 6.5L Turbodiesel to a new 1999 Ford Super Duty PSD and Dodge ISB 24-valve Cummins in a formal power contest moderated by the staff of Four Wheeler magazine. The latest 6.5L Turbo Diesel Volume II (160 pages in total) and 6.5L Turbo Diesel Volume III are also available, which builds on what we learned about 6.5L TD power since completing TDP's 6.5TD Power Project, and shows how to build-in even more power and durability. These three volumes each cover their own unique range of subjects, and expand on our theme of making the most power with the 6.5L Turbo Diesel while maintaining the long-term reliability and durability GM owners expect.
This is about competitive 6.5L Turbo Diesel power, combined with the great looks and smooth ride of a General Motors classic C/K truck. Even today, The Diesel Page's 6.5TD Power Project remains a proven concept, with proven performance and durability...
TDP
Postscript: The 6.5TD Power Project truck was sold in the spring of 2006 to a fellow TDP member who resides in California. We'll stay in touch.
More Power!
---
TheDieselPage.com
What's New: | Feature Articles: | Product Reviews: | Member's Area:
Join Us: | Duramax Diesel Page: | Advertisers: | Classified Ads: | Books:

Send e-mail to: turbo@TheDieselPage.com
All images & text Copyright © 1996-2018 by The Diesel Page
www.TheDieselPage.com