---
More About
TheDieselPage.com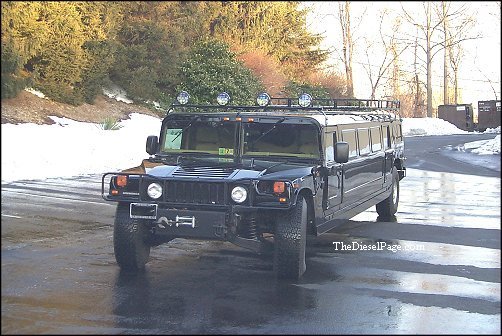 Robert Steelman's stretched 6.5L Turbo Diesel Hummer
---
A question we're frequently asked is, "how did The Diesel Page web magazine get started?" Well, we didn't set out to create a web magazine about the GM diesels, but rather a series of events occurred that led to the creation of TheDieselPage.com. I guess some things happen for a reason.
All this really began in the summer of 1986 when I bought a GMC with the 6.2L diesel engine. Aside from that first 6.2L GMC, we've owned several other 6.2L and 6.5L turbodiesel powered GM vehicles, ranging from stock daily drivers to high-performance Power Project 6.5's and a Duramax Hot-Rod. Since December of 2000, we have also owned a Duramax/Allison powered GMC 2500HD daily driver because we know that the best information can only come through first-hand experience.
TheDieselPage.com idea was conceived in late 1995, and went on-line in mid February of 1996. From the beginning, passion for the trucks and these diesel engines gave us the motivation to provide the most accurate, factual and useful information assembled for the 1982 to present General Motors diesel light-trucks. Helping people - to solve problems and to improve the GM diesel ownership experience have always been our most important mission. Focusing on information, and not parts or accessories, allows this web site to offer you the best information.
TheDieselPage.com was the very first and remains the very best resource for the General Motors light-truck diesel engines - most members agree. The Diesel Page is not only the first GM diesel community web site, but we are also the only mainstream GM diesel community web site whose founders have actually owned and driven the 6.2L Diesel, the 6.5L Turbo Diesel and the Duramax 6600 - going back to the mid-1980s. It's a fair question to ask owners of any GM diesel related web site about their ownership experience, to determine whether they have a commitment to the GM diesel community. There are GM diesel-related bulletin board forums out there that were started by people who had never even ridden in a GM diesel powered pickup truck - they were in it to sell parts.
Not counting any of the nearly 100,000 plus topics found in our Bulletin Board Forum, this web site contains more than 1000 printed pages of on-line content (feature articles, product reviews, technical summaries, and other resource pages), and many hundreds of additional pages cycle through the web site each year. No other diesel related web site offers as much free material, as many on-line services, as many member benefits, or offers GM diesel & Duramax 6600 coverage as comprehensive. TheDieselPage.com is operated by people who have demonstrated a longterm commitment to owners of GM diesel light-trucks, and have more experience with the trucks, diesel powertrains and web publishing than any other on-line or printed source. Our publishing ten books in more than twelve years indicates the content oriented nature of The Diesel Page.
We've been providing the most complete General Motors light-truck diesel coverage available anywhere at any price since 1996. Just $24.95 gives you access to everything currently online as well as the bulletin board forum for as long as you're a subscriber. Whether you are an enthusiast who wants to learn more about your diesel truck or SUV, or you just want to resolve a problem with your vehicle, this is where you need to be. You are invited to become a member of the web's first and most professional GM diesel community. Please join us for all the latest in GM diesel light-truck news and information.
One of the more interesting aspects of our work here is the contact we have with GM diesel owners from around the world. The Diesel Page has truly become an international organization with subscribing members from 58 different countries, including:
Argentina
Australia
Austria
Belarus
Brazil
Canada
Chile
Croatia
Cyprus
Czech Republic
Denmark
Estonia
Finland
Germany
Great Britain
Guatemala
Haiti
Honduras
Hong Kong
Hungary
Indonesia
Israel
Italy
Japan
Jordan
Kazakhstan
Kenya
Malta
Mexico
Namibia
Netherlands
New Zealand
Nicaragua
Norway
Oman
Panama
Paraguay
Philippines
Poland
Portugal
Puerto Rico
Peru
Poland
Serbia
Scotland
South Africa
South Korea
Spain
Sweden
Switzerland
Turkey
Ukraine
United Arab Emerates
United States of America
Uruguay
Venezuela
Zimbabwe
In addition to these, we've received e-mail from nearly every country in Europe, Asia, and the Pacific rim. The GM 6.2/6.5 diesels appear to have a much wider distribution than any other comparable diesel pickup engine. Considering that the GM diesels have been in continuous production since 1982, and they have always been lower priced than the others, all play a big part in this world-wide acceptance of the 6.2L/6.5L diesel engines.
Among our membership you'll find doctors, lawyers, farmers, ranchers, pilots, law enforcement officers, teachers, biologists, several different kinds of engineers and just about every other profession you can think of. Women like the GM diesels as well and are well represented in the membership.
Your support and encouragement are appreciated. We couldn't do this without your help.
Thank you for reading. TDP
www.TheDieselPage.com
www.62-65-DieselPage.com
---
Please Subscribe for all the best in GM diesel light-truck news and information.
---
TheDieselPage.com
What's New: | Feature Articles: | Product Reviews: | Member's Area:
Join Us: | Duramax Diesel Page: | Advertisers: | Classified Ads: | Books:
Search The Diesel Page:
Send e-mail to: turbo@TheDieselPage.com
Copyright © The Diesel Page
www.TheDieselPage.com