---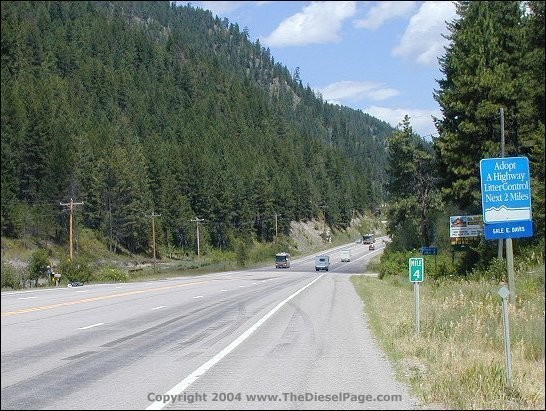 The Diesel Page
Pull-Off V - July 2004
GM, Ford or Dodge? - Determining Braggin' Rights!
---
The truest test of diesel pickup performance can only come when run on a real hill and with a real load. After all, most diesel pickup buyers bought their truck to tow trailers. Launching from a dead stop, then running full-pedal with a 10K+ loaded trailer for a measured mile on a 6% grade helps to separate fact from ad hype.
For this year's Pull-Off, we were fortunate to have a representative sampling of the big guns from GM, Ford and Dodge. All three manufacturers are now heavily involved in a competitive power war, and diesel pickup buyers are benefiting quite nicely.
Since 1999, we've used the same grade for each Pull-Off event, recording speed and elapsed time at the one-mile point for each truck. The above photo shows the starting point, at the 4-mile marker. As seen in this image, the first short section of the hill is a mild 2%, which quickly rises to 6% for the remainder of the pull. This year, all trucks launched from a dead stop with an 11,920-lb trailer, and ran full-pedal from the 4-mile marker to the 5-mile marker - exactly one mile. Elapsed time and speed (at the 5-mile marker) for each run were recorded using a stopwatch and a portable GPS. These tests more accurately measure truck performance - not just engine performance. Transmission gearing weighs heavily into competitive trailering performance, as does an impressive engine power/torque curve and governed RPM range. Ambient temperatures ranged from about 90-100° during the period of time allotted to the truck runs. The Pull-Off is most definitely a stress test.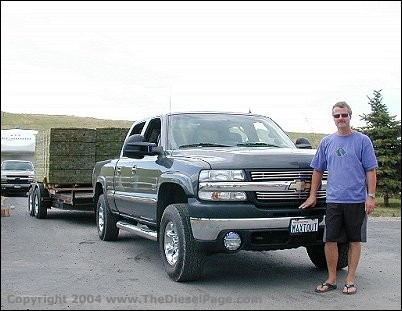 Darrell Moudry (Motovet) arrived loaded for bear. With a Suncoast Allison to handle all the power he needed, and with a variety of power modules and a "special" TCM module from Kennedy Diesel, Darrell's 2002 Chevy 2500HD was the odds-on favorite from the get go. We were not disappointed. The big Chevy outran the field by quite a margin, winning Darrell the coveted "My Truck's Faster Than Your Truck" T-shirt. Even with the heavier trailer this year, Darrell's truck produced the best top speed we've seen to date for any diesel pickup. However, John Kennedy's record time of 55-seconds at last year's Pull-Off remains unbroken.

VanAaken 125hp 72.2-mph @ 1:01
VanAaken 150hp 75.2-mph @ 00:59
VanAaken 200+hp 74-mph @ 1:00, late day run with headwind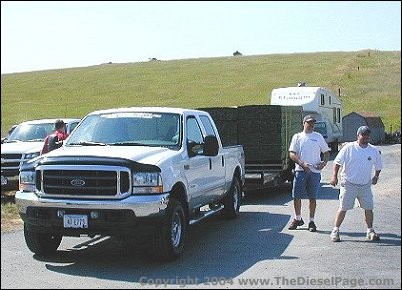 Rob (far right), from USDieselParts.com, brought USDP's 2003 6.0L Ford Powerstroke to the Pull-Off. This was our first opportunity to run a 6.0L on the hill, and we were looking forward to seeing what it had to offer. This truck was equipped with a trick sounding dual-exhaust and an AFE air intake kit, and we ran it at stock power and with a variety of Edge Juice power levels. This truck produced the lowest exhaust temperatures of all those equipped with gauges and somewhat similar power enhancements, and produced the lowest elapsed time (among the stock trucks).
Stock 51-mph @ 1:14 1150° EGT (ran later in the day with a headwind)
Edge Juice 50hp 65.2-mph @ 1:05
Edge Juice 75hp 68-mph @ 1:05 1304° EGT
Edge Juice 110hp 64.8-mph @ no time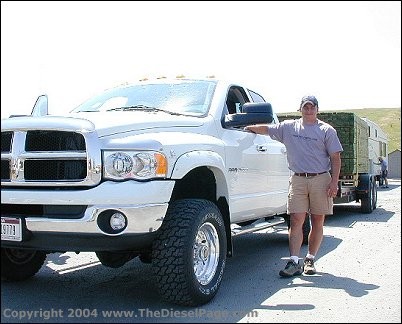 Moe Johnson from USDieselParts.com ran his personal truck, a 2004.5 Dodge Cummins 600/Auto with just 2,900 miles showing on the odometer. Other than a trick dual-exhaust and an AFE air intake kit, his truck ran stock, achieving 49-mph in 1 minute and 22 seconds. The new Cummins produced an exhaust temperature max of 1400° during the final portion of the pull.
Local diesel owner Ron Deda brought his 2003 Dodge Cummins to compete in the Pull-Off. With an Edge 7220 MXIII to boost the power, his truck finished the mile at 56-mph in 1 minute and 17 seconds. His EGT reached a high of 1300°. (Sorry, no picture available of Ron's truck.)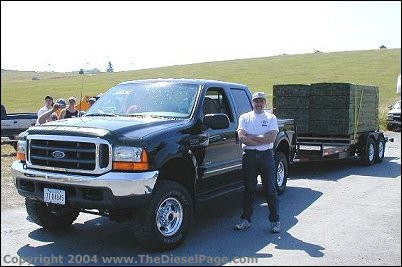 Justin Dall of Advanced Diesel Works in Kalispel, Montana brought his 2000 Ford 7.3L Powerstroke to compete. Rising to the challenge with a set of performance injectors and power chip, his big Ford achieved 66-mph in 1-minute and 6 seconds.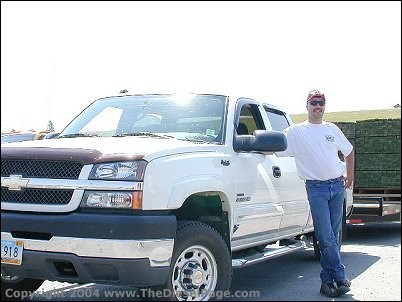 Lynn Schmidt ran his completely stock 2004.5 Chevy LLY Duramax/Allison with just 3,700 miles showing on the odometer. The crew cab longbox reached 53-mph in 1-minute and 17-seconds. The LLY's maximum exhaust temperature eventually topped out at 1400°. Lynn's truck achieved the highest speed among all those running at stock power levels.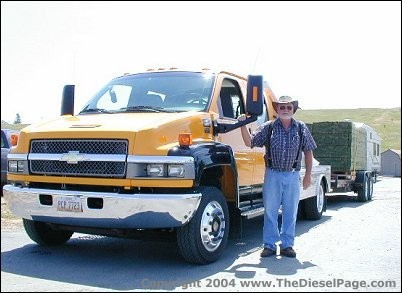 Adding more diversity to the mix of trucks, LeRoy Humbert competed with his 2004 Chevy C4500 crew-cab LB7 Duramax 6600/Allison equipped medium-duty. Weighing in at 11,600-lbs empty, the C4500 was the heaviest truck to run, which when added to the heft of the trailer, produced a combined weight approaching 24,000-lbs. With 19.5" wheels, 4.30 differential gearing, and a Predator program set to 40hp, LeRoy's truck reached 50.3-mph in just 1-minute and 18-seconds. His air-ride rear suspension sure made hooking/unhooking from the trailer an easy exercise.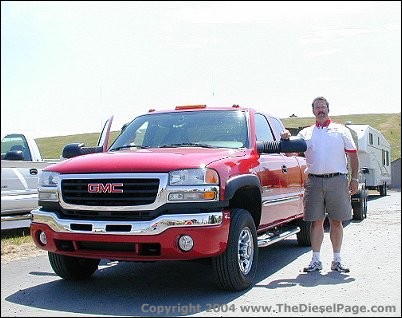 Lube Specialist Greg Landuyt arrived in his brand-new 2004.5 GMC LLY Duramax/Allison, with just 4,100 miles showing on the odometer. Equipped with a variety of Amsoil lubrication and filtering products, his stock truck reached 51-mph at the one-mile point in 1-minute and 19-seconds.
Greg's run occurred later in the day, and he encountered a stiff headwind in the canyon where the hill is located. This caused his fan-clutch to engage, which may have had some effect on performance.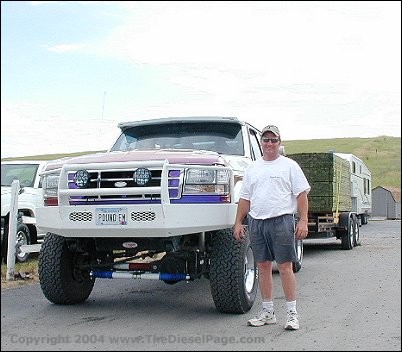 Local Ford owner Sean Currier competed with his 1996 7.3L Powerstroke crew cab. Equipped with a power chip, performance injectors, aftermarket turbocharger and 35" tires, Sean's truck ran to 62-mph in 1-minute and 8-seconds. After a fuel pump modification, a second run improved those numbers slightly to 63-mph in 1-minute and 7-seconds. Sean had a bumper sticker that mentioned something about eating Chevy trucks for lunch..... Not this day!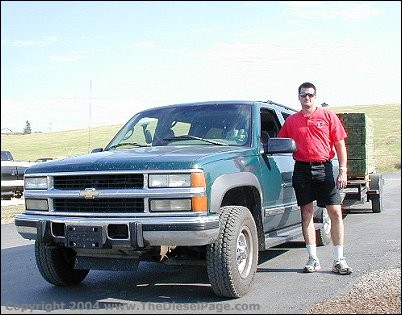 Ron Schoolcraft (ronniejoe) arrived from Indiana with the expressed purpose of running his 1995 6.5TD Chevy K2500 Suburban on the hill. Equipped with a BD TorqLoc and a variety of Kennedy Diesel 6.5 performance bolt-ons, including a KD power chip, specially calibrated fan-clutch, TDMax boost controller, intercooler, and performance injectors, Ron's Sub ran to 42-mph in 1-minute and 22-seconds, equaling the 2004.5 Dodge's elapsed time. Ron's was the last run of the day, and he encountered the highest ambient temperatures along with a stiff headwind in the canyon.
The Duramax powered GM trucks remain the leaders in both stock and modified trailering performance, but the reality is that all three brands of trucks are very close to one another despite the differences in advertised power/torque. Advertised peak power/torque numbers are tempting to focus on when comparing trucks, but not knowing how that power/torque is managed creates a question about trailering performance. These Pull-Off contests allow us to discover the overall truck standing among the current competitors, and they also allow us to compare many of the performance products offered by the aftermarket. We can define the winning truck, but the fact is, all three brands have achieved a level of performance where we all win no matter what truck (or Suburban) we choose to drive.
I would like to thank all ten truck owners for participating in this year's Pull-Off and to John Kennedy for supporting Darrell Moudry's effort. Rob & Moe from USDieselParts also deserve a big thanks for providing the Ford 6.0L and the new Dodge, as does Chris Bigley for riding in each truck and recording the data. Thanks again. TDP
Click this link for: TDP's 6th Annual Pull-Off Event in 2005
---
TheDieselPage.com
What's New: | Feature Articles: | Product Reviews: | Member's Area:
Join Us: | Duramax Diesel Page: | Advertisers: | Classified Ads: | Books:
Search The Diesel Page:
Send e-mail to: turbo@TheDieselPage.com
Copyright © 2004 by The Diesel Page
www.TheDieselPage.com