---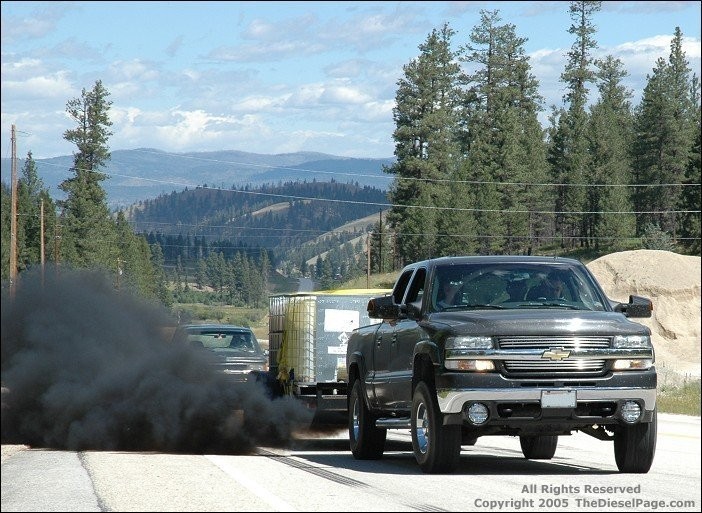 The Diesel Page
Pull-Off VI - July 2005
Shock & Awe
---
Pulling uphill against a 10,000-lb trailer for 50+ seconds separates the dyno or 1/4-mile trucks from those that rule the Pull-Off. Simply put, unless puddles of molten metal are your goal, an extreme horsepower Duramax/Powerstroke/Cummins won't be able to use all that power for the time it takes to cover a measured mile on a 6% grade with a 10,000-lb trailer in tow. Most diesel pickups are bought with the intention of towing a trailer - at least part of the time. Makes sense to construct an event that focuses on real-world towing performance. Measuring engine and drivetrain performance on a real hill and with a real load is in essence what a Pull-Off is all about. Each Pull-Off has two primary objectives: 1- To learn how stock diesel pickup performance evolves with each new model year, and 2- Track the performance improvements made possible by the aftermarket. The Pull-Off is simply the best way to measure the towing performance of a diesel pickup truck.
What's it take for a modified truck to rule the hill? After installing the requisite performance exhaust system, air intake system and gauges, either a genuine competition-level power module or an ECM program rated at 200+ horsepower is essential. Most power products currently on the market are geared for the masses, targeting those who are driving a more or less stock truck and want to stay within the drivetrain's stock torque limits. But, you gotta make big smoke to make big power. We're now at the point that in addition to fueling increases equal to 200+ additional horsepower, water/methanol or nitrous oxide will play an increasing role in raising the performance bar. Competition levels of power require an aftermarket automatic transmission or multi-plate clutch disc assembly if using a manual transmission.
No fear... Putting down the power and placing well requires a steely-eyed determination to keep the go-pedal mashed against the carpet even when exhaust temperatures go beyond those seen by space shuttle tiles. These guys know they'll be paying their dues on the way to the top, and understand what it takes to get there.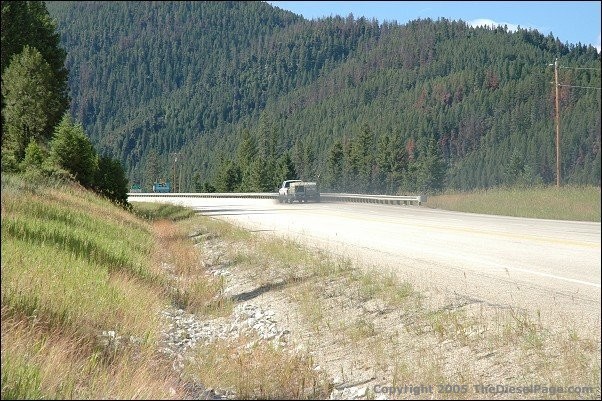 The hill: All prior Pull-Off's had been run on a 6% grade located a few miles northwest of Missoula, Montana. Due to a fresh chip-seal (tar & crushed gravel) applied to the highway just days before our scheduled event, we scrambled to locate a workable alternative.
What we found was a low traffic mountain grade about 85 miles further south that is actually a much better and safer venue. Using a builder's level, a tripod and a 100' tape, we measured the grade at 6.45% at about the mid-point of the mile. A 6.45% grade means that the highway rose 6.45' over a measured 100' run.
The new location also brought with it a change in elevation. The original hill began at about 3000', while the new hill has a mid-point of 5148' in elevation. To determine whether these differences would have an effect on truck performance we included a stock LB7 Duramax in the mix of trucks that had participated in prior Pull-Off events. In the final analysis, the new hill compared very well to that used in all previous Pull-Off events.
Since 1999, we've recorded speed and elapsed time at the one-mile point for each truck. As is tradition, all trucks were launched from a dead stop with a 10,000-lb trailer, and ran the measured mile. Elapsed time and speed for each run were recorded using a stopwatch and a portable GPS. A chase truck was employed to improve safety and to assist in the event of a problem. Ambient temperatures were in the range of 80-85°F. Elapsed times have decreased and speeds have steadily increased since the first Pull-Off, with this year's best performing trucks leaping ahead 5 seconds quicker and nearly 8-mph faster than last year's best run.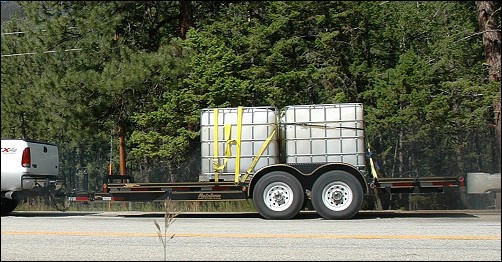 TDP's trailer: Manufactured by the Rainbow corporation in Manitoba, Canada, the trailer's 18' x 80" deck, a 12K GVW and brakes on both axles allow for a significant safety margin with our 10K load. This year, Omega II donated four tanks for our use, each containing ~220 gallons of water, producing a total trailer weight of approximately 10,000-lbs.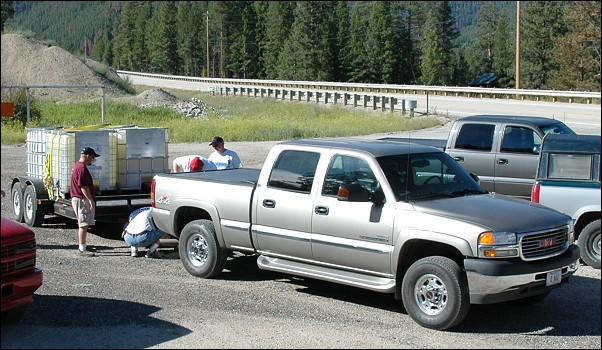 TDP's nearly stock 2001 GMC Duramax/Allison was run first to establish a baseline and to determine whether the new hill would affect performance when compared to previous Pull-Off events.
Following a warm-up run, the GMC mustered 55-mph at the one-mile point in 3rd gear and against the governor. We learned from prior Pull-Off events that this strategy produces the best top speed with a stock LB7, even though it will pull in direct (though 2-4 mph slower).
Aside from a tire size upgrade from LT245/75R16 to LT265/75R16 tires and a Uni-Foam air filter element, the truck was stock. The 3.7% larger tires didn't appear to affect performance. Exhaust temperatures during the run quickly leveled out at 1250°F, then slowly increased in the final 1/4-mile to nearly 1400 as engine RPM approached the governor. Boost pressure hovered around 23-psi, and there was no noticeable change in either transmission or engine temperature during the pull.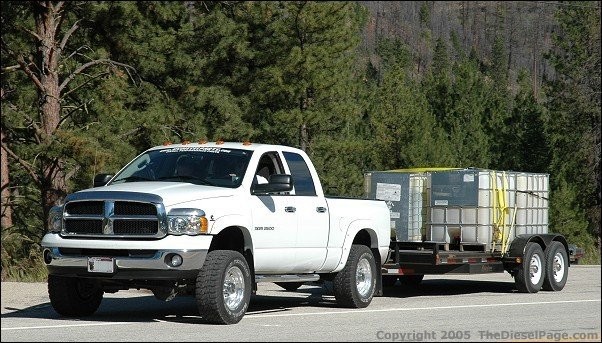 Moe Johnson from USDieselParts.com ran his personal truck, a 2004.5 Dodge Cummins 600/Auto. Moe's Dodge was equipped with a 5" exhaust - ending with a monster 6" tip, aftermarket 48RE automatic transmission, Edge Juice, an AFE Stage II air intake kit, 33" tall tires, water injection, and a High Ram intake plenum. These mods allowed for a significant performance improvement over stock, achieving 67-mph in 59 seconds. As is the case with most runs made by modified trucks, the new Cummins produced an exhaust temperature max of more than 1400° during the final portion of the pull.
Moe & Rob from USDieselParts.com collected names and addresses of those participating, and will be sending each of them a "Pull-Off" t-shirt complete with their name and the names of the other drivers. Thanks USDP!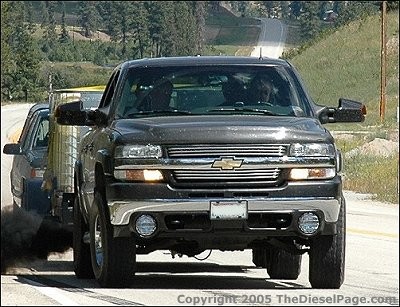 Darrell Moudry (Motovet) drove in from Washington State in his 2002 Chevy 2500HD, fully intending to defend his 2004 win. Equipped with a Suncoast Allison III, a TTS Extreme program, an AFE Stage II intake system, an SD water/methanol injection system, a Banks 4" exhaust system and a "special" TCM module from Kennedy Diesel, Darrell's big Chevy steamed to a new top speed record of an amazing 83-mph in the mile. His elapsed time of just over 50 seconds was the second best time of the day. As you can tell by this and the lead-in photo, it takes big smoke to make big power!
This photo shows how the front suspension reacts to launching in 4WD with big power. Though it rarely hurts anything, drag racers and those who enter sled pull events usually lower the front suspension using the torsion bar adjuster bolts - to help mitigate this effect.
Darrell mentioned that water/methanol adds about 50-horsepower, and helps the engine run with slightly lower EGT's. Campfire banter included stories about others who attempted to run with both water/meth and nitrous, which resulted in unpleasant consequences due to the nitrous actually freezing the water on its way into the engine.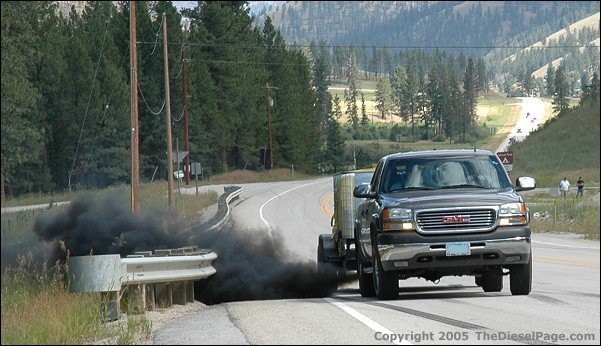 Ken Florey arrived from Bend, Oregon with his 2002 GMC Duramax crew cab shortbed. Ken's truck was equipped with a Swiss army knife of performance products, including:

AFE Stage II air intake with tube
ATS Aurora 2000 Turbo with 4" Downpipe
4" exhaust
BD Exhaust Brake
Edge Juice with Attitude Monitor (150 hp version)
Duramaximizer fuel rail control
ATS Xcelerator (not used on hill pull)
Snow 2-stage Water/Meth injection system
Torque Pro 2000 propane injection system
ATS 95hp nozzles for injectors
FASS Fuel Delivery system
ATS Triplelok LCT-1000 complete Allison upgrade kit with co-pilot
Large Transmission Cooler
ATS large capacity Transmission Pan.
Full gauge set on a triple pillar mount
In combination, these mods allowed Ken's truck to achieve a remarkable 76-mph in just 52-seconds. Ken believes his truck would have performed better with a bit of tweaking and perhaps more experience with the Pull-Off. Ken's parting comments were, "Next year!!!! Look out Kennedy!!!"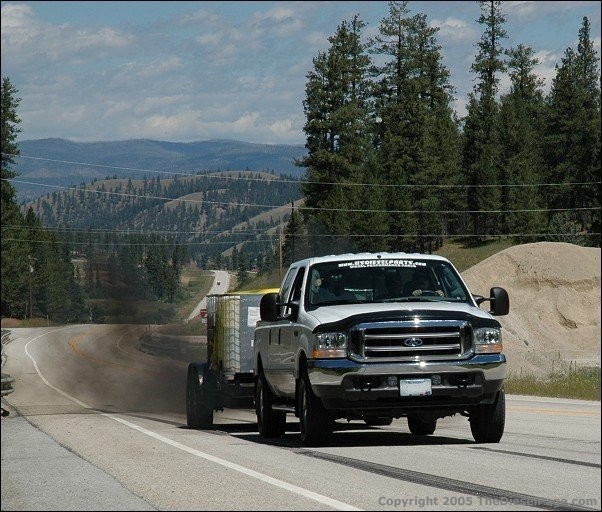 Rob Jewett from USDieselParts.com, competed with USDP's 2003 6.0L Ford Powerstroke. This truck was equipped with an MRBP 4" dual-exhaust, an AFE Stage II air intake kit, Bully Dog Power Pup programmer, and an Edge Juice. Rob ran the Ford three times, evaluating a variety of power combinations offered through USDP. Rob's Ford produced a best speed of 70-mph in 53 seconds.
The location chosen to take these photos also allowed for an opportunity to evaluate the sound quality produced by the various trucks. We all agreed that the MRBP dual exhaust used on the Ford 6.0L sounded bitchin! Any diesel pickup producing 400-600 horsepower sounds awesome, but the Ford was the hands down winner in cool.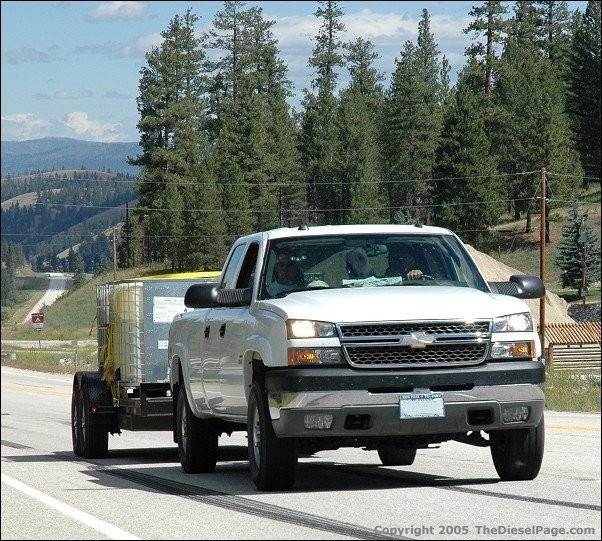 Charlie Moody ran his 100% stock 2005 Chevy 3500 SRW LLY Duramax/Allison. The crew cab longbox reached 54-mph (no time).
We've often questioned the power increase stated in the GM literature for the newest LLY Duramax engines, and till now didn't see how that translated into a performance increase.
Charlie ran his truck with the gear selector in OD, which produced an upshift into 4th gear about mid way up the hill. Unlike a stock LB7, which then loses speed in 4th gear, the LLY maintained and even continued to gain. The difference wasn't earth shattering, but this run did show that the LLY has more power than an LB7. It's also worth noting that the 3500 SRW trucks are factory equipped with LT265/75R16 tires - the same tire size as those used on the LB7 test truck mentioned earlier.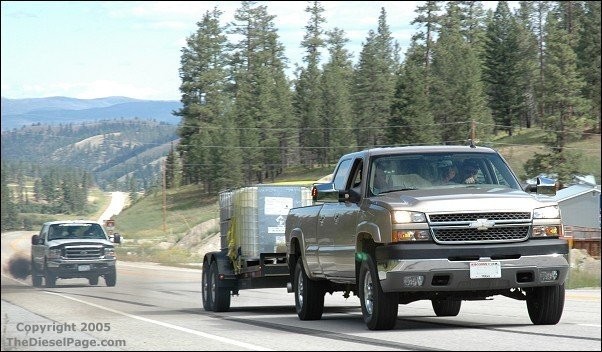 John Kennedy from KennedyDiesel.com brought two trucks to this year's Pull-Off all the way from Loyal, Wisconsin. The one shown in this photo is a sandstone 2005 LLY Duramax Chevy 2500HD crew cab longbox that was further weighed down with 91 gallons of fuel in an auxiliary tank.
Running with a single performance module, a Suncoast IV transmission and a Kennedy 4-5" exhaust, JK's new LLY Chevy cruised to 71-mph in just 57-seconds. This is best speed yet for an LLY, and you'll notice in the photo that there is very little smoke. Part of John's secret may turn out to be the bio-diesel blend he was running. Sure smelled good on the drive-by!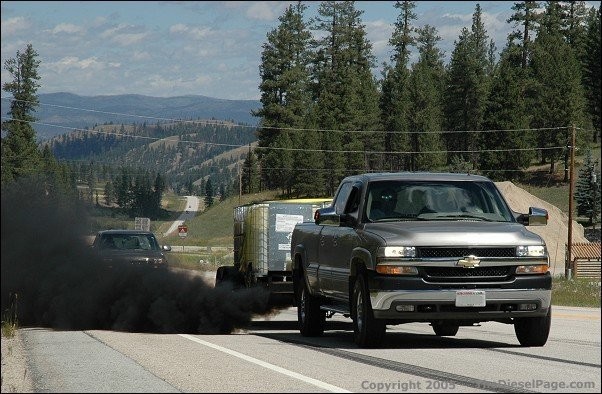 John also ran his tried and tested pewter 2002 LB7 Duramax Chevy crew cab. Running on just #2 diesel fuel, John's truck flew past the mile marker at 79-mph in 50-seconds flat. While being edged out a bit in top speed, JK retains the title for having the quickest time for any truck at any Pull-Off.
John's '02 was equipped with a Suncoast V Allison, KD injectors, VanAaken 200+ power module, KD Boost valve, KD 4-5" exhaust, and KD twin lift pumps & controller (and N20-which was not used this time). To get the power down and to reduce spring-wrap, the big Chevy ran with Caltracs traction bars and pitman/idler supports.
For more than 3 years, this truck has been used as a testbed for a variety of performance products. The accumulated 77K+ miles on the odometer is a testament to the durability of the Duramax 6600. You'll notice in this photo that John had let down the front of the truck using the torsion bar adjusting bolts. This allows the tie-rods to lay more horizontal, which reduces the amount of toe-in during a high-power 4WD launch. Thanks go to John & Elaine and Kennedy Diesel for bringing enough brats, buns and Wisconsin's best brew to feed the group a couple times over.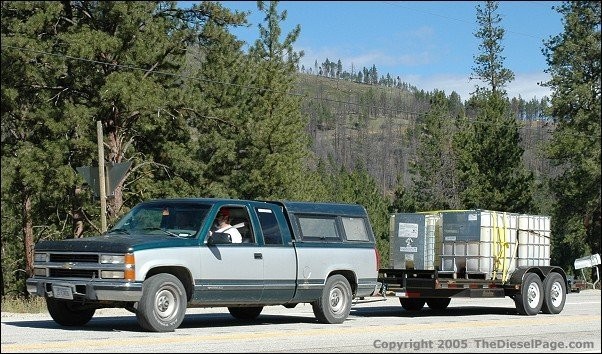 Marty Lau ran the hill with his 1995 6.5TD Chevy 2500. Equipped with a Heath Diesel Turbo-Master wastegate actuator and Max-E-Torq performance computer chip, plus the 1997 hi-capacity cooling mods, 3" exhaust system and 3.42 differential gearing, Marty's truck performed equal to most other 6.5's we've run on the hill, producing 42-mph in 86-seconds. Of special interest here is that Marty's truck is equipped with 3.42 gears. All prior 6.5's we've run were equipped with 4.10's. The taller gearing did very well.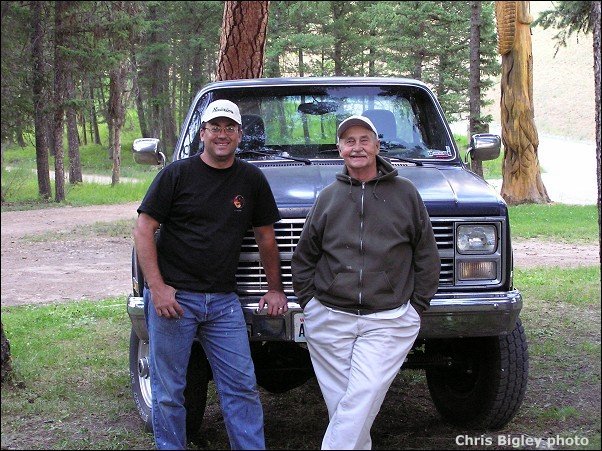 Jerry Giedeman (black t-shirt) and his father-in-law arrived from Walla Walla, Washington with Jerry's 1984 6.2L TurboDiesel project truck. Jerry wasn't able to run the hill due to a missing trailer brake controller, but it was interesting to see the effort he had put into his "work in progress" project vehicle.
A fresh 6.2L rebuild, Banks Sidewinder turbo, new 14-bolt rear axle, new NV4500 5-speed transmission, new dash assembly and interior, and other engine modifications discussed here in The Diesel Page through the years were also incorporated. It'll be quite a truck once completed. Being from Walla Walla, Jerry treated everyone with more than enough WW sweet onions that his home area is famous for. Thanks Jerry!
Thanks go to all who attended, and especially to those who ran their trucks, for helping to make this year's Pull-Off a success. Moe & Rob from USDieselParts, and John & Elaine from Kennedy Diesel were instrumental in helping to make it all happen. A big thanks to Chris Bigley for recording the performance data, and for manning the BBQ. And finally, thanks go to those working behind the scenes at The Diesel Page for making these events possible. Thanks again to one and all.
This year, we had two trucks that shared the honors of "ruling the hill" - one with the best speed at the mile and another truck with the quickest elapsed time. Both were GM trucks. The Duramax powered GM trucks remain the most capable for pulling trailers, whether stock or modified. These Pull-Off contests have always been open to all comers, and we encourage all truck owners to attend, especially those who think their GM, Ford or Dodge has what it takes. Make plans now to attend next year's event. Show us what you've got!
TDP
---
Check out the 2006 Pull-Off.
---
TheDieselPage.com
What's New: | Feature Articles: | Product Reviews: | Member's Area:
Join Us: | Duramax Diesel Page: | Advertisers: | Classified Ads: | Books:
Search The Diesel Page:
Send e-mail to: turbo@TheDieselPage.com
Copyright © 2005 by The Diesel Page
www.TheDieselPage.com