---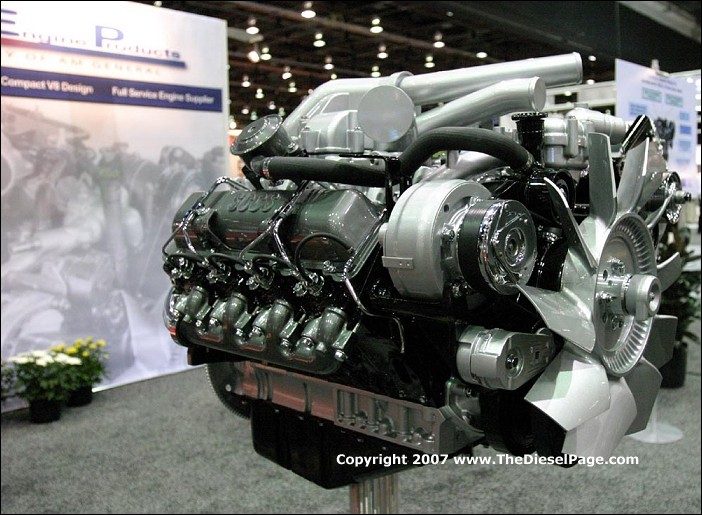 Introducing AM General's New 6.5L Turbodiesel
---
Written by Jim Bigley
Photos by Hans W. Hauschild
---
AM General has a new 6.5L diesel engine. The genesis for the engine modifications we'll discuss here began more than a year ago when I first heard about a series of proposed changes to the 6.5 that would allow for a significant power and durability increase. The HMMWV is getting heavier, with all the armor and military technology being added, and a more capable diesel engine became necessary. The power increases, as well as structural and component changes we'll discuss here will take the 6.5 to the next level in performance.
Member Hans Hauschild recently attended an SAE (Society of Automotive Engineers) conference, where a variety of manufacturers were displaying new products. AM General's engine subsidiary, General Engine Products, was there with their latest 6.5 engine. I was told in June 2006, during a visit to Michigan, that AM General was planning a series of 6.5 upgrades that would improve power and durability. One of those proposed upgrades was a power increase from 205 to 235 horsepower. However, Hans reports that GEP is now advertising a more significant 250 horsepower and 550 lb-ft of torque. This is big!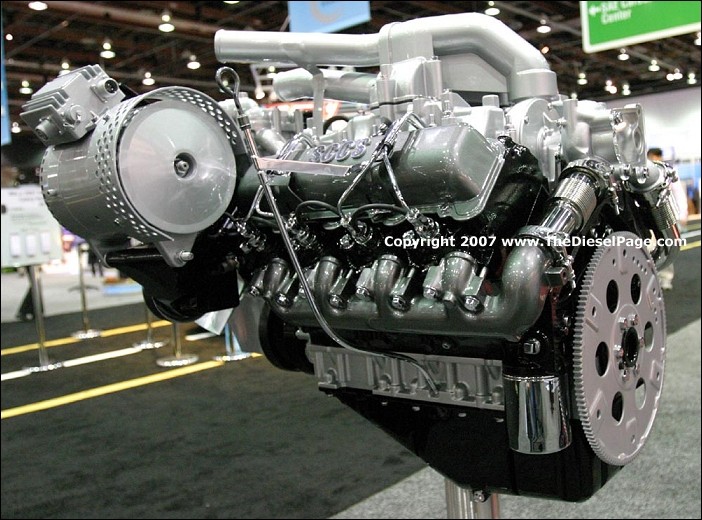 Also in June 2006, I had heard that forged steel crankshafts, a block girdle, cooling system modifications, fuel system upgrades and a compression ratio reduction were being developed for AMG's Optimizer 6500 diesel engine. Fast forward to May 2007, it appears the first few hundred of the new engines will be running billet steel crankshafts. As it turns out, these billet cranks are just a step toward steel forgings, which will appear in production engines beginning in March 2008. The initial use of billet cranks allowed AMG to fully develop the manufacturing processes and validate the new power rating.
Up till now all 6.2/6.5 engines produce either by GM or AMG have utilized nodular cast-iron crankshafts. Block and crankshaft failures in previous engines (most notably those produced by GM from 1992-2000) have prevented AM General from increasing power while maintaining a structural safety margin. The cylinder block casting design and alloy improvements AMG & Navistar developed in 2001 have virtually eliminated the block cracking problem that nagged GM's 6.5 diesels produced in the late 90's, but the nodular cast-iron crank remained a performance limiting issue (from a manufacturer and validation standpoint). Nitrided and forged steel crankshafts will become a part of the final solution.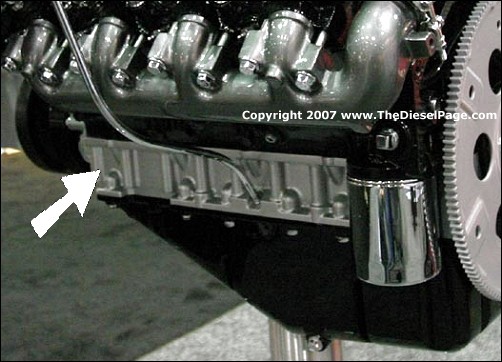 The block girdle pointed to on this display engine was painted silver to highlight its design. The new block girdle is made using cast-iron, incorporating integral main bearing caps. This effectively ties the bottom-end of the engine together, producing a much stronger engine. We'll get our hands on one of these engines before long, which will allow us to learn more. When we do, we'll present what we learn here in The Diesel Page.
Other items gleaned from the photos include:
10-blade composite fan
Electric fan-clutch
Intake system set up for use with an intercooler
Dual thermostats
High-capacity water pump
1995 style serpentine belt drive components with a newly designed belt tensioner
Stay tuned, we'll have all the details once these new engines are ready for sale to the public. The best is yet to come... TDP
---
TheDieselPage.com
What's New: | Feature Articles: | Product Reviews: | Member's Area:
Join Us: | Duramax Diesel Page: | Advertisers: | Classified Ads: | Books:

Send e-mail to: turbo@TheDieselPage.com
Copyright © 2007 by The Diesel Page
www.TheDieselPage.com