---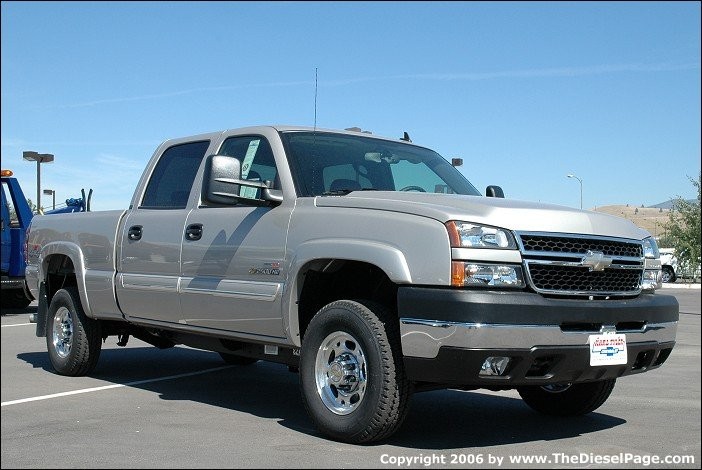 Two Thousand Six
2006 Chevy/GMC Duramax Diesel Equipped Pickup Trucks
---
Text & Photography By Jim Bigley
---
The 2006 model-year Chevy & GMC diesel pickups began arriving on dealer lots in August 2005. While not much has been added or changed to the pickup styling or option list, the big news is the new RPO (Regular Production Option) code LBZ Duramax 6600 diesel engine and an upgraded Allison automatic transmission to include a double overdrive sixth gear. Click this link to read the GM news release on the new 360 horsepower LBZ engine. It's worth noting that trucks equipped with the LBZ won't begin production till sometime after about September 15, 2005. Those 2006 trucks built before that date will receive the previous engine rating.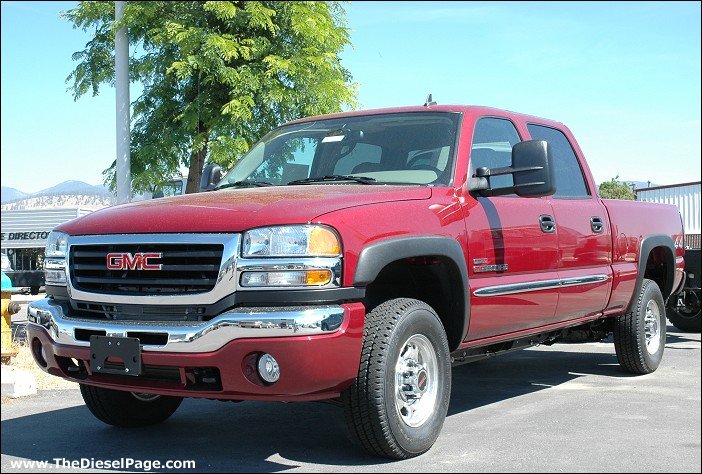 The above photos of the 2006 Chevy & GMC were taken August 20th at our local Chevy and GMC dealerships here in western Montana (see source listing below). Both models appear to be nearly identical to the GMT-800 (body style designation) 2005 models used by GM since 1999. However, there are a couple of differences that we'll address further on. The new GMT-900 HD trucks scheduled for release in early 2007 are getting all sheet metal and styling, and with more differentiation in styling between Chevy and GMC.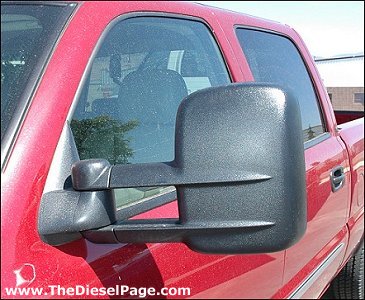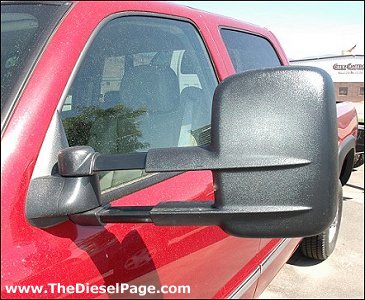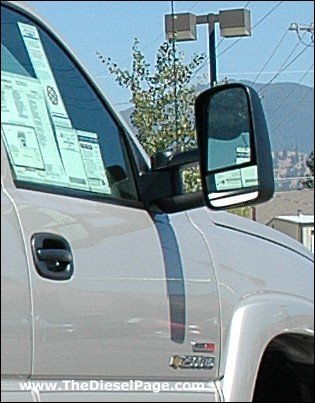 The new towing mirror option is the most visible styling change for 2006. While some will likely compare these mirrors to those used on the Ford Superduty, they are a welcome addition to the factory option list. Heavy-duty pickups rated for up to a 22,000-lb gross combined weight should have suitable factory towing mirrors. These mirrors offer power adjustment, heated glass and turn signals.
With a total mirror surface (including both flat and convex segments) of a little less than 11" x 7", providing 71.7 square inches of rearward view, these greatly improve both towing safety and utility. The upper flat-glass portion offers 50.8 square inches of view, while the convex spotter provides an additional 20.9 square inches. These new style mirrors are available on all models with less than a 10,000-lbs gross vehicle weight rating. Gone from the option list is power extending mirrors, but the manually extendable mirrors offer excellent quality and functionality.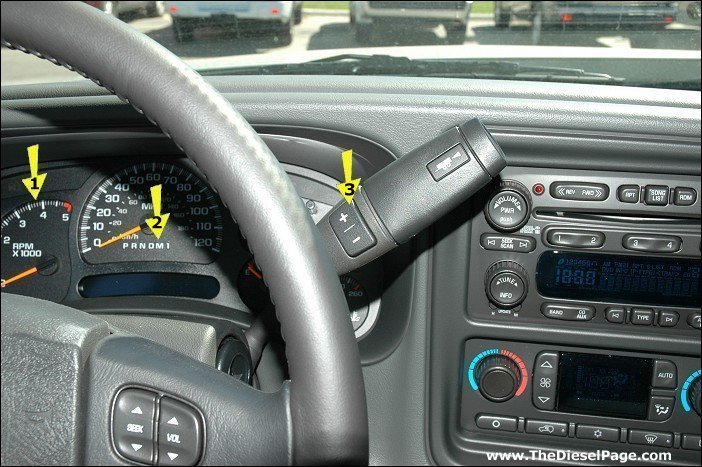 Three notable changes made inside the cab are (1) tachometer redline, (2) gear selection indicator, and (3) additional +/- buttons on the shift lever.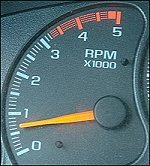 Many Duramax diesel pickup owners have been confused about the tachometer redlines used in previous model-year trucks. All previous model-year tachometers began with a dashed redline beginning at 3200-rpm (as shown in the 2001 photo on the left), and a solid redline beginning at 4800-rpm. The dashed redline was meant to indicate the rpm limit while under load, and the solid redline was intended to indicate the engine rpm limit while in grade-braking. The engine could run to as high as 4800-rpm while in grade-braking, which concerned a lot of pickup owners who mistakenly thought they were running their engine well past the "danger zone". The new tachometer (shown above) now eliminates the dashed redline entirely.
New Six-Speed Allison: Selecting the "Manual" gear selector position allows the driver to use the +/- buttons on the shift lever to manually control the new (for 2006) six-speed Allison automatic. Combining the best of both the manual and automatic worlds should please a lot of drivers. Grade-braking and cruise-controlled grade-braking are only available when Tow/Haul mode is selected and the transmission is not in the manual gear selector position.
The new sixth gear was designed to lower engine rpm while cruising at Interstate speeds, lowering engine speed by approximately 200-rpm (1800-rpm vs 2000-rpm at 70-mph). This essentially provides an engine speed similar to what it might be when running a 3.42 rear differential ratio and with a 5-speed Allison. The 2006 Allison gear ratios for first through fifth gears remain unchanged from the previous model years.

In addition to the sixth gear and manual range selection upgrades, the 2006 Allison 1000 also includes the following:
Upgraded 310-mm torque converter that raises the torque limit & capacity.
New 22-tooth pump that runs quieter and smoother.
New solenoids provide better converter lock-up control and shift feel.
Upgraded clutch components that improve torque limit & capacity.
New A40, 32-bit transmission control module.
GM-patented elevated idle mode, which allows for faster interior warm-up of diesel-equipped vehicles. Activated through the vehicle DIC (Driver Information Center), the elevated idle mode increases the load on the engine to produce a faster warm-up and produce heat inside the truck more quickly.
Low-traction mode also is standard on vehicles equipped with the diesel engine. When the driver selects second gear while stopped, and wheel slip occurs, the transmission torque-manages the engine to limit tire slip on low traction road surfaces.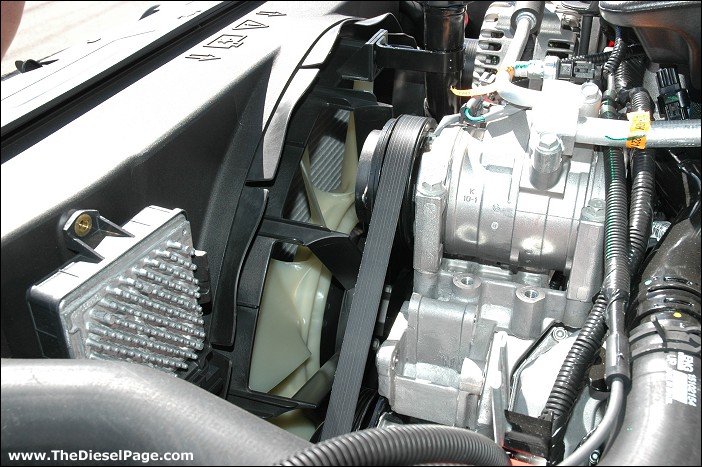 The flow capacity of the water pump has been increased, increasing coolant flow through the cylinder heads/block. A larger radiator has been incorporated to further improve engine cooling. The increasing use of cooled (by engine coolant) EGR (Exhaust Gas Recirculation) has increased the demand on the engine cooling system, especially during high load situations.
To enhance airflow through the ATF cooler/intercooler/radiator package and to reduce fan noise, GM has developed a modified fan shroud to include a ringed coolant fan, and the new electro-viscous fan-clutch is now ECM controlled. The Allison automatic transmission fluid cooler behind the grille is now larger, to further improve transmission temperature control.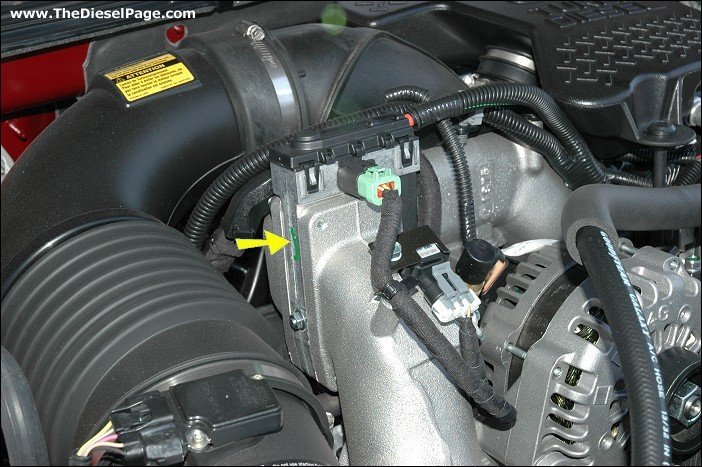 A new and more effective intake-air grid heater (pointed to in photo) has been added for 2006 to improve cold startability and to reduce emissions during a cold start. Earlier Duramax engines utilized a heated coil in the intake plenum. The new grid heater is somewhat similar to that long used by the Dodge Cummins engine.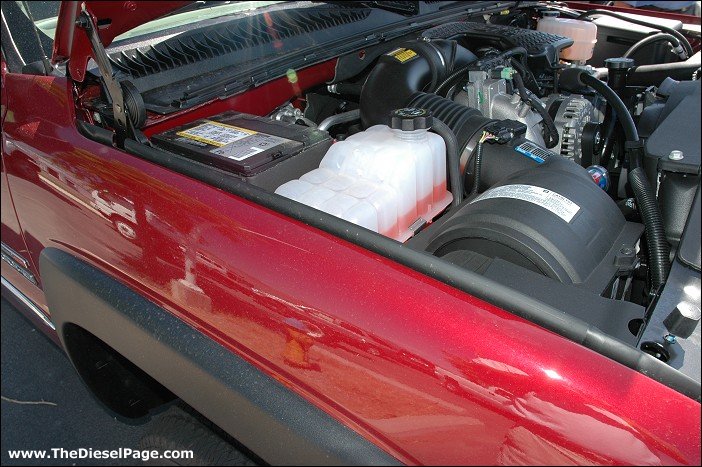 This photo shows the new lip-seal used along the top edge of the passenger fender. This improves environmental sealing of the engine compartment along with a reduction in engine noise emanating from the engine compartment. Also shown in this photo is the new style air box, which contains a re-designed filter element.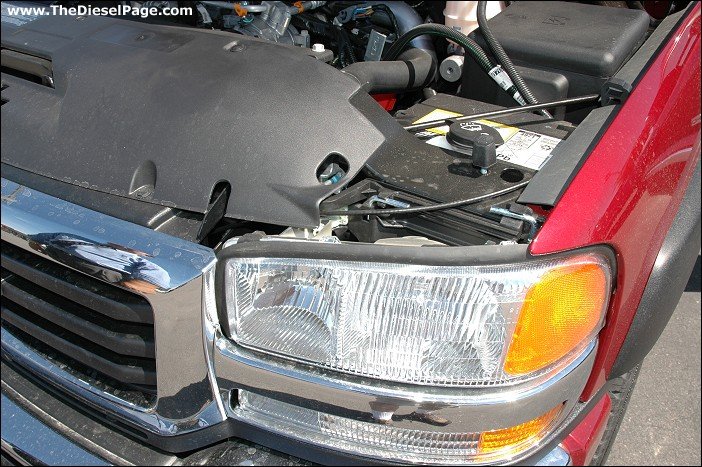 The GMC headlamp lenses now include a rubber lip-seal, used to close the gap surrounding each headlamp assembly (cosmetic improvement), improve airflow management through the engine compartment and to further reduce engine noise heard from outside the truck.
Additional Duramax 6600 details:
Larger quick-disconnect lower radiator hose and quick-disconnect intercooler hose connections.
The stainless-steel EGR cooler located in the engine valley has been increased in size, to improve recycled exhaust gas cooling. Cooled EGR adds to the demands placed on the engine cooling system, which may explain the cooling system upgrades for the 2006 model-year.
A second intake air temperature sensor was added to aid engine management.
Many new and/or enhanced DTCs (Diagnostic Trouble Codes) have been added to aid in diagnosing emissions related faults.
Maximum fuel rail pressure has been increased from 23,000 to 26,000-psi, and the high-pressure relief valve has been relocated to left bank fuel rail. The high-pressure relief valve will not fully reset once it has opened, and will require an ignition cycle to resume normal operation.
A higher fuel-rail pressure and a faster 32-bit ECM now support up to 5 fuel injection events per combustion cycle. As discussed in a 2000 SAE paper on the Duramax 6600, injecting a microburst of fuel during the exhaust stroke may be used to reduce oxides of nitrogen in the exhaust gases. No word yet on what effect this might have on fuel economy, but cooling the exhaust gases either through the use of EGR or fuel-cooling would reduce oxides of nitrogen.
The new LBZ Duramax 6600 is operating without a FICM (Fuel Injection Control Module). As used on earlier LB7 & LLY engines, the fuel-cooled FICM was a high power electronic driver module that fired the 8 individual electronic fuel injectors under ECM control. For 2006, injector control is now built into the new Bosch ECM (Engine Control Module). This was made possible by lowering the injector solenoid drive voltage to 24 volts (92-volts LB7, 48-volts LLY). Assuming less amperage is used, power required to fire the injectors will be lower, which allows the LBZ to operate without a remote mounted fuel cooler.
Glow Plug Control Modules (GPCM) have evolved with each model-year, and the 2006 models are no exception. More computer control and diagnostics are built-in, to enhance cold startability and reduce cold start emissions.
All fuel injectors are now flow tested at the Bosch assembly plant, and then laser etched with this data. A bar code reader tracks this data as the engine is being assembled. Each individual injector and cylinder location in each engine is then entered into a database, and this data is programmed into both the ECM and GPCM during the initial factory programming process. Apparently, injector tracking and quality control are becoming more important.
Duramax powered full-size vans: Engine options for the 2006 model year G2500 & G3500 series cargo and cutaway GMC Savana (and equivalent Chevy models) now include the Duramax 6600 turbocharged V-8 diesel engine, but with a 250 horsepower and 460 lb-ft torque rating. This engine is coupled to a 4L85-E Hydra-Matic 4-speed automatic overdrive transmission specially tuned and calibrated for this application. You can read more about the GMC Savana by clicking the the link (gmc.com/savana) to learn more.
The Duramax 6600 powered full-size Chevy and GMC vans are reportedly using a new fuel lift pump and fuel filter combination operating at pressures up to 40-psi. The fuel filters and housings used in the vans appear similar to those used in the pickup trucks, but the manual priming pump has been eliminated. Also new for the 2006 vans is a fuel-fired engine coolant heater option designed to hasten cabin heat during the cold winter months.
For a more comprehensive list of pickup truck options and capacities, please visit the article we produced for the 2005 model-year trucks.
The Sierra/Silverado HD diesel pickups have gained considerable ground against Ford and Dodge, with GM's market share now approaching 32% of all heavy-duty diesel pickups sold in North America. This trend will likely continue as refinements in both driveability and performance are added each new model-year. Where we go from 360 horsepower is anyone's guess, but we know that improving fuel economy using upgrades such as the new double OD Allison will become an increasingly important consideration in the minds of future buyers. TDP
---
Did you find this article informative, helpful or entertaining? Send us an email to let us know.
For a complete story of the Duramax 6600, please visit the following link for a preview of the
Duramax 6600 - 1999-2004 Volume.
---
New October 9, 2006
The brand new 2007 HD Pickups

photos & technical details!
Updated, August 2006: Visit our Member's Area for the latest word and images about GM's 2007 Silverado/Sierra 1500-Series Pickup Trucks.
---
Karl Tyler Chevrolet
3219 N Reserve St. - Missoula, MT 59801
Call: 1-866-541-2438 or 1-406-721-2438 -- Fax: 1-406-541-2419
www.montanachevy.com
Demarois GMC
3115 W. Broadway
Missoula, MT 59802
406-721-4000
---
TheDieselPage.com
What's New: | Feature Articles: | Product Reviews: | Member's Area:
Join Us: | Duramax Diesel Page: | Advertisers: | Classified Ads: | Books:

Send e-mail to: turbo@TheDieselPage.com
Copyright © 2018 by The Diesel Page
www.TheDieselPage.com