---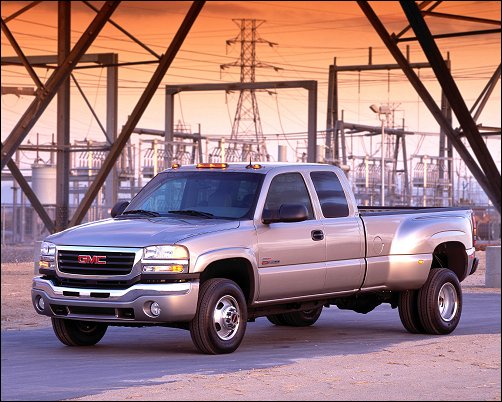 Two Thousand Five
New GM Pickup Truck Specs
August 2004 - Updated November 2018
---
We're always looking forward to the mid-year announcements of the upcoming model lineup for GM's 2500HD/3500 pickup trucks. Evolutionary changes to both the exterior appearance and to mechanical/electrical systems enhance function and help improve ownership satisfaction, and the 2005 models continue that tradition. While we tend to focus on the 2500HD/3500 models, you'll find the powertrain specs here for the gasoline engine equipped light-duty/heavy-duty pickup trucks as well as those powered by the Duramax 6600 diesel.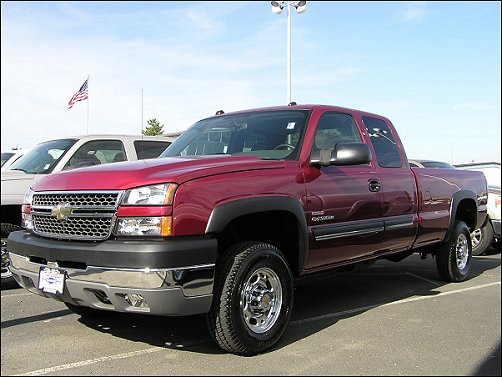 The above photos of the 2005 GMC & Chevy have been available for some time here in The Diesel Page. As you can see, the front-end of the Chevy HD models was redesigned to produce a more bold appearance. The lower edge of the hood line was squared off and a power bulge was added, somewhat reminiscent of the hood profile used on the 2001 & 2002 Chevy HD pickups. However, beauty is more than skin deep. Read on to learn more about the many upgrades and specification changes introduced in the newest models.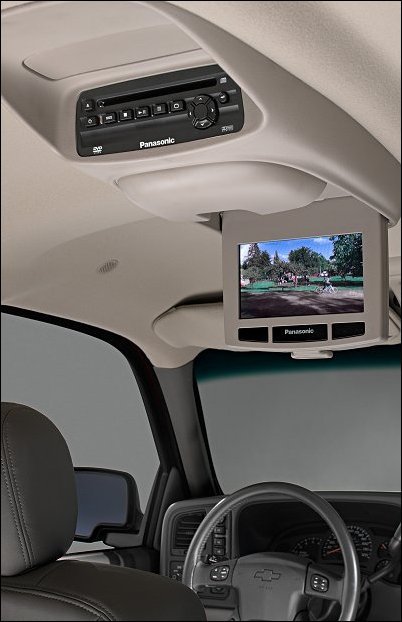 New for 2005
Power sunroof package (available late 2004 on Extended and Crew Cab models with Universal Transmitter and overhead console)
Front disc/rear drum anti-lock brakes standard on all light-duty models except with Quadrasteer. Rear brake systems on 2500HD/3500 models appear to be in transition - most current 2005 2500HD models currently arrive equipped with rear disk brakes.
(QPR) P245/70R17-108S all-season blackwall tires standard on light-duty 2WD models
(QPO) P245/70R17-108S all-season, white-outlined letter tires available on light-duty 2WD models
(QVL) P265/70R17, all-season, blackwall tires standard on light-duty 4WD Regular/Extended Cab models
(QVM) P265/70R17, all-season, white outlined-letter tires available on light-duty 4WD Regular/Extended Cab models
2005 model-year heavy-duty 2500HD/3500 trucks are equipped with 16" wheels
145-amp alternator standard
Snow Plow prep package includes 160-amp alternator
New hood and grille design for Heavy-Duty models
New exterior colors: Dark Blue Metallic (all except Silverado SS), Silver Birch Metallic (Silverado SS)
OnStar driver safety and security system, featuring Gen 6 hardware with analog/digital coverage and upgraded hands-free capabilities. Standard on light-duty LT, available on LS; standard on heavy-duty Silverado LT Extended Cab and Crew Cab, available on 2500HD and 3500 models.
The Sierra/Silverado can be equipped to meet any personal requirement or professional demand when it comes to hauling or towing. Payload capacities range from 1,295 pounds (587 kg) all the way to 4,047 pounds (1,836 kg) for 2500 heavy-duty models. Gross Vehicle Weight Ratings range from 6,100 pounds (2,767 kg) to 9,200 pounds (4,173 kg) on properly equipped heavy duty versions.
2005 Model-Year Capacities
Fuel tank (gal / L):

standard box, all models (except diesel): 25.9 / 98;
long box, all models (plus all diesels): 34 / 128.7

Trailer towing maximum (lb / kg):

2500HD with 6.0L V-8:

10,600 / 4808 with ball hitch, 5th wheel or gooseneck hitch and 4.10 axle

2500HD with 8.1L V-8:

12,000 / 5443 with ball hitch and 3.73 or 4.10 axle 16,200 / 7348 with 5th wheel or gooseneck hitch and 4.10 axle

2500 HD with Duramax 6.6L TD

12,000 / 5443 with ball hitch and 3.73 axle 16,000 / 7258 with 5th wheel or gooseneck hitch and 3.73 axle

3500 with 6.0L V-8:

9,800 / 4,445 with ball hitch and 4.10 axle 10,000 / 4536 with 5th wheel or gooseneck hitch and 4.10 axle

3500 with 8.1L V-8:

12,000 / 5443 with ball hitch and 4.10 axle 15,600 / 7076 with 5th wheel or gooseneck hitch and 4.10 axle

3500 with Duramax 6.6L TD

12,000 / 5,443 with ball hitch and 3.73 axle 16,700 / 7575 with 5th wheel or gooseneck hitch and 3.73 axle
Other changes designed to improve fuel economy include improved sealing of the vehicles' front end. For example, tow hook and fog light openings are now sealed when those items are not ordered on the vehicle. In addition, the center hole in the front air deflector has been sealed; an extension has been added to the front air deflector; the aerodynamics for the running boards have been improved and the center high mounted stop lamp (CHMSL) - which was previously roof-mounted - is now recessed into the liftgate glass for improved vehicle aerodynamics.
Safety and security across the range:
Sierra/Silverado pickups are equipped with GM's Passenger Sensing System (PSS). PSS uses the latest sensing technology to turn the front passenger air bag on or off. If the sensor system detects an unoccupied front passenger seat or the presence of a smaller occupant, the front passenger air bag is designed to automatically turn off so it would not deploy in the event of a frontal collision. A status indicator on the instrument panel alerts occupants that the passenger air bag is on or off. Even with this system, GM strongly recommends to restrain child passengers in an appropriate child seat placed in the second or third row of the vehicle. Never install a rear-facing infant seat in front of an active air bag. GM also recommends that all children 12 and under ride in the rear seat when possible.
The Sierra/Silverado also has dual-stage frontal air bags (not available on 1500 HD Crew Cab and 2500 HD and 3500 Series models) for supplemental protection for front seat passengers. Dual-stage frontal air bags are designed to help reduce the risk of air bag-induced injury. When the air bag system's control unit detects an impact, it determines whether the crash is severe enough to trigger a deployment, and whether the primary amount of inflation is sufficient. The primary stage alone will deploy in most frontal impacts requiring the supplemental protection of an air bag, while a secondary stage is designed to deploy in more severe frontal collisions.
GM's OnStar safety and security system is standard on LT and available on LS light duty models. In the heavy duty range, OnStar is standard on Silverado LT Extended Cab and Crew Cab models, and available on 2500 HD and 3500 models.
Sierra/Silverado pickup trucks feature OnStar's new sixth-generation hardware with digital and analog coverage. The Gen 6 hardware also includes upgraded hands-free voice recognition capabilities including more intuitive continuous digit dialing and improved voice recognition accuracy. OnStar is the leading provider of in-vehicle safety, security and information services in the United States and Canada. Using the GPS satellite network and wireless technology, OnStar features core safety services and OnStar Personal Calling that allows drivers to make and receive hands-free, voice-activated phone calls using a powerful three-watt digital/analog system and external antenna for greater reception.
Additional safety and security systems include electronic traction control on light-duty 2WD Sierra/Silverado pickups to enhance handling and response on models equipped with a V-8 engine, automatic transmission and locking rear differential. All models come standard with PassLock II theft deterrent system, and a driver information center that monitors and reports on up to 34 vehicle system functions.
Air conditioning, chrome front bumpers, tinted glass, power steering with tilt-adjustable column, a full-size spare tire and heavy-duty battery also are standard on all Silverado models. Quality entertainment systems
Impressive entertainment systems - from available Bose sound systems to a Panasonic DVD passenger entertainment system - add to Sierra/Silverado's creature comforts. These systems (except the base fleet radio) feature the next-generation Radio Data System, and can interface with services such as the optional XM Satellite Radio. On Crew Cab models, available rear-seat audio controls allow second-row passengers to enjoy a separate audio source from front-seat occupants.
XM (continental U.S. only) provides more than 120 coast-to-coast, digital-quality channels of original commercial-free music and premier news, sports and talk as well as advanced traffic and weather information for select major metropolitan areas nationwide. Consumers can subscribe to the basic service for $9.99 a month. In addition, GM customers with GMAC financing can choose to include the XM subscription in their car payments.
Sierra/Silverado Heavy-Duty - Power & Performance:
The 2005 Sierra/Silverado HD pickups comprise the segment's most diverse lineup, with a wide selection of weight ratings, body styles and powertrain combinations including diesel and compressed natural gas (CNG) models.
GM's Duramax 6600 6.6L (V-8) turbo-diesel was already legendary for its awesome performance, but engineers decided to make it even better. Both hardware and software were upgraded in '04, resulting in a 10 horsepower (7.5 kw) increase. Not satisfied with "good enough," the engineers went back to work and the result is a 70 lb.-ft. (97 Nm) torque increase for 2005. The revised powerplant delivers 310 horsepower (231 kw) at 3000 rpm and 605 lb.-ft. (836 Nm) of torque at 1600 rpm when equipped with the Allison automatic transmission.
At the top of the gasoline engine range is an optional Vortec 8100 8.1L V-8, rated at 330 hp (246 kw) and 450 lb.-ft. (610 Nm) of torque. The Vortec 6000 6.0L V-8 produces 300 hp (224 kw) and 360 lb.-ft. (488 Nm) of torque.
No fewer than 14 different Silverado HD models can run on dedicated (CNG) or bi-fuel systems, the latter which operates on either CNG or gasoline when equipped with a Vortec 6000 6.0L V-8 with hardened valves and seats to withstand CNG's lack of lubricity and cooling. Special versions with reduced gross vehicle weight ratings (8,500 pounds or 3,825 kg) enable customers to meet fleet requirements in "non-attainment" areas, while GVWR ratings of up to 9,200 pounds (4,173 kg) are available.
Impressive and tough:
With impressive power, tough frames, advanced suspensions and high-capacity brakes, the 2500HD/3500 Series pickups provide outstanding payload capacities as well as outstanding hauling and towing capabilities. The 2500HD models have a GVWR as much as 9,200 pounds (4,173 kg), and payloads up to 3,964 pounds (1,798 kg). The 3500 models have a GVWR up to 11,400 pounds (5,171 kg) and payloads up to 5,753 pounds (2,610 kg).
For chassis cab models, Sierra/Silverado HD has an 11,400-pound (5,171-kg) GVWR for 2WD versions and a 12,000-pound (5,443 kg) GVWR when equipped with 4WD. Chassis cabs provide payloads up to 6,089 pounds (2,762 kg).
Capable smooth-shifting transmissions:
Duramax 6600 and Vortec 8100 are mated to smooth-shifting, high-capacity transmissions with close-ratio gearing to provide optimum launch, hill climbing and towing capabilities.
The ZF S6-650 six-speed is fully synchronized in all gears. Dual cone synchronizers in second and third gear provide extra capacity. The shift lever moves forward for first and straight back for reverse, providing easy low-speed maneuvering since drivers don't have to go across the shift pattern to select reverse. Second gear can be used for launching unloaded or lightly loaded trucks. First gear can be used as a "creeper gear" for extra low-end performance.
The Allison 1000 was built to move big-time tonnage. It has full electronic control of shift-timing points, five forward speeds and helical-type planetary gearsets for quiet operation. It also provides two operating modes, normal and Tow/Haul. When hauling heavy loads down long, steep grades, a grade-braking mechanism automatically downshifts to help slow the vehicle when the driver applies the brakes.
A heavy-duty, five-speed manual transmission and GM's optional Hydra-Matic 4L80-E four-speed electronically controlled automatic transmission are available with the Vortec 6000. The 4L80-E also provides Passive Shift Stabilization with Tow/Haul mode and a standard temperature gauge and temperature monitoring system.
Sources: GM Media & TDP Staff
For a complete story of the Duramax 6600, please visit the following link for a preview of the
Duramax 6600 - 1999-2004 Volume.
---
TheDieselPage.com
What's New: | Feature Articles: | Product Reviews: | Member's Area:
Join Us: | Duramax Diesel Page: | Advertisers: | Classified Ads: | Books:

Send e-mail to: turbo@TheDieselPage.com
Copyright © 2018 by The Diesel Page
www.TheDieselPage.com