---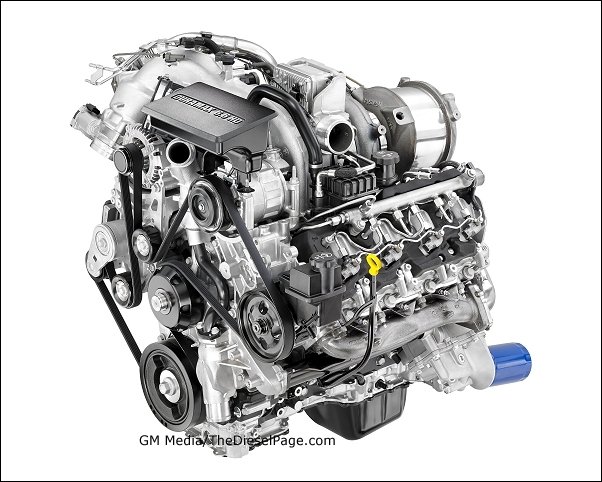 GM's 2017 6.6L L5P Duramax V-8 Turbo Diesel
GM's Next-Gen 6.6L Duramax
---
By TDP & GM Media
---
Beginning production in July 2000 with the 6.6L LB7 Duramax V-8 diesel engine, the current L5P 6.6L Duramax is the most recent and most powerful. Replacing the outgoing LML engine, the 2017 L5P incorporates a long list of advancements produced exclusively for General Motors' full-size heavy-duty (HD) Chevrolet and GMC pickup trucks.
Overview: The L5P made its debut in the 2017 Chevrolet Silverado HD and 2017 GMC Sierra HD, producing an SAE-certified 445 horsepower (332 kW) and 910 pound-feet of torque (1,234 Nm). This compares to the 300 horsepower and 520 pound-feet of torque produced by the very capable first-year production LB7 Duramax.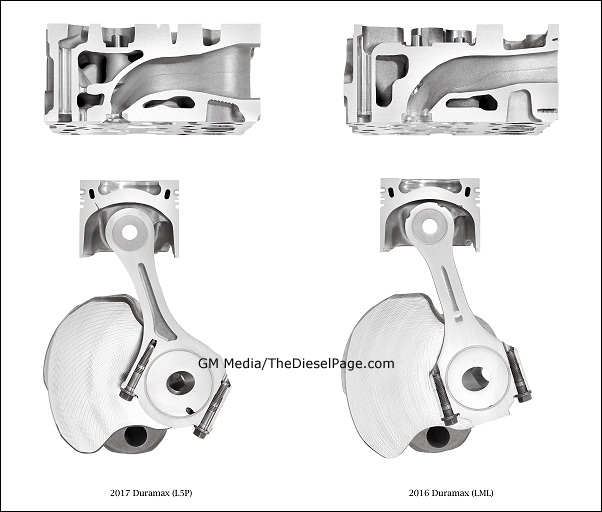 Next-Generation Design: The new Duramax 6.6L represents a next-generation redesign that features an all-new, stronger cylinder block and rotating assembly, as well as a new, GM-developed control system. The engine's production of low-rpm torque (a Duramax Diesel signature) hasn't changed: the L5P offers 90 percent of peak torque at a low 1,550 rpm and sustains it through 2,850 rpm, an attribute that contributes to the strong, confident pulling power at low speeds of the vehicles in which it powers.
New Components: The new L5P features a new camshaft profile and improved cylinder head design; a new electronically controlled, variable-vane turbocharger allows the engine to produce more power with lower exhaust emissions. The engine's advanced variable-vane mechanism allows greater exhaust temperature capability, enabling the engine to achieve higher power at lower cylinder pressure.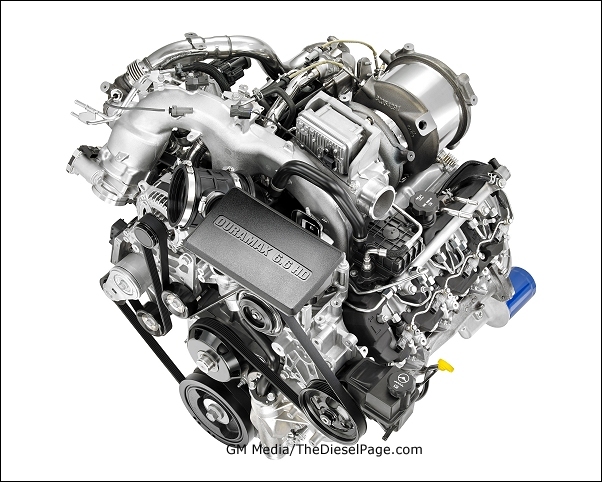 Air Intake System: Additionally, a new, patent-pending vehicle air intake system with functional hood scoop drives cool, dry air into the engine for sustained performance and cooler engine temperatures during difficult conditions, such as trailering (towing) on steep grades.
Cooler air helps the engine run better under load, especially in conditions where engine and transmission temperatures can rise quickly. This enables the Duramax to maintain more power and vehicle speed when trailering in the toughest conditions.
Improved Performance: The upgrades provide increases in real-world towing experience for the heart of the Heavy Duty pickup truck market with 89 percent of all HD customers purchasing trucks rated less than 25,000 pounds of towing capacity. For these customers, the new L5P Duramax diesel, available now in the 2017 Chevrolet Silverado HD and 2017 GMC Sierra HD, has pushed the market to a new level of diesel performance.
Unladen, 0-60 mph acceleration in as quick as 7.1 seconds in the GM 2500HD Crew Cab 4WD models, seven-tenths of a second quicker than the last-generation model.
Towing 10,000 pounds, acceleration from 50 to 70 mph in 10.6 seconds in the 2500HD regular cab 4WD models, 1.5 seconds quicker than the last-generation model.
When towing 23,000 pounds in 110° Fahrenheit ambient temperature, the Silverado and Sierra 3500HD Crew Cab 2WD with Dual Rear Wheels climbs the Davis Dam grade 40 seconds quicker than the last-generation model.
"The new Duramax delivers impressive output, but what customers will appreciate the most is an improved driving experience", said Eric Stanczak, Silverado chief engineer. The 2017 L5P Duramax delivers quicker acceleration in virtually all measures, more confidence when trailering up a steep grade, better engine braking on descent and more refined noise levels while cruising on the highway. TDP/GM
---
Performance testing: TheDieselPage.com was the very first editorial operation to develop a grueling towing test designed to fairly compare diesel pickups under real-world conditions. In October of 1999, Jim Bigley of TheDieselPage.com and Willie Worthy of Four Wheeler magazine compared a prototype Duramax powered pickup to a similarly equipped Ford and Dodge diesel pickup truck right here in Montana on a 2-mile 6% grade. Since that time, other organizations, and even the SAE have adopted most of our ground-breaking test parameters, calling it the "SAE J2807 Hill-Climb Certification Test". To read more about Truck Trend's current reporting on the Davis Dam SAE J2807 Hill-Climb Certification Test, click here.
As explained by the SAE, "The (J2807) standard outlines dynamic and performance criteria as it relates to a given vehicle (it applies to passenger cars, multipurpose passenger vehicles, and light-duty trucks up to 19,400 lb GCWR [Class 5]). Examples within it include various tests conducted while towing and mandates certain temperatures, speed, and accessories operating, including climbing the infamous Davis Dam Grade on the Arizona-Nevada border while maintaining 40 mph (64 km/h) for single-rear-wheel trucks and 35 mph (56 km/h) for those with dual rear wheels. Also included are a constant-radius understeer test while increasing speed and a sway maneuver using aggressive steering input."
The SAE continues: "The purpose is to put all trucks through the schedule of tests that replicate real-world driving. Until now, manufacturers' truck-towing ratings often have been apples-to-oranges when compared against each other, making objective media and consumer analyses difficult within an accurate test context."
---
TheDieselPage.com
What's New: | Feature Articles: | Product Reviews: | Member's Area:
Join Us: | Duramax Diesel Page: | Advertisers: | Classified Ads: | Books:

Send e-mail to: turbo@TheDieselPage.com
Copyright © 2016-2018 by The Diesel Page
www.TheDieselPage.com