---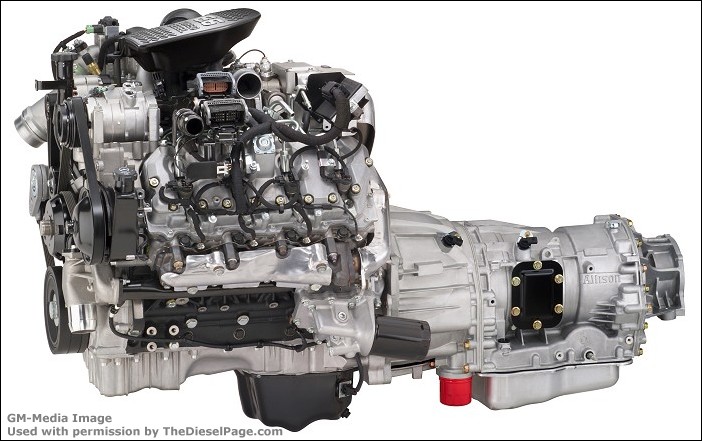 2007 Duramax 6600
& Vehicle Applications
---
Written by Jim Bigley
Photos courtesy of the manufacturer
---
Designed to meet the 2007 emissions regulations, the 2007 LMM Duramax 6600 diesel engine has met the challenge, and continues to lead in power & torque. While more power and torque are good news, the new exhaust catalyst and Diesel Particulate Filter have raised engine option cost approximately $2500-2900, and require the use of the new Ultra Low Sulfur Diesel fuel and API certified CJ-4 motor oil. How this all plays out at the retail level at the dealership remains to be seen, but dealer incentives and rebates could keep a lid on actual price increases.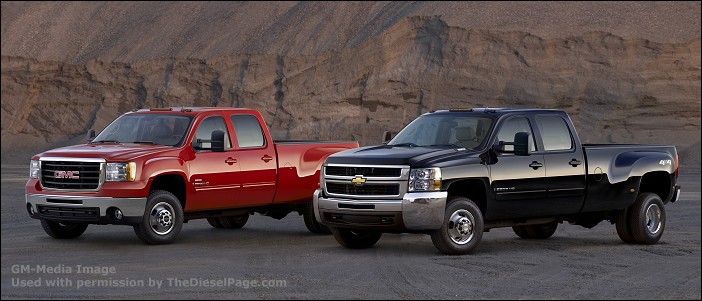 The 2007 GMT-900 Chevy & GMC HD and the newest LMM Duramax 6600 V-8 turbocharged diesel combine to produce a compelling product lineup. Producing 365 horsepower and 660 lb-ft of torque, and backed up by the Allison 1000 six-speed tap-shift automatic transmission, GM's new diesel powertrain leads the way.
Similar to the LLY & LBZ, the LMM Duramax diesel uses a variable-geometry turbocharger designed to produce excellent low-speed response and reduce emissions. The turbocharger spins up to approximately 120,000 rpm, and develops a maximum boost pressure of 20 psi. Additional engine details include: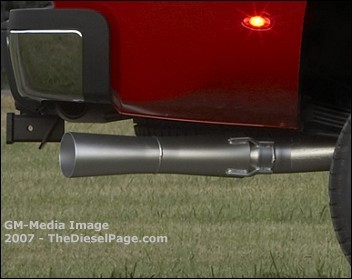 Cylinder block casting and machining changes to provide stronger structures, maintaining reliability and durability with increased 2007 power/torque specs
Upgraded main bearing material increases durability
Revised piston design lowers compression ratio from 17.5:1 to 16.8:1
Cylinder heads revised to accommodate higher peak cylinder firing pressure
High-pressure fuel system updates, maximum of 26,000 psi fuel-rail pressure, seven-hole fuel injectors
Additional combustion control, including variable-geometry turbocharging system, cooled (enhanced) Exhaust Gas Recirculation (EGR) and closed crankcase ventilation
Additional exhaust control, including oxidizing catalyst and new Diesel Particulate Filter (DPF)
Increased-capacity cooling system
New engine control software
Air induction system re-tuned to enhance quietness
Larger EGR cooler to provide for cooler exhaust gases
Exhaust gas & ambient air mixing tailpipe (pictured)
First application of new, 32-bit E35 controller, which adjusts and compensates for the fuel flow to bolster efficiency and reduce emissions
The Diesel Particulate Filter (DPF) uses a dual-stage DOC-DPF design with active regeneration. GM indicates that "the regeneration process uses heat to burn off the soot and, in most cases, is performed automatically. An onboard computer controls fuel injection and oxygen content to adjust the exhaust energy to the appropriate level to clean the particulate trap. Periodic servicing of the filter is required to remove accumulated ash." This could mean that fuel is periodically injected during the exhaust stroke, to "light-off" inside the particulate filter, which increases temperature and oxidizes any soot particles.
You can read more about the 2007 emissions regulations and how the industry is meeting this challenge in an article we produced entitled: What do the 2007 emissions regulations mean for the future of diesel?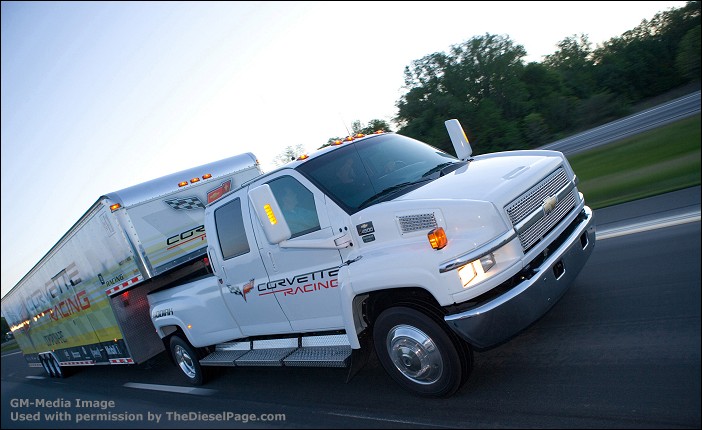 GM's 4500/5500 medium-duty trucks are also available with the Duramax/Allison combo, but the engine gets different power/torque ratings. Both the medium-duty trucks and Savanna/Express vans are available with the Regular Production Option code LMM Duramax. Aside from power specs, engine packaging is what differentiates the Duramax engines destined for the 2500HD/3500 pickups from those installed in the 4500/5500 medium-duty trucks and vans. Medium-duty truck Duramax options include either a 300/520 or 330/620 power/torque rating.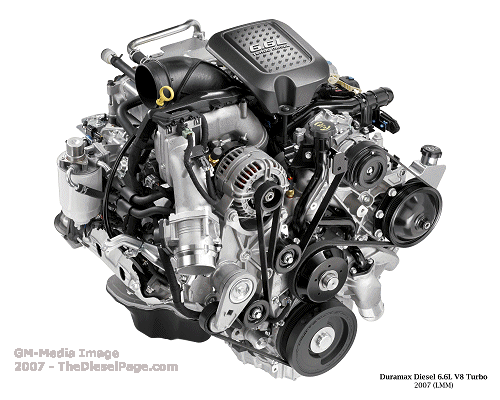 The LMM Duramax is packaged somewhat differently to match the fit & function requirements for the medium-duty and van engine bays.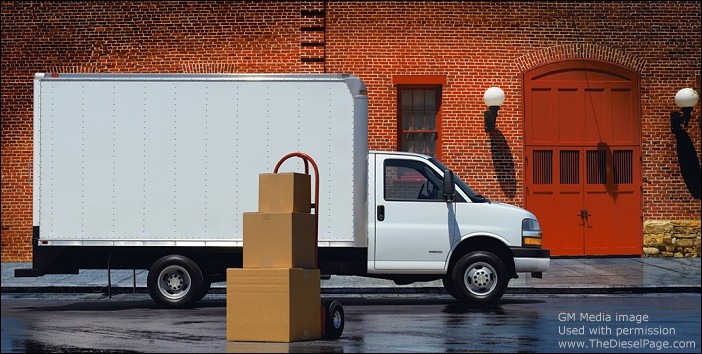 The versatile 2007 Chevrolet Express & GMC Savanna cargo vans can be ordered with the Duramax 6.6L turbo-diesel V-8 engine. Somewhat detuned for the van application, the LMM code Duramax developed for the vans produces 250 horsepower and 460 lb.-ft. of torque. Backing the Duramax is a specially tuned Hydra-Matic 4L85-E electronically controlled four-speed automatic transmission that incorporates GM's useful grade-braking feature.
When powered by the Duramax, the Express & Savanna vans are rated for a maximum GVWR is 12,300 pounds (5,590 kg), and offer a towing capacity of 9,600 pounds (4,364 kg) (10,000 pounds [4,545 kg] for the van cut-away). A 3.73 axle ratio is standard and the RPO G80 limited-slip differential is optional. Express & Savanna models equipped with the Duramax 6.6L also include:
Revised front floor panel and underbody heat shielding
New interior engine cover
High idle switch added to instrument panel (optional)
Instrument cluster revised to reflect diesel engine functionality
Standard 145-amp alternator
Primary battery located underhood, with secondary battery mounted on left-hand frame rail
Ambulance package equipped with a 50-amp Maxifuse connector at the B-pillar
A fuel-operated heater (FOH) also is available - the industry's first factory-installed application for full-size vans. It quickly provides heat to the vehicle interior in cold weather. The seamlessly integrated system is designed into the Express chassis.
2007 Duramax 6600 Specifications: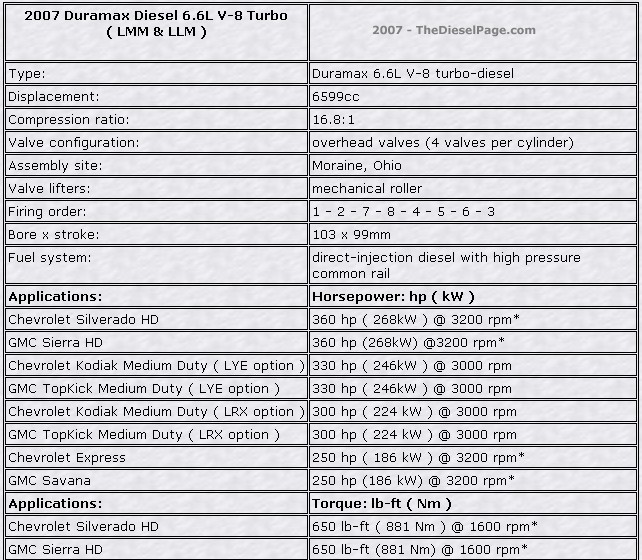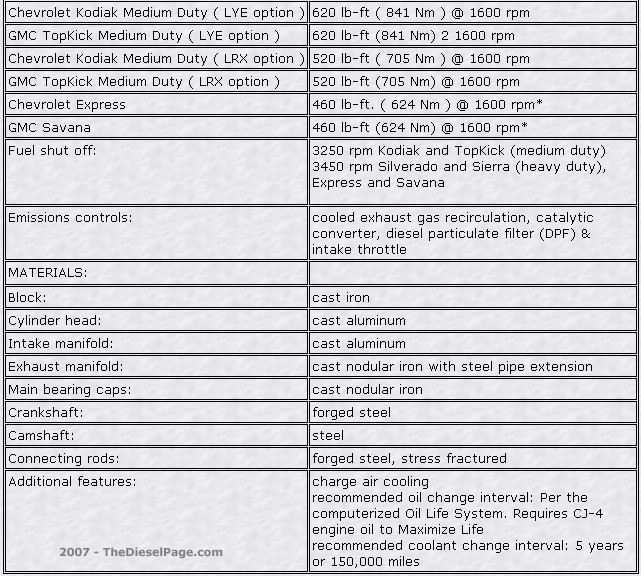 ---
TheDieselPage.com
What's New: | Feature Articles: | Product Reviews: | Member's Area:
Join Us: | Duramax Diesel Page: | Advertisers: | Classified Ads: | Books:

Send e-mail to: turbo@TheDieselPage.com
Copyright © 2018 by The Diesel Page
www.TheDieselPage.com