---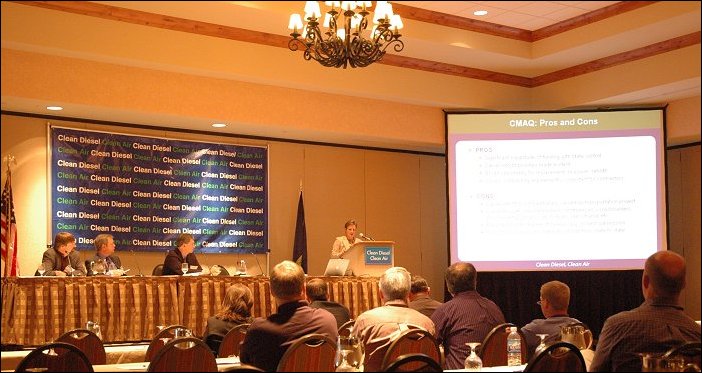 Diesel Technology Forum
Clean Diesel, Clean Air
What do the 2007 emissions regulations mean for the future of diesel?
---
By Jim Bigley
---
Removing lead from gasoline in the early 1970's not only removed a harmful component from the exhaust emissions, but it also allowed new technologies to be employed that reduced a range of other pollutants by up to 99%. Catalytic converters simply couldn't deal with lead. Likewise, lowering the 500-ppm sulfur concentration found in pre-10/15/06 diesel fuel to 15-ppm Ultra Low Sulfur Diesel fuel allows for new technologies to be employed that lower targeted diesel emissions by more than 97%. Reducing emissions components found in diesel exhaust is not without its share of engineering challenges and increased cost - to both vehicle manufacturers and petroleum refineries, which are ultimately felt at the consumer level. While some fear for the future of the light-truck diesel market, we here at The Diesel Page remain optimistic - in fact, confident that the current trend in light-truck diesel usage will continue.
The Diesel Page recently attended a "Clean Diesel, Clear Air" seminar held here in Missoula, Montana this past August 23, 2006. The Diesel Technology Forum sponsored seminar presented an opportunity to learn from the experts in diesel emissions technology.
Carbon Monoxide (CO), Oxides of Nitrogen (NOx), Particulate Matter (PM - in the form of soot), and Non-Methane OrGanic compounds (NMOG aka hydrocarbons) are the primary emissions focus for 2007 model-year diesels. To effectively deal with these emissions components, the industry will introduce new oxidation converters, exhaust particulate traps, and enhanced EGR (Exhaust Gas Recirculation). In addition, improved electronic fuel injection control and more responsive turbochargers will work in concert with engine mechanical design changes to reduce emissions. As a Caterpillar spokesman said during the "Clean Air - Clean Diesel" program here in Montana, "the day will come when our diesel engines become air purifiers."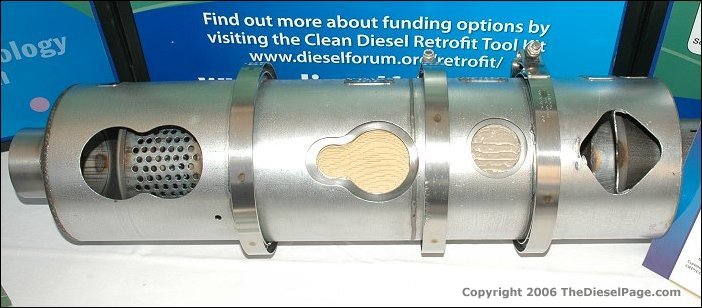 The above photo of a Johnson Matthey [Continuously Regenerating Trap (CRT)] shows a close approximation of what you could find beneath the new 2007 GMT-900 HD diesel pickup trucks. While its appearance could differ somewhat from the image, the "muffler" will contain three elements: 1- Muffler. 2- Oxidation catalyst converter. 3- Diesel Particulate Filter. Notice too, that in addition to containing three component parts, the new "muffler" is also serviceable. The individual converter and filter sections can be serviced separately. However, each element of the new muffler is designed to operate for extended periods of time/miles without the need for routine service. The length of the service interval will depend on how the vehicle is used and whether the catalyst components operate at designed temperatures.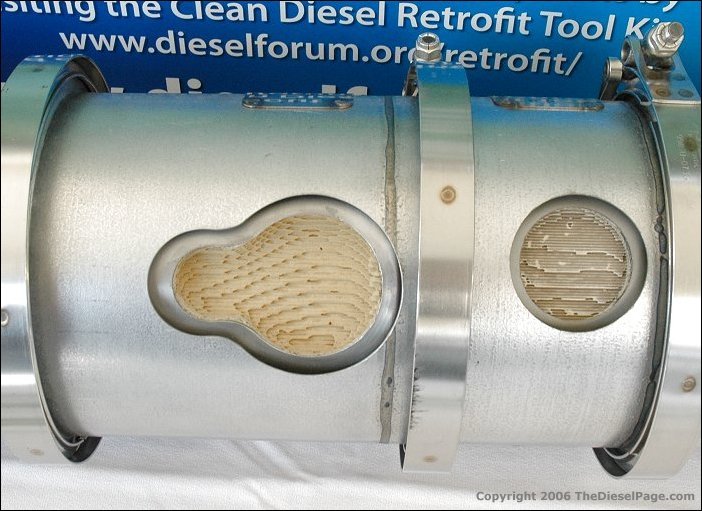 The above photo is a close-up cutaway showing the oxidation catalyst and particulate filter. The fine-mesh ceramic catalyst is shown on the right (round hole), and the particulate filter element is shown in the center.

How does the 2007 LMM Duramax 6600 V-8 diesel engine meet the new emissions requirements?

Additional combustion control, including an even more efficient variable-geometry turbocharging system, cooled (enhanced) Exhaust Gas Recirculation (EGR) and closed crankcase ventilation to reduce NOx.
Additional exhaust control, including oxidizing catalyst and new Diesel Particulate Filter (DPF) to reduce soot and particulate matter.
Increased-capacity cooling system.
New engine control software.
Use of low-ash engine oil.
The diesel engine and fuel system manufacturers are enthusiastic about the new ULSD fuel and the new emissions requirements. Why? Because the new fuel standards pave the way for a wide range of brand new light-duty diesel powered vehicles. The old fuel simply wouldn't allow auto manufacturers to sell diesel powered vehicles in all 50 states - below the 8600-lb GVW class. Those of you who pay attention to automotive news have likely seen a flurry of announcements in recent weeks for a variety of new light-duty diesel programs from the major automotive manufacturers. The future is indeed bright! TDP
---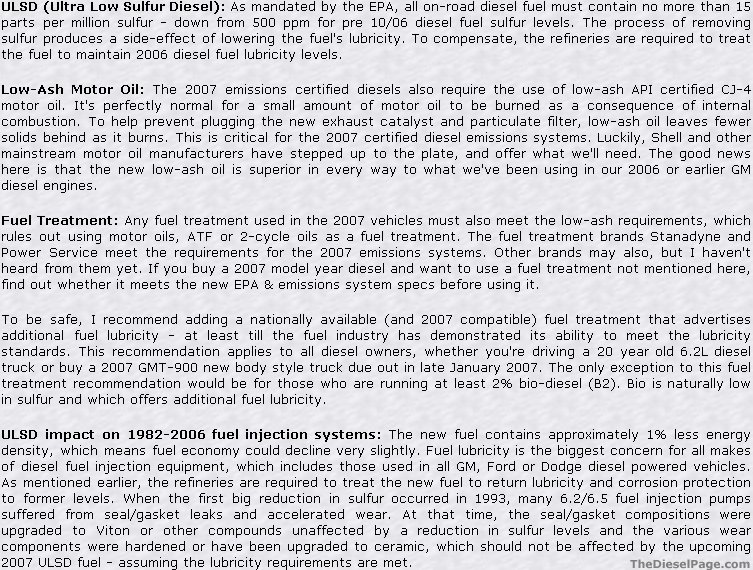 The following links contain some excellent info concerning the ULSD (Ultra Low Sulfur Diesel) that becomes mandatory this October 15th.
Heavy-Duty Highway Diesel Program EPA document.
What is Clean Diesel Fuel? DieselForum.org document.
ULSD FAQ Clean-Diesel.org Frequently Asked Questions.
---
Diesel Technology Forum
5291 Corporate Drive, Suite 102
Frederick, MD 21703
www.dieselforum.org
---
TheDieselPage.com
What's New: | Feature Articles: | Product Reviews: | Member's Area:
Join Us: | Duramax Diesel Page: | Advertisers: | Classified Ads: | Books:

Send e-mail to: turbo@TheDieselPage.com
Copyright © 2006 by The Diesel Page
www.TheDieselPage.com