---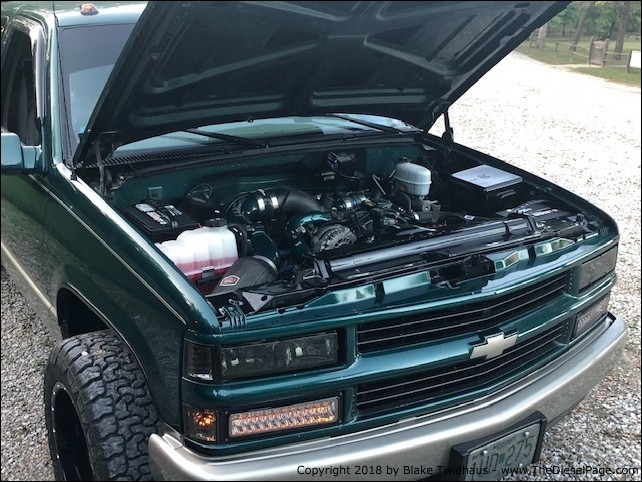 1998 Chevy K1500 LBZ
Duramax Diesel Conversion Project
---
By Blake Twiehaus & TDP
---
"Hey Jim, it's Blake. I wanted to let you know that the truck is officially on the road! This is nothing but a dream come true, and I still can't believe it! It runs, drives and handles flawlessly! Couldn't be more happy! Wanted to thank you for all your help, along with those mounts, for seeing me through this adventure! I'll keep in touch for sure! Thanks again, Blake"
The above is what I found in my in-box on October 4, 2018. Blake and I had been communicating via email and by phone for some time, and I was nearly as happy as he was that the result of his effort had met his expectations. What follows is a sampling of Blake's photos and commentary that hit the high points for Blake's Duramax Diesel Conversion Project. - TDP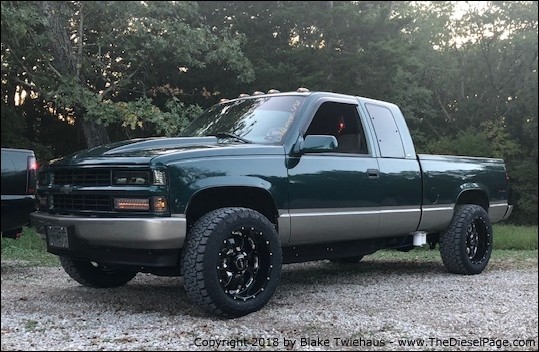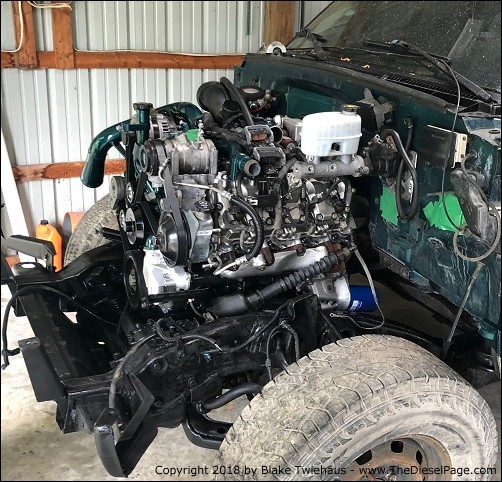 5/20/2018: "Hey Jim, it's Blake with the 1998 LBZ swap. Been a while, but we're still plugging away at it. The engine has been assembled with ARP studs, new grade C headgaskets, a new water pump, pulleys, belt, EGR delete, PCV reroute, 3" MBRP downpipe, color matched engine to match truck, and lots of cleaning just to make the swap look nicer. The front steering components are all new as well - with all Moog components, and I have began running new stainless brake lines on truck. I bought a kit for a 2006 truck because I'm using the 2006 donor's ABS and entire braking system.
"With the front differential, we used a 3/4-ton differential out of a 1997 2500 series truck with the same 3.73:1 gear ratio as the rear. We used the donor 1997's 3/4-ton spindles, but kept my 1/2-ton upper and lower control arms. The ball joints were replaced with all Moog components made for a 7200 GVWR pickup. The front of the truck was lowered a bit to make sure the steering geometry as close to 0 degrees as possible. Moog inner and outer tie rods were used as well, and a proper front-end alignment was achieved quite easily!"
"The disc-brake equipped rear axle from the 2006 truck was rather easy to adapt to the truck! We installed 2" drop shackles to get the truck down a bit in the back. The perches on the axle were a bit wider than the leaf springs so they went in a little rough, but worked out great after making the necessary adjustments! We also used the donor 2006's 3/4-ton leaf springs, but removed the overloads due to not needing them (the truck won't likely be used to tow)."
"This has definitely been a project, but I cannot wait for the outcome! Definitely gonna be a cool piece to me and hopefully everyone who sees it. Me and my brother actually got the engine set into the chassis on Friday, and needless to say your motor mounts work perfect! Couldn't be more happy with them! Have to trim more off that front differential mount than you mentioned in your book, but that should be no problem. I'll attach some pics, let me know what you think. Thanks for your help and inspiration on the build. Blake"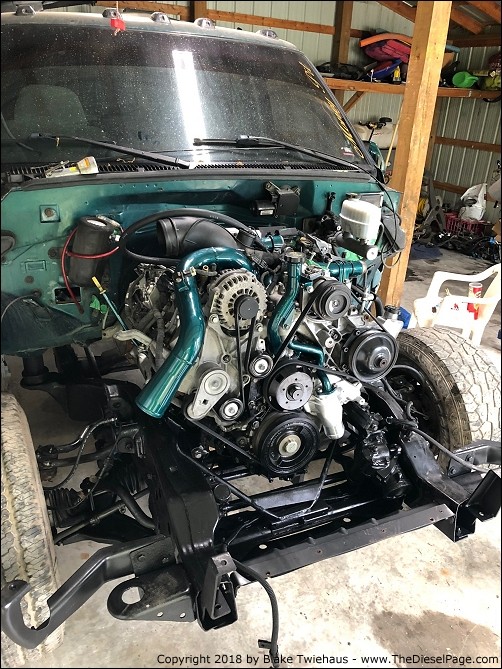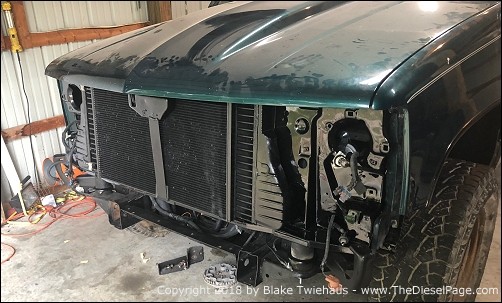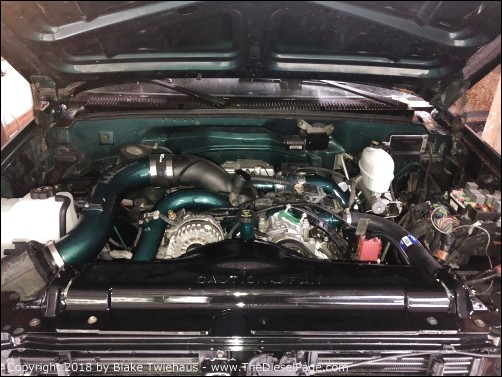 8/21/2018: "Hey Jim, it's Blake, just wanted to stop in and say hello, and give you a little update on the truck. It's getting closer to being finished everyday, and I cannot wait for that first start up! This has definitely been a long process, but it'll be so worth it in the end! The complete drivetrain is in the truck, all engine components have been installed and wired up! Complete cooling system is in and fits... barely lol. Got the driveshaft cut, shortened, welded and balanced. All brakes are on including the new ABS module with all new stainless brake lines."
"The interior has been removed and the dash harness installation has begun. Getting help from a good friend of mine who is good with wiring - the complete 06 harness will be used, as well as steering column and gauge cluster. The 98 harness will be spliced in to run the heater controls because I intend to maintain the 98 heater core and blend doors. However, I will be tying the 98 and 06 HVAC control together for proper canbus readings to BCM for low pressure switch and clutch engagement. A lot of thinking and headaches, but I believe we have a good solution. New heater core has been installed, along with new blend door actuators and relays for proper illumination for the 98 HVAC control panel. Door functions will be tied into 06 harness as well as the interior courtesy lights."
"It has been an almost overwhelming project at times, but so cool to me and everyone involved - and to everyone who stops by to take a look at it. Just wanted to keep you updated and let you know we're still going. The fuel system should be installed this week with a sump supply to the CP3. Blake"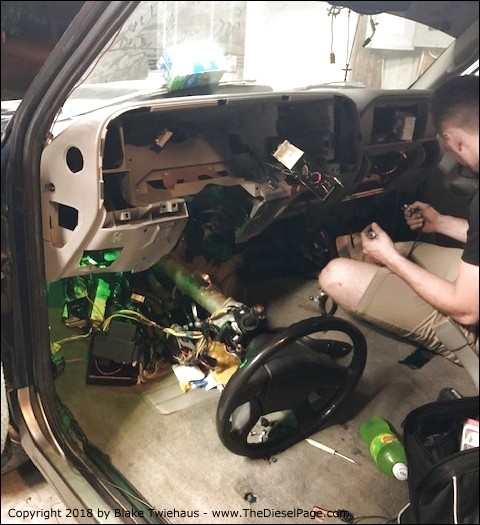 On 11/01/2018 I asked Blake for more information about his steering column and instrument panel installation. Here is his reply:
"The mounting brackets on the donor's 2006 steering column had to be removed and replaced with those used on the truck's original 1998 column, because the lower mount is different and is positioned differently. Also, when the 1998 brackets were installed on the 2006 column, they had to be repositioned (moved up) to get the column bearing away from the lower column mount. When complete, it all fits rather well!"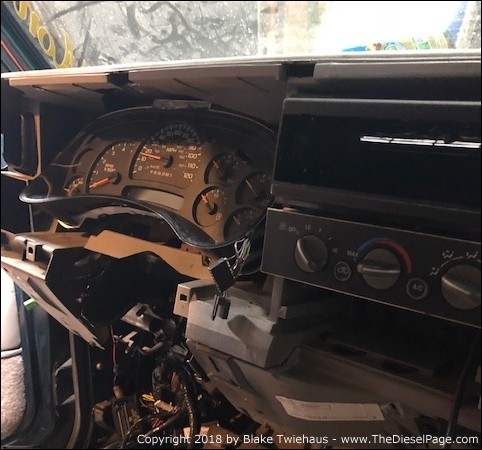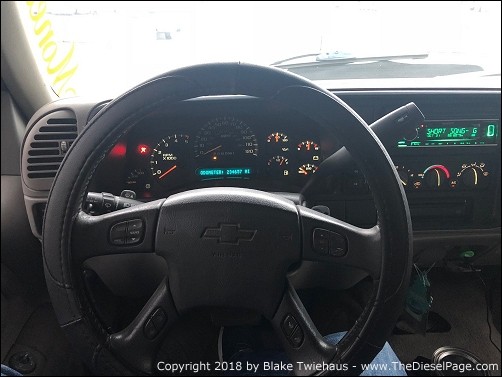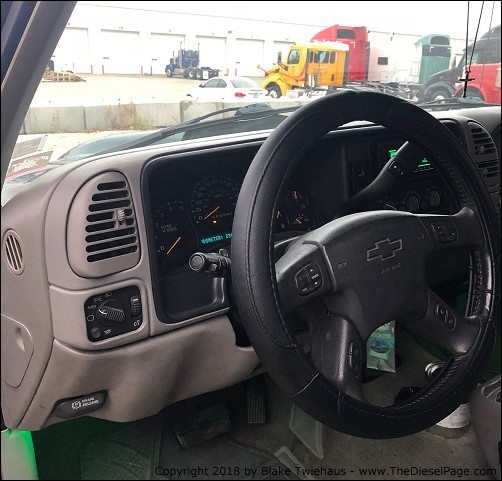 "The curved clear face of the instrument panel remained in place, but I had to trim the inner plastic of the 1998 dash, where it met the old cluster, because the new instrument panel fit a little deeper and was a little taller. But, it fits quite well after making the adjustments. The 2006 cluster had to be narrowed a little and had to be mounted slightly lower than the original 1998 cluster."
"As far as the HVAC system in general, the heater function of the controller operates as expected using the 1998 HVAC controller. The A/C is where it gets tricky. We integrated the 06 and 98 HVAC modules together to properly work with the CANBus communication. Everything is controlled by the 1998 controller, but when the A/C function is selected it sends that signal to the 06 controller we have hidden behind the dash, which then will engage the air conditioning compressor and allow the A/C to operate. I have not tested the A/C yet because I haven't completed the assembly of the new A/C hoses/lines, but the system components have all been tested individually for proper operation. For example, the A/C function lamp is illuminated on the 06 controller when the A/C button is selected on my 98 controller, which lets us know that they are communicating properly. Temperature control for the A/C is still being controlled through the 1998 controller. I know there's a lot to take in here, just kinda hard to explain, but I'm sure you'll understand how we did it. Thanks again for everything, I hope to be able to drive it to you one day, so you can get a real look at it! Gonna be my pride and joy for sure! Blake"
In closing: I should note that, often times, there can be more than one answer or solution to any question when working through a conversion like this - depending on the skill and experience of the truck owner. Blake did a great job and I enjoyed working with him. Throughout the process, I answered each of Blake's emails, took his phone calls, and helped answer all of his questions. After all, we're both GM diesel enthusiasts, and TDP is here to help. I look forward to seeing his truck in person! TDP
Duramax Conversion Guide
Duramax Conversion Motor Mounts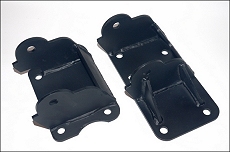 ---
TheDieselPage.com
What's New: | Feature Articles: | Product Reviews: | Member's Area:
Subscribe: | Duramax Diesel Page: | Advertisers: | Classified Ads: | Books:

Send e-mail to: turbo@TheDieselPage.com
Copyright © 2018 by The Diesel Page
www.TheDieselPage.com