---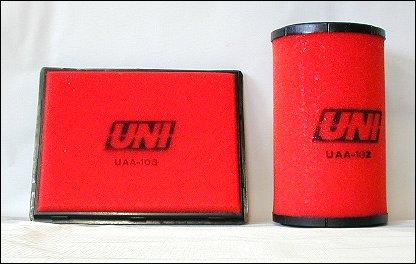 Uni Foam
Racing Air Filters

With applications for the
1992+ 6.5L & Duramax 6600
---
By Jim Bigley
---
Today's performance air filters must excel at two vitally important and yet polar opposite functions. First, they must allow the engine to breathe without unnecessarily restricting airflow. A turbo diesel running with 20-psi of boost pressure is gulping a lot of air. An overly restrictive air filter hurts performance and engine efficiency. Second, today's performance air filter is also judged by its dirt capturing ability. Truck owners in the know demand an air filter that allows an engine to perform up to its full potential yet stops virtually 100% of all harmful dust and other airborne contaminants. Creating the perfect blend of unrestricted airflow and maximum dirt stopping ability is the goal of today's performance air filter manufacturers. Uni Filter, Inc. recently entered the GM diesel market with their reusable dual-stage oiled-foam air filter in this quest for perfection. Let's have a look at their new air filter.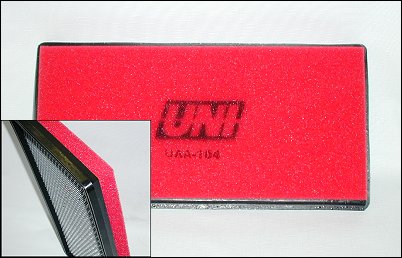 Uni Foam produces oiled-foam air filters for all GM 6.5L turbodiesels from 1992 through 2000. The round style, as indicated in the above lead-in photo, is intended for the 1997 or newer applications, while the flat-panel style on the left fits the 1992-1996 6.5L applications.
The generous sealing edge produced a snug fit in our 1994 style air box, which is exactly what is needed to properly protect the engine. In fact, the sealing edge on our Uni sample measured about .030" thicker than that used on a NAPA Premium Gold paper air filter we had been using.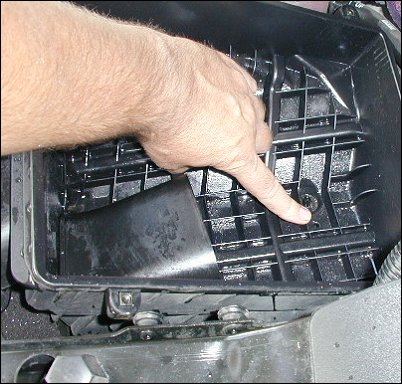 While the 6.5L/Duramax air filters are a relatively new product offering for Uni Foam, their air filters have reportedly been used by off-road race teams for more than 30 years. The needs of race engines over long dusty courses underscore the fundamental air filter requirements for any engine - whether on-road or off.
An air filter installation should include a thorough cleaning of the air box, and ensuring that the water drain hole is open (pointed to in photo). Several automotive engine-cleaning products can be used to clean the air box of accumulated oil and debris. Simple Green or Oil Eater work well to remove an oily buildup, does not create a fire hazard and rinses clean with tap water. These air filter housings can accumulate water while driving in a heavy downpour or while driving through standing water. The drain hole should remain open to reduce the amount of accumulated water.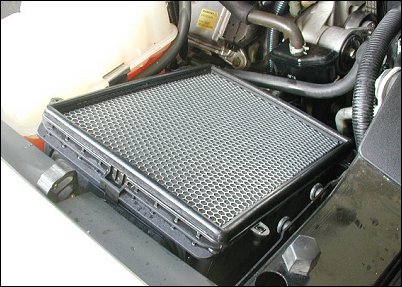 We've known for a long time that a properly designed dual-stage oiled-foam element traps dirt better than any other type of air filter media. We also know that filtering ability is but one of several essential design requirements. The air filter must also include a properly designed gasketed sealing edge and have a rigid cross section. Even the best filtration media won't provide the necessary engine protection if the air filter collapses or does not effectively seal the air box.
Uni Foam's air filter sealing edge is as good as any we've seen, and the metal reinforcement helps prevent distortion or collapse while under the powerful vacuum created by the turbocharger. A dual-stage oiled-foam element design is key to Uni Foam's ability to stop dirt, while maintaining maximum airflow. The coarse 40 PPI polyurethane outer foam layer stops the larger particles, while the fine inner layer (60 PPI) is designed to trap the smallest of particles.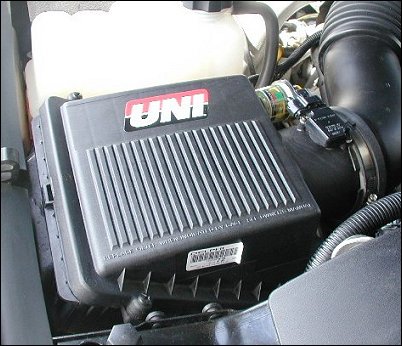 Aside from being a drop-in fit. The perfectly formed sealing edge takes advantage of the locking edges of the air box, and is made from a soft and compliant urethane rubber that compresses about 1/8" once the air box housing screws have been tightened. All this should help to ensure that all of the air passes through the air filter element.
Free-flowing, excellent dirt capturing ability, precise fit & seal, cleanable/reusable, and a limited lifetime warranty all make Uni Foam an excellent choice in air filters for both performance and long engine life.
TDP
---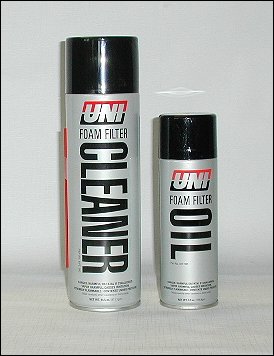 Uni-Foam Air Filter Source:
Kennedy Diesel
W3351 26 Road
Loyal, Wisconsin 54446
Call: 1-715-255-9433
Fax: 1-715-255-9499
www.KennedyDiesel.com
---
TheDieselPage.com
What's New: | Feature Articles: | Product Reviews: | Member's Area:
Join Us: | Duramax Diesel Page: | Advertisers: | Classified Ads: | Books:

Send e-mail to: turbo@TheDieselPage.com
Copyright © 2018 by The Diesel Page
www.TheDieselPage.com