---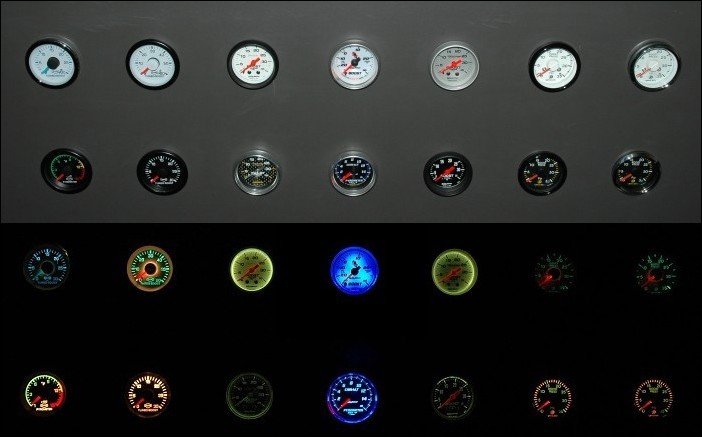 Got Gauges! - Reloaded
Gauge & Gauge Accessories
---
By Jim Bigley
---
The number of different gauges and gauge accessories has grown considerably since our 2002 gauge install piece. I stopped by to see the folks at US Diesel Parts recently, and got acquainted with what's new for those looking for gauges and gauge accessories. Let's have a look.
The lead-in photo composite shows a gauge display case in both daylight and in the dark, with gauge illumination. The images in the right margin are closeups of the available gauges, with each pair showing both daylight and nighttime appearance.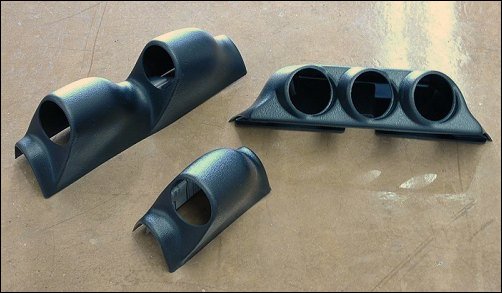 Gauge pods are a popular product that allow positioning gauges where you want. A variety of A-pillar pods provide for up to three 2-1/16" diameter round gauges, and the windshield mounts further expand the options available to diesel pickup owners.
These gauge pods are made from premium grade ABS plastic that resist cracking or warping over time, and can be painted to match the interior trim color of your truck.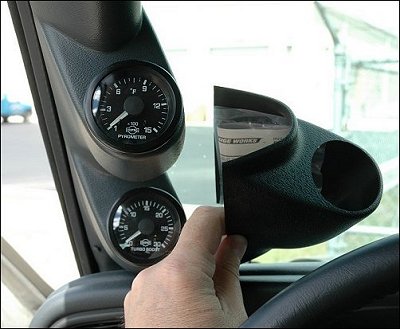 A-pillar pods are available in a single to a triple. In addition, pillar pods for the 2001 and newer Duramax powered GM trucks are available as a complete "skin", to completely cover the original pillar molding. All ABS pods come black in color, but take automotive interior trim paint very well.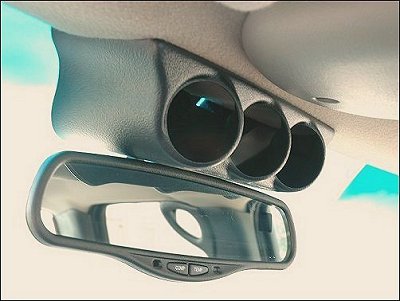 The windshield mount is a relatively new product that adds versatility to any gauge installation. The gauge wiring is routed beneath the headliner, for a clean and neat appearance.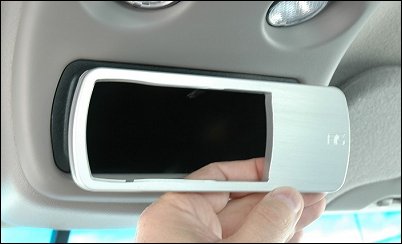 US Diesel Parts also carries the ATS billet aluminum overhead console mount for the Edge Attitude monitor. Like the above mentioned windshield mount, wiring is concealed beneath the headliner.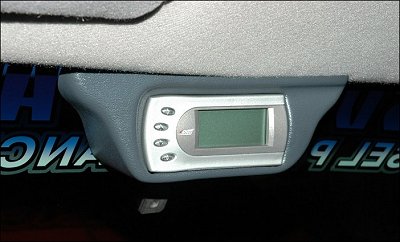 We installed this unique ABS windshield mount for our Edge Attitude monitor. Aside from running the wiring beneath the headliner, this was a simple installation that provides good angled viewing of the Attitude. We also painted the pod to match the dark gray graphite trim color of the dash.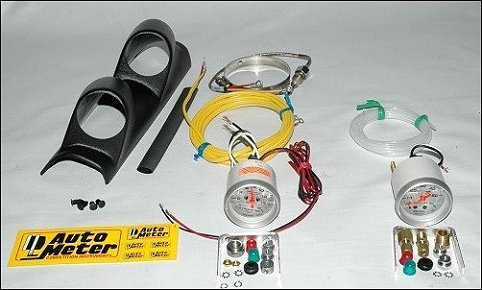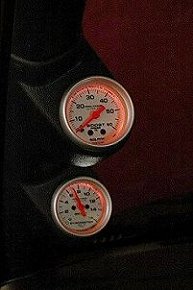 For our Duramax Hot-Rod we chose the Autometer Pro Comp Ultra Lite, silver faced gauge kits. Aside from the obligatory exhaust temperature gauge, we also installed a 0-60 psi boost pressure gauge - due to plans for an aftermarket turbocharger that will produce up to 40 psi.
The autometer gauges came with both red and green bulb covers, that can be used to add a red/green tint to the nighttime illumination. The shot on the right was taken with the red bulb covers installed.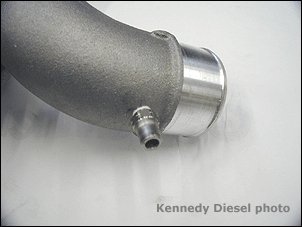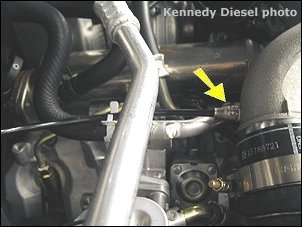 The 2004.5 and newer LLY Duramax doesn't utilize a boost pressure controlled wastegate actuator like those used with the LB7, so we need to tap into the intake manifold inlet for the boost pressure gauge. The above images from Kennedy Diesel illustrate the preferred location for drilling and tapping.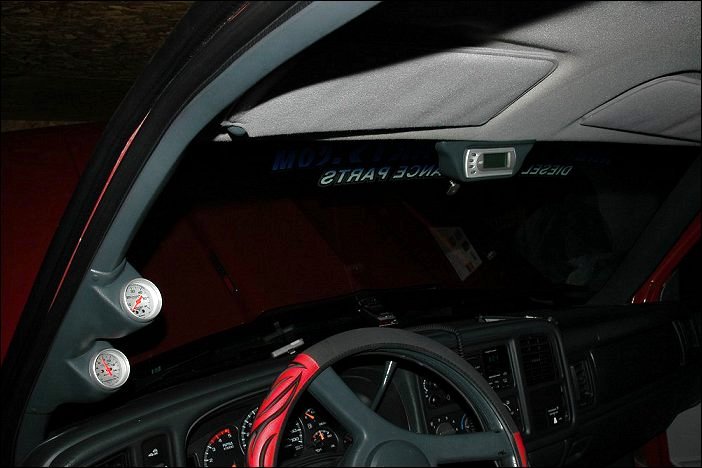 Aside from looking cool, exhaust temperature and boost pressure gauges are important to help you better manage the powertrain, and they allow you to prevent exhaust temperatures from reaching excessive levels. Now is as good a time as any to improve both function and appearance of your truck. TDP
---
Did you find this article informative, helpful or entertaining? Send us an email to let us know.
---
Mentioned Source:
US Diesel Parts
2400 Palmer - Missoula, Montana 59808
Call: 1-800-823-4444 -- Fax: 1-406-721-5097
www.usdieselparts.com
---
TheDieselPage.com
What's New: | Feature Articles: | Product Reviews: | Member's Area:
Join Us: | Duramax Diesel Page: | Advertisers: | Classified Ads: | Books:

Send e-mail to: turbo@TheDieselPage.com
Copyright © 2018 by The Diesel Page
www.TheDieselPage.com