---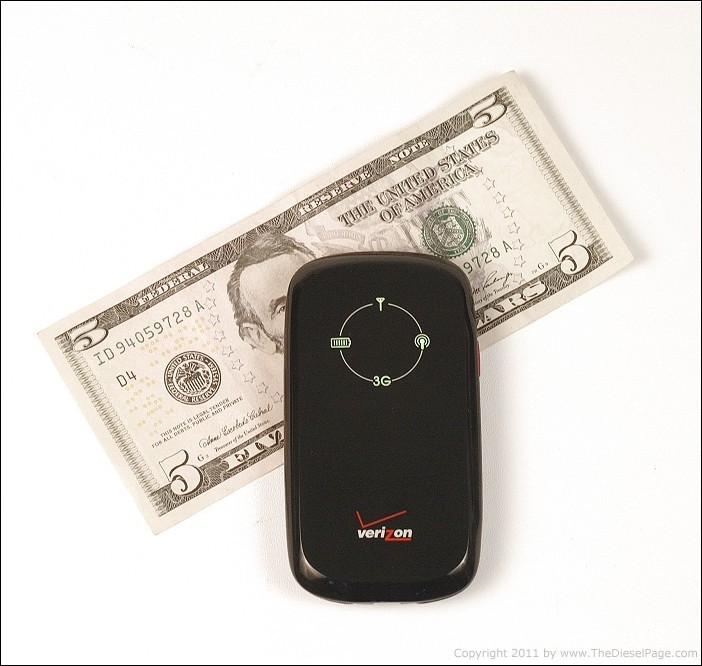 Verizon Wireless Fivespot
3G Mobile Broadband Hotspot
---

---
I envy those who live in areas supported by digital cable, DSL or another wired high-speed Internet service. While Montana offers many lifestyle advantages, one deficit is access to high-speed Internet, especially those who live outside the primary coverage areas. Nearly everyone finds The Diesel Page through the Internet. Anything that makes access easier is better for everyone, and the Verizon Wireless Fivespot hotspot provides instant broadband Internet access to The Diesel Page both at home and while traveling. The new Verizon Fivespot performs well and is a worthwhile addition to your diesel tool box.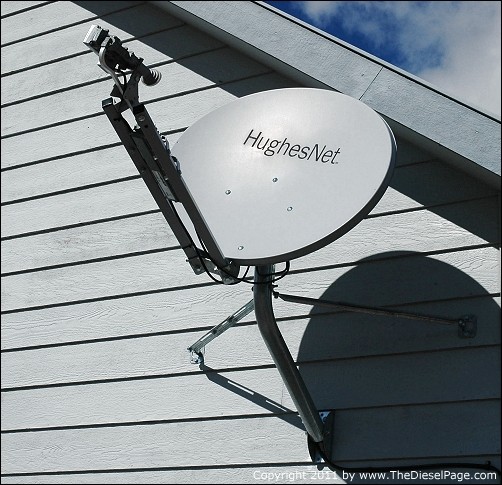 For the past several years we've accessed the Internet via a Hughesnet satellite system. Till recently that was our only choice beyond dial-up. This photo shows the antenna used by the Hughesnet satellite system. Aside from the antenna, there was also a modem, wireless router and a couple of power supply modules inside the building. All of this gear was necessary to allow for typical home or office connectivity.
We experienced a problem recently with our Hughesnet modem, and were without Internet access. Aside from costs involved in repair ($300+) for an onsite service and my unwillingness to do the setup myself, we were looking at a 12 day wait before a service tech could fit us into his schedule. That brings us to the Verizon Fivespot...
The Verizon Fivespot is relatively new technology - at least to Montana. The technology advancements made possible by a huge cell phone market, has allowed cellular tech to push far beyond the boundaries of what was possible just a few years ago. In particular, the emergence of smart-phone technology has produced a need for better/faster Internet connectivity via cell tower. Once the tech was in place, the evolution of portable products like the Fivespot was simply a matter of time.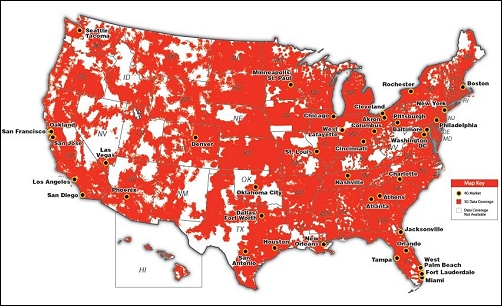 The Verizon Fivespot is, in simple terms, a mobile hotspot that performs just as well at home or while traveling with you on the road. It interacts with Verizon cell towers at 3G speeds, allowing for a combination of up to five wireless computers, gaming consoles or other wireless devices to access the Internet. One little device, the size of a typical cell phone, replaces all of the various component parts that make up a Hughesnet sat system. And, the Fivespot is mobile. The battery powered Fivespot can be left permanently connected to an A/C power source in your home/office or it can hit the road with you, providing the same 3G access speed anywhere where there is Verizon coverage. Here's a tiny device that fits in the palm of your hand, was up and running in about 10 minutes, offers faster Internet data rates than the Hughesnet system, and it was free. While the Fivespot itself was free, the service did require a $36.00 initial setup fee, in addition to a $50/month service plan that provides for up to a 5Gb monthly data transfer. Monthly fees and taxes produced a total of about $66/month. By comparison, the Hughesnet system cost $500 for setup and installation plus $70/month for 100Mb/day (~3Gb/month) data transfer. The Hughesnet system would cut you off if you exceeded the daily data bandwidth limit, while Verizon simply charges you $10 per gigbyte data transfer over the 5Gb monthly allowance.
Throughput: While 3G product manufacturers tout up to 3.1 Mbps download speeds, 3G typically averages 600-1400 Kbps download speeds and 500-800 Kbps upload speeds. By contrast, DSL and cable offer download speeds ranging from about 3 Mbps to 16 Mbps. The Verizon Fivespot is said to have the speed and latency to allow Voice-Over IP calls via Skype or Google Talk, play games online as well as download music. Downloading movies via Netflix isn't a realistic option. Even though the Fivespot is speed-rated nearly identically to the Hghesnet system we had, I know the Fivespot is much faster when opening web pages, downloading email, or transferring files via FTP - which is what I do most.
Anyone who uses a cell phone knows that the technology is continually advancing - including mobile hotpsot technology. Some areas of the country already have access to 4G, which is 10-times faster than 3G. By 2012, we're told that 5G will find its way into the larger markets. 5G is 100-times faster than 3G. Just like cell phones that are upgraded every couple of years, new mobile hotspot devices will become available that take advantage of the new technology - all at low or no cost to upgrade. By late March 2011, I'd been using the Fivespot for about 3 weeks, and I highly recommend it. TDP
---
Operation: Included with the Fivespot unit is a USB data cable that can plug into any open USB port on your computer. Also included was a selection of AC power adapters that allow plugging the Fivespot into any domestic or foreign AC outlet to charge its internal battery and operate independently of a computer. The first use requires software installation and activation on one of your computers. This is accomplished by physically connecting the Fivespot to your computer, power-on the device, then follow the setup and installation program. The installation program is on the device - no CD. The press & hold power button on the right side of the Fivespot requires about 3 seconds to turn ON and 10-15 seconds to turn Off. The Fivespot will go into stand-by mode (all lights off) after 12-15 minutes of inactivity, such as when your desktop PC or laptop computers are either shut down or they go to sleep. A quick press of the power button will instantly wake it.
The Fivespot will not be seen as a WiFi hotspot when physically connected to a computer. The connected computer will have wireless access to the Internet, but no others. This feature might be useful for those who access the Internet in crowded areas. Disconnected from the computer, the Fivespot will connect to as many as 5 wireless devices after each device user enters the Fivespot's unique security password. The internal battery will provide a few hours of operation on its own, but when physically connected to a laptop via the included USB cable, it'll draw power from the laptop's battery.
Key Features:
Supports Microsoft Windows XP, Vista, and Windows 7, and Mac OS 10.4.X or higher
Wi–Fi Mode: 802.11 b/g for connection of up to 5 devices
3G coverage on America's Most Reliable Network
Communication
EVDO (Rev.A/Rev.0), 1XRTT, HSPA, UMTS, EDGE, GPRS
GlobalAccess capable
Wi–Fi Mode: 802.11 b/g for connection of up to 5 devices
Type A USB port compatibility via included USB cable
VZAccess Manager™ on device for easy connection management
Advanced Embedded Antenna System
LED Indicator: 2 Color; Battery, Signal Strength, Wi–Fi and Network Service Status
2–way Text Messaging capable in USB Mode
VPN Compatible
GPS
Auto Install and Connectivity
http://www.verizonwireless.com
---
TheDieselPage.com
What's New: | Feature Articles: | Product Reviews: | Member's Area:
Join Us: | Duramax Diesel Page: | Advertisers: | Classified Ads: | Books:

Send e-mail to: turbo@TheDieselPage.com
Copyright © 2018 by The Diesel Page
www.TheDieselPage.com