---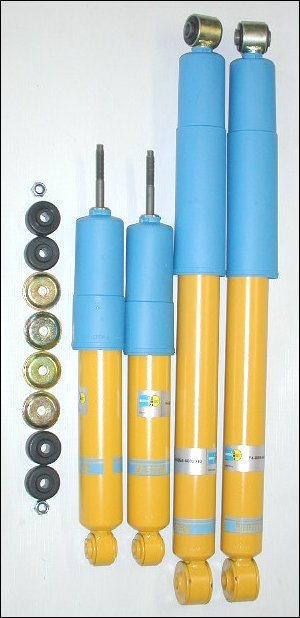 Bilstein
Shock Absorbers
for the 2500HD/3500
---
By TDP Staff
---
Sometimes you don't know what you've been missing in your truck's ride quality till you install a new set of shocks. The factory installed shocks had just 28,000 miles on them, and given the fact that this is a 9200-lb GVW pickup truck, I thought the original shocks were doing an OK job. Installing a new set of Bilstein shocks let me know what I was missing.
Bilstein shocks utilize a mono-tube design filled with nitrogen gas and hydraulic shock oil. (A floating gas seal separates the nitrogen from the shock oil.) A nitrogen gas pressure of 360 psi is maintained on the oil column, which effectively eliminates foaming and cavitation, and maintains dampening effectiveness even on punishing road surfaces.
Special "Rising Rate" valving is incorporated in all Bilstein shock absorbers, which produces an increasing effectiveness as suspension movements become more rapid. The net effect is that these shocks always produce just the right amount of ride control for a variety of road and driving conditions.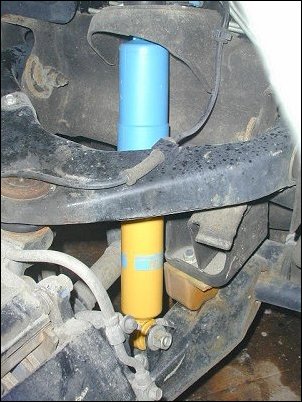 The Bilstein front shocks offer an increased dampening action, compared to the factory originals. This stiff action (in both directions) makes the truck feel like its front-end is firmly planted on the highway, reducing body motion and sway.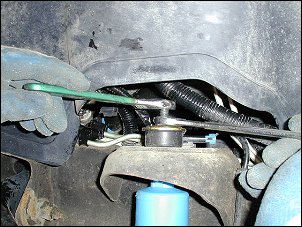 The cross-through bolts and nuts on both front and rear shocks require a 21mm socket and wrench (13/16" tools work as well). You'll need a 15mm open-end wrench to remove the single nut from the top of the factory shocks, and a 17mm open-end wrench for the nuts used on the top of the Bilstein front shocks. We used a 6" adjustable open-end wrench to hold the shock piston rod, while the self-locking nuts were removed and re-installed.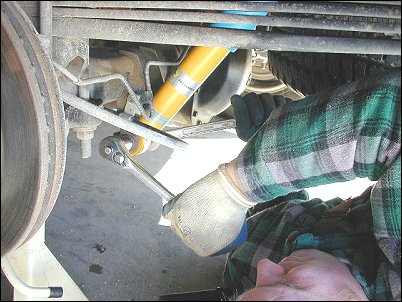 That big full-floating rear axle represents a significant amount of "unsprung" weight. This weight can contribute to a pogo action of the rear suspension whenever hitting bumps, a pothole or while crossing railroad tracks. Heavy-duty shocks are needed to resist the tire bouncing pogo action, and tame the ride quality on an unloaded truck.
Again, the cross-through bolts and nuts at both ends of the rear shocks require a 21mm socket and wrench (13/16" tools work as well).
Bilstein says, "The self-adjusting working piston, with spring-steel valving discs, precisely regulates oil flow for optimum compression and rebound control. There are no check valves or springs to wear out. The induction hardened steel piston rod is the strongest in the industry. The self-lubricating rod guide and end seal insures longevity and prevents leakage. These unique design features function in unison to allow Bilstein shocks to operate at peak performance levels for life."
This is the second set of Bilstein shocks we've installed on a heavy-duty GM pickup. In each case, the shocks produced a reassuring solid feel with an improved ride, handling and vehicle control. Competitively priced, superior design, and solid performance make Bilstein hard to ignore.
TDP
---
Bilstein Source:
Kennedy Diesel
W3351 26 Rd. Loyal, WI 54446
Call: 715-255-9433 Fax 715-255-9499
www.KennedyDiesel.com
---
TheDieselPage.com
What's New: | Feature Articles: | Product Reviews: | Member's Area:
Join Us: | Duramax Diesel Page: | Advertisers: | Classified Ads: | Books:

Send e-mail to: turbo@TheDieselPage.com
Copyright © 2018 by The Diesel Page
www.TheDieselPage.com