---
Readers' Rigs
---
This page illustrates some of the vehicles Readers of the Diesel Page own or drive. This month's photos and story comes to us from member Robert Winslow.


June 1998
---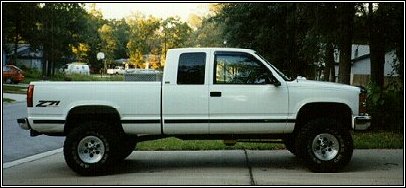 1995 6.5TD Chevrolet K1500 XCab Z71
I have a 1995 K1500 XCab Z71 with the light duty 6.5 Turbo Diesel and 4L80-E automatic transmission. I have added a Hypertech chip, Banks Stinger system, a Gauge Works pod for the boost and exhaust temperature gauges, 6" suspension lift, 3" body lift, and a high capacity winch. The gears are the factory 3.73's and the above photo shows the 35 X 12.50 tires I originally used.
In the above configuration I could cruise at 70 MPH in OD with an engine RPM of approximately 1900, 6 psi of boost, exhaust gas temperature of 450, and a coolant temperature of 195. The 0-60 times rivaled my 92 C1500 XCab with a gas 350.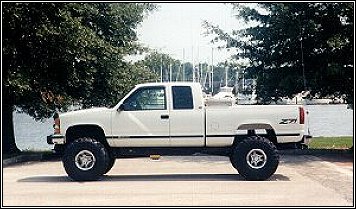 Since that first picture was taken I've added 38 X 15.50 tires and rear disc brakes. I still have the 3.73 gears and with the new tires and correctly calibrated speedometer, I can cruise at 70 MPH with 1800 RPM in OD (I verified the speedometer calibration using a GPS and other certified equipment, and found the speedometer to be within 1 MPH). As far as the speedometer calibration, the Superlift company makes several VSSB's that are programmed for tire size and gear ratio. The only catch is that tire manufactures don't put the actual size on the tire. Therefore, you need to measure the tire diameter before ordering the new VSSB.
In 3rd gear it runs about 2400 RPM. I still have plenty of power for towing and my 0-60 elapsed times haven't increased much. No gas engine could ever boast that with tires this tall. I haven't had a chance to get accurate fuel mileage results yet, but I'm expecting upper teens to low twenties. My gas powered friends drool over my fuel mileage.
Considering that the tires are over 3 feet tall, I feel the truck looks proportional when comparing height to length.
"A 4X4 the way it was meant to be; reliable, economical, high torque, low RPM, and a DIESEL!!!....."

PS. I'm also a Deputy Sheriff here in Duval county.
Robert Winslow, Member #389
Jacksonville, Florida
---
TheDieselPage.com
What's New: | Feature Articles: | Product Reviews: | Member's Area:
Join Us: | Duramax Diesel Page: | Advertisers: | Classified Ads: | Books:

Send e-mail to: turbo@TheDieselPage.com
Copyright © 2018 by The Diesel Page
www.TheDieselPage.com