---
Readers' Rigs
---
This page illustrates some of GM diesel vehicles Readers of the Diesel Page own or drive. This month's photos and story comes to us from member Mike Whittaker.


April 2000
---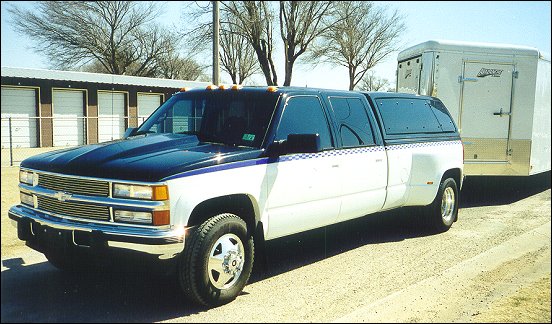 1995 6.5TD Chevy K3500
The truck is a 1995 Chevrolet 1-ton Crew Cab dually 4x4 with the 6.5L Turbo Diesel, 4L80-E automatic overdrive transmission. It is a Silverado loaded with the power options, blue cloth interior and bucket seats. The exterior is custom 2-tone black and white paint with a checkered purple & white accent stripe. Yes, it is all painted, and yes it required tons of masking tape.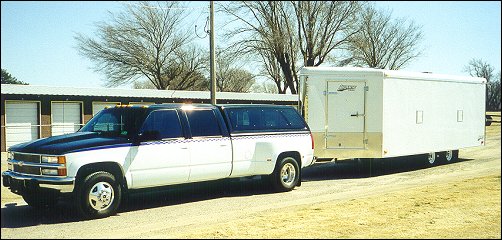 It also has a Raider topper and a steel cowl induction hood, along with Powervision power extending mirrors, polished billet aluminum grille and Alcoa wheels. Powertrain modifications include a BD computer chip, ATS 3" exhaust system, K&N air filter, 60-gallon frame-mounted fuel tank from "Tanks" Corona California, a really neat install that goes in the stock location. A set of Isspro boost and exhaust temperature gauges are mounted in overhead console where the heater A/C controls are in Suburbans.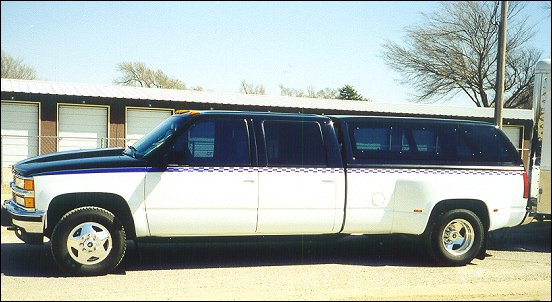 I have recently installed the late model dual-thermostat cooling system, and 9-blade fan and fan clutch. My next addition will be a Turbo Technology intercooler. I hope the benefit will be worth the cost.
I enjoy and appreciate the information provided by The Diesel Page, and believe my membership has been worth the investment.
Mike Whittaker, Member #1844
Woodward, OK
---
TheDieselPage.com
What's New: | Feature Articles: | Product Reviews: | Member's Area:
Join Us: | Duramax Diesel Page: | Advertisers: | Classified Ads: | Books:

Send e-mail to: turbo@TheDieselPage.com
Copyright © 2018 by The Diesel Page
www.TheDieselPage.com