Readers' Rigs
---
This page illustrates some of diesel trucks and SUV's Readers of the Diesel Page own or drive. This month's photos and story comes to us from Canadian reader Buzz Bradley.
---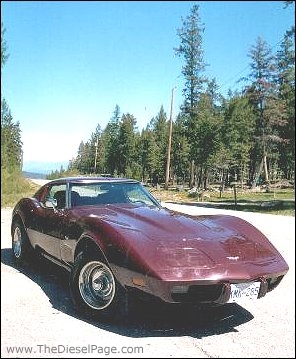 1977 Chevrolet Corvette
6.5L Diesel
May 2002
I live in Cranbrook, British Columbia Canada and drive a diesel GMC Jimmy, a Chevy diesel conversion van and a 1977 Chevrolet Corvette powered by a 6.5L diesel. Some may wonder why I did this - install a 6.5 in a Corvette. To put it simply - fuel economy. Not many cars can handle the weight, is streamlined, won't rust, yet retains its value, and is a sporty - fun car to drive. The Chevrolet Corvette offers all these things. The engine and transmission were installed without any chassis or body modifications.
To reduce the diesel rattle, we re-calibrated the injectors to a lower fuel injection pressure. This reduced some of the diesel rattle, so once above idle, very little noise is heard from inside the vehicle, and there is very little smoke on full-throttle. Due to the low ground clearance of the Corvette, I needed to reduce the height of the oil pan. The ground clearance is only about 4-½ inches, but hasn't been a problem yet.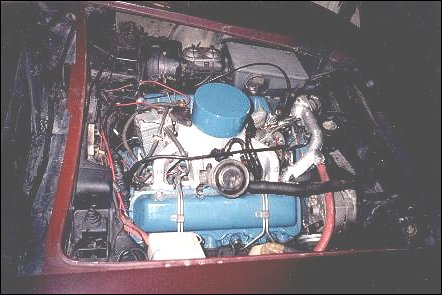 I installed the engine in May of 2001, and have driven it about 3000 miles since then. We average about 48-mpg Canadian, and have seen a high of 55-mpg. We're using a TH700R4 automatic with a manually controlled converter lock-up. I also removed the EGR valve. The acceleration is very good, but if I wanted a 0-60 in 7 seconds I would install a 427/425hp @ 8mpg (makes sense). I would consider a turbo, but am concerned about how the added heat might affect the fiberglass hood.
Buzz Bradley
Cranbrook, British Columbia Canada
---
TheDieselPage.com
What's New: | Feature Articles: | Product Reviews: | Member's Area:
Join Us: | Duramax Diesel Page: | Advertisers: | Classified Ads: | Books:

Send e-mail to: turbo@TheDieselPage.com
Copyright © 2021 by The Diesel Page
www.TheDieselPage.com