---
Readers' Rigs
---
This page illustrates some of diesel trucks and SUV's Readers of the Diesel Page own or drive. This month's photo and story come to us from member TJ Michelena.
---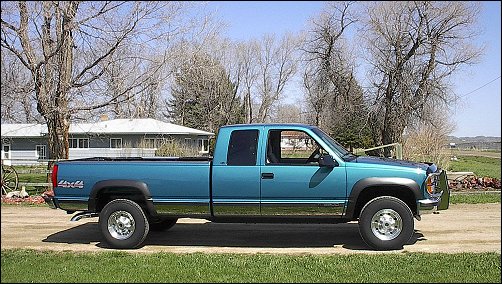 1998 6.5TD GMC K2500 Extended Cab
May 2002
1998 GMC K2500 EXT. Cab (TK25953) 6.5L INTERCOOLED Turbo Diesel
TDC Off-Set @ -1.32 degrees
Alcoa Aluminums
4L80-E Trans & 4.10 gears
Amsoil 2 stage air filter
Amsoil 15-40 synthetic oil
Amsoil synthetic trans fluid
Amsoil By-pass oil filtration
FSD Cooler
Kennedy boost controller
Hayden 2832 fan-clutch
BD 4 inch mandrel bent exhaust & Flow through muffler with a very pleasant note!
3 inch mandrel bent turbo down pipe, NO CAT!
ISSPRO boost gauge and pre-turbo pyrometer
Autometer full pillar gauge mount w/ color matched paint
Hiper Industries H.I.D Bulbs
Turbo intake muffler removed for a most awesome turbo whistle!
TJ Michelena
Sheridan, WY
Diesel Page member #0364
---
TheDieselPage.com
What's New: | Feature Articles: | Product Reviews: | Member's Area:
Join Us: | Duramax Diesel Page: | Advertisers: | Classified Ads: | Books:

Send e-mail to: turbo@TheDieselPage.com
Copyright © 2018 by The Diesel Page
www.TheDieselPage.com