---
Readers' Rigs
---
This page illustrates some of diesel trucks and SUV's Readers of the Diesel Page own or drive. This month's photo and story comes to us from member Timothy Swartos.
---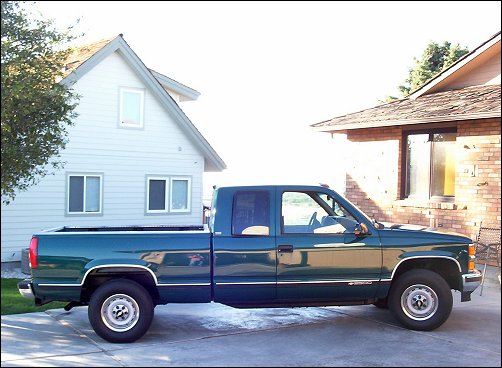 1995 6.5TD Chevy K2500
March 2003
I bought this truck with plans for some outdoor activities in the mountains in Idaho. Having owned a gas Suburaban, I knew a truck would better suit my needs, and I knew a diesel engine would be the preferred way to go. Not just for towing power, but for sustainability in the mountains. Having grown up in South Dakota farm country, I understood the advantages of a diesel engine. The previous owner bought it new, and ordered just about every available option. Not only that, the original owner was also immaculate records keepers, and refused to sell the truck without making sure everything was in working order.
This truck is everything I wanted in a diesel pickup... 3/4 ton, short box and not $40,000+... I didn't need it for work, just wanted a truck that had a good balance between decent fuel economy and with enough power to tow on occasion. The previous owner pulled a three horse gooseneck trailer every so often, so the truck was already equipped with the essentials for towing duty. And, since its a light-duty ¾-ton, I'm not sacrificing ride comfort.
I'd planned on owning this truck for a number of years, so I decided to join The Diesel Page after many months of being a casual browser. As many of you longtime diesel owners know, the GM products always seem to be supported well by the aftermarket industry, and I look forward to owning this truck for a good while yet.
Timothy Swartos
Boise, ID
TDP member #10647
---
TheDieselPage.com
What's New: | Feature Articles: | Product Reviews: | Member's Area:
Join Us: | Duramax Diesel Page: | Advertisers: | Classified Ads: | Books:

Send e-mail to: turbo@TheDieselPage.com
Copyright © 2018 by The Diesel Page
www.TheDieselPage.com