---
Readers' Rigs
---
This page illustrates some of GM diesel vehicles Readers of the Diesel Page own or drive. This month's photos and story comes to us from member Harry Sanders III.


August 2000
---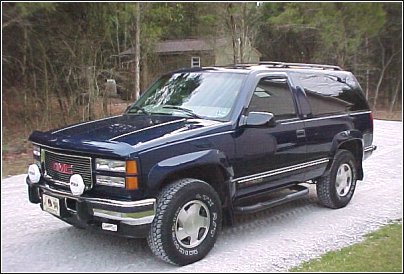 1997 6.5TD GMC Yukon
While many of us are never really finished with modifications, I think I'm just about there with my '97 6.5TD GMC Yukon. I plugged in the new computer from BD recently, and it's like someone added a third bank of cylinders! Before the computer I was seeing 7 lbs of boost with peaks of 9, now I see 10 lbs with peaks of 14. The exhaust temp is about 100 degrees cooler as well. Along with the boost pressure increases, I'm also seeing the vacuum restriction indicator on the air box move for the first time. Now all I have to do is a full throttle accelleration, and it will set. Looks like I may need to improve the intake air flow.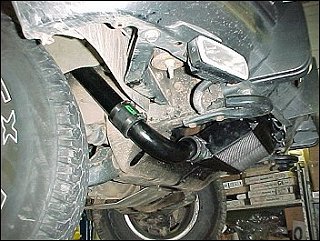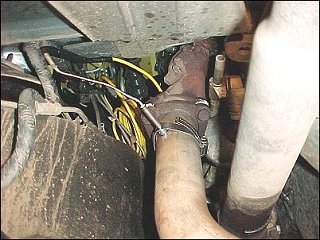 The photo on the left shows the new Turbo Technology intercooler. I installed my EGT pyrometer in the Diesel Page recommended crossover pipe location just below the driver's side exhaust manifold.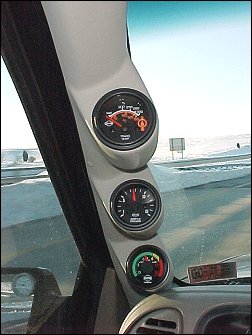 Here's the rundown on Mods:
* Amsoil Bypass oil filtration system
* All Amsoil synthetic fluids - diffs, trans, engine
* Amsoil air filter
* BD uprated exchange computer
* Auburn Hi-Torque Limited Slip Differential
* Redline Water wetter
* Trans go shift kit
* PIAA Driving and Fog lights
* Smittybilt nerf bars
* Valley external spare carrier
* Alpine indash AM-FM-CD player
* Turbo Technology Exhaust w/o Catalyst
* Turbo Technology Intercooler
* ISSPRO Boost, Trans temp, Pyrometer in an A-pillar mount
* Stull Grill Insert
* I use Stanadyne Blue additive, and Liquid Glass on the paint (after 2 coats, the paint is impervious to the environment).
Harry Sanders III, Member #938
Fairfield, PA
---
TheDieselPage.com
What's New: | Feature Articles: | Product Reviews: | Member's Area:
Join Us: | Duramax Diesel Page: | Advertisers: | Classified Ads: | Books:

Send e-mail to: turbo@TheDieselPage.com
Copyright © 2018 by The Diesel Page
www.TheDieselPage.com