---
Readers' Rigs
---
This page illustrates some of GM diesel vehicles Readers of the Diesel Page own or drive. This month's photo and story comes to us from member David Oliver.


October 2000
---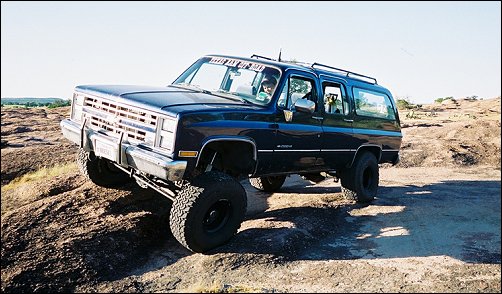 1985 6.2L Chevrolet Silverado
K10 Suburban
I found some good scenery that complimented my rig. Not that there is any shortage here in Texas, but being a full-time engineering student makes getting away from the city lights a little difficult. I have included a variety of pictures from Katemcy Rocks, an off-road park near Mason, TX.
Specifications:
Vehicle

1985 Chevrolet K10 Suburban Silverado 4x4
Owner

David Oliver
Factory Options
power steering, tilt steering, power door locks, power brakes using GM hydroboost, front and rear air conditioning, cruise control, trailering package, intermittent wipers
Engine
GM 6.2L Detroit Diesel built by Oliver Diesel: bored 0.030 over, balanced and blueprinted rotating assembly, 21.3:1 mahle pistons, 110 gpm Peninsular Diesel water pump, dual-thermostat crossover pipe, DSG timing gear drive, high volume GM oil pump, B&M 28,000 gvw cooler
Aspiration
Gale Banks Engineering turbo system using a Mitsubishi Heavy Industries TE06H wastegated turbo set at 13 psi, 6.5L "T" prechambers, DB2-4911 injector pump, 1800 psi injectors
Exhaust
Banks 3" mandrel bent Monster Exhaust with Dynaflow muffler and 3.5" tip
Power
Approx. 450 lb. ft.
Transmission
Art-Carr TH700R4 "towing special", 30 Spline, 400+ HP Extreme-Duty, 1200 stall converter, B&M 24,000 gvw cooler
Transfer Case
original NP208 with over 320,000 miles logged
Suspension
Front: 6" suspension lift - 6" Tuff Country leaf springs with Off Road Design heavy duty shackles, greasable polyurethane bushings, Rancho RS9012 shocks mounted with modified Ford F-250 shock towers.
Rear: 6" suspension lift - 56" length, 6" Tuff Country leaf springs, greasable polyurethane bushings, stock spring hanger moved back 4" to allow for longer springs, custom mounted Rancho RS9005 shocks using Avalanche Engineering shock tabs.
Axles/differentials
Front: GM 10 bolt, Auburn limited slip; Rear: GM 14 bolt full-float, Detroit.
Ring and Pinion
4.10:1 Precision Gear
Wheels
15x10, 3.5" back spacing, Eaton custom steel wheels
Tires
35x12.50 R15 BF Goodrich All-Terrains
Paint
PPG Indigo Blue, Metallic
Addons & Doodads:
Avalanche Engineering Rock Ring (14-bolt)
ORD Steering Box Brace
Custom shock mounts with Rancho 9012 & 9005 shocks
Equipment rack using 3rd seat base
ORD swaybar disconnects
LMC polyvinyl rear mat instead of carpet
Isspro tach, pyro, and boost gauges
Hayden severe-duty fan clutch
Delco 28MT gear reduction starter
Powermaster 160 amp alternator
AC converted to R134a
15 lb CO2 tank with 100 psi regulator
B&M external spin-on transmission filter
B&M transmission temperature gauge in output line
Pioneer AM/FM/CD
Radioshack CB radio
SkyJacker stainless steel brake lines
1 ton GM rear brakes - 13" x 3.5" drums
Future plans
rock proof rear driveshaft, 5.13s, roof rack, 37" MTRs, 2200 psi injectors, Spearco intercooler, always more...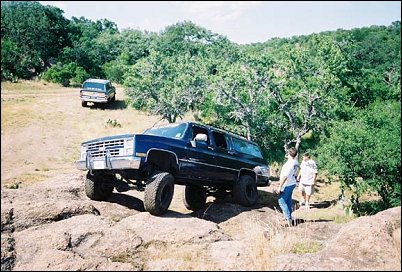 On June 6, 1985, my father and I went to pick up the truck from the dealership. Ever since then, I have wanted it. Nearly nineteen years and over 100 oil changes later, it's mine. It has been a lot of fun building this truck, and equally as enjoyable sharing it with the members on the forums.
Chevy diesel suburbans are kind of a family thing. My father has a 1996 6.5TD Sub; it's mostly stock, but we're working on it. There are more pictures available on our website, Oliver Diesel.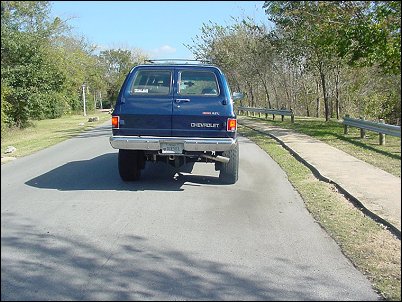 This is one of the finest web resources out there expecially when considering the online forums. Thank you.
David Oliver
Member #2221
College Station, TX
---
Back to the Readers' Rigs.
---
TheDieselPage.com
What's New: | Feature Articles: | Product Reviews: | Member's Area:
Join Us: | Duramax Diesel Page: | Advertisers: | Classified Ads: | Books:

Send e-mail to: turbo@TheDieselPage.com
Copyright © 2018 by The Diesel Page
www.TheDieselPage.com