---
Readers' Rigs
---
This page illustrates some of GM diesel vehicles Readers of the Diesel Page own or drive. This month's photo and story comes to us from member "NitroMax" Max Verver.


April 1999
---
6.2L Chevy K30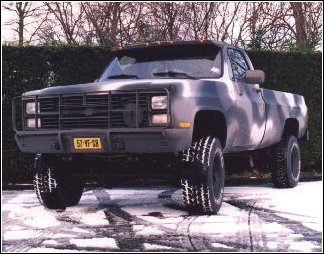 Here are some pictures of my Chevy K30 pick-up with a 6.2 diesel engine. Might not be special in your eyes, but it's one of just three pick-ups like it here in Utrecht, Netherlands (the other two being W200's). It attracts lots of attention, and my friends say they'll have to surgically remove the smile from my face! I will have to adjust my road attitude because I'm normally a fast driver (owning a nitroinjected VMax may give you a clue), but I'm happy trotting along at 100 km/hour in this machine!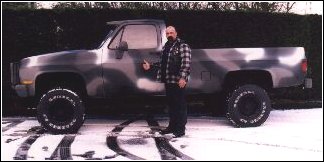 Max Verver
Utrecht, Netherlands
Member # 1569
PS. You can take a look at my bikes and this truck on my homepage http://home.wxs.nl/~mverver. Unfortunately, someone stole this truck, and as of March 22, the police haven't located it. If you see a similar 6.2L diesel truck somewhere near the Netherlands, please let me know. Have fun.
---
TheDieselPage.com
What's New: | Feature Articles: | Product Reviews: | Member's Area:
Join Us: | Duramax Diesel Page: | Advertisers: | Classified Ads: | Books:

Send e-mail to: turbo@TheDieselPage.com
Copyright © 2018 by The Diesel Page
www.TheDieselPage.com