---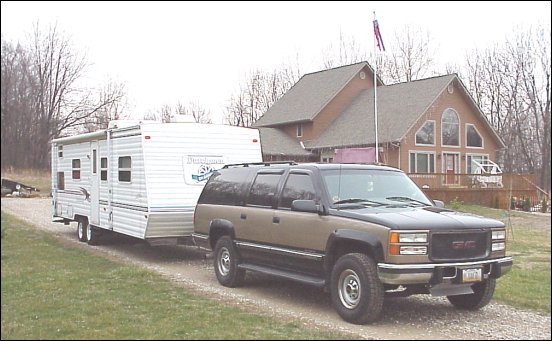 1996 GMC SLT
K2500 6.5TD Suburban
---
By Mike Cooper
---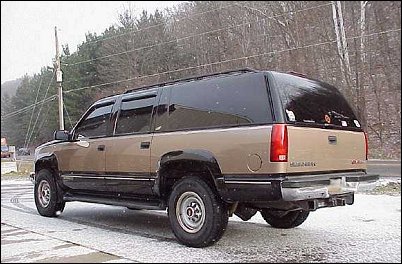 I

began my search for a new tow vehicle to replace the 1994 Chevrolet Conversion Van we were using. The replacement needed to be more able to tow over the mountains on I-75 and I-77 when heading south out of Ohio.

In addition, the following items were also important.

Diesel power.
Room for four comfortably.
Not too old and not too expensive.
What this boiled down to was a used vehicle not more than five years old and for no more than $20,000. When I started looking seriously I did not have good luck finding a vehicle in the Ohio area that either wasn't real rough or had very high mileage. I found a dealer in Florida who claimed to specialize in Diesel Suburbans. The salesman emailed some photos, and told me about a GMC SLT K2500 Suburban he had in stock. It had all the options including rear air conditioning, with an odometer reading of 62,500. The instrument cluster was new as it was changed from metric to english.
A deal was struck for the Suburban, and my wife Shari and I drove her S-10 Blazer from the Columbus, Ohio area to Pensacola, Florida to pick up the truck. I had great confidence in the deal as there was a "money back guarantee" if the truck was not as described. This dealer now advertises here on The Diesel Page as DieselSuburbans.com.
We towed the Blazer home behind the Suburban, and I was very happy. The truck was the age we wanted, the price we wanted and came with a bonus, room for eight in the comfort of a classic GM Suburban.
This all happened in June of 2001, which is the same month I joined The Diesel Page. I soon began to learn more about the power and heat problems encountered by other 6.5 owners, and experienced some of them first hand. Boiling over in the mountains of Tennessee was not fun. The truck did OK towing our 30' bunkhouse camper, at a GCVW of 15,000 pounds, but I thought it could do better.
With the help of some very nice folks, John Kennedy, Mark Bennett and Thomas Falco just to name a few, I started adding mods that would help with those problems. I also read many forum posts and appreciate all who offered help with my first diesel truck. I made a point to look at all information offered, and then pick and choose what I did next. My wallet also needed to be able to handle how fast I added items, and made a decision about which modifications should come first.
In the first eight months after the purchase I installed the following, either by myself or with very capable help. (Thanks Mark!)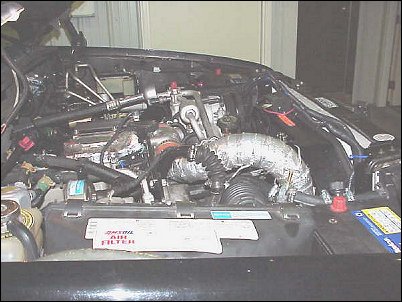 Snorkel removal
Amsoil air filter
Kennedy 3 ½" exhaust
Pillar mounted ISS Pro boost and EGT gauges
Boost controller
FSD Cooler with separate FSD with #9 resistor
Dr. Lee's battery terminal set up
97 cooling mod with dual thermostats
Phazer gear drive timing set
FIA grille screen and quilted winter cover
Dual bypass filtration
PML deep transmission pan
PML extra capacity diff cover
Flex-a-lite Model 250 dual electric cooling fans
Evans NPG+ waterless coolant
Spearco intercooler
B & M transmission temp gauge
Flex-a-lite shrouded remote HD transmission cooler
All lubricants, bumper to bumper, were changed to synthetic
The above list is pretty much the order in which the changes occurred. Some poeple have asked what seems to have made the most improvement. That isn't an easy question to answer because some of the items were added in combination. However, I have noticed some specific changes.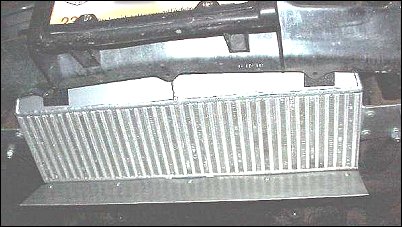 The intercooler has lowered my non-towing EGTs down from about 425 to somewhere between 350 & 375. I have not towed yet since the IC installation, but I will be driving the Suburban on an identical trip in about three weeks, so I should be able to compare pre IC to post IC.
The dual fans and the Evans were done together. This change netted an ability to drive the truck in the mountains and not see coolant temperature as high. Even if it did go as high, I would not be as worried about "micro boiling" at the hot spots internally. The change (fans) also made the snap of the truck seem a little more crisp when the accelerator is pushed.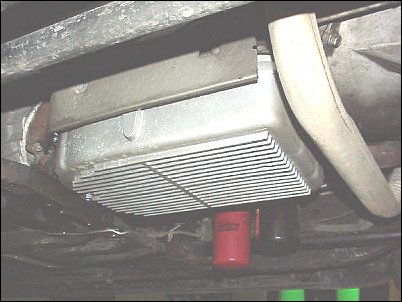 Now that all of this is in place, I feel the truck will be more durable. It also has not yet exceeded our price limit. Will it tow with the power the other brands have to offer? Not in my mind (and I wouldn't want it to). This truck is first and foremost a "family vehicle." It doesn't have to be the biggest, baddest or the fastest. All that is really asked of it is to take us on vacation, handle the four of us (oh yea, Tyler and Sarah go along too) and, as a bonus, take our friends and their two children with us on day trips from the campground.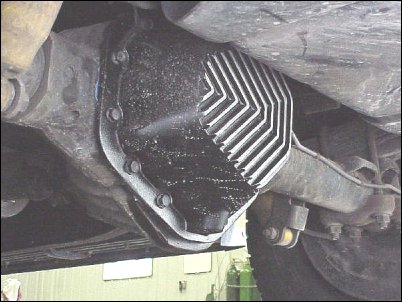 Most people would not know this Suburban has been modified from looking at it. Those of you here in The Diesel Page would likely notice the big exhaust and the intercooler, but the other mods are a little more discreet.
So far, the Suburban has done all that I have asked. I think it is a great daily driver and a good compromise between gas power and the Duramax. Nothing this same age, at least in my mind, can beat the look, the ride or the interior comfort of this classic series of GM trucks.
Mike Cooper
Diesel Page member #6908
---
TheDieselPage.com
What's New: | Feature Articles: | Product Reviews: | Member's Area:
Join Us: | Duramax Diesel Page: | Advertisers: | Classified Ads: | Books:

Send e-mail to: turbo@TheDieselPage.com
Copyright © 2018 by The Diesel Page
www.TheDieselPage.com