---
Readers' Rigs
---
This page illustrates some of GM diesel vehicles Readers of the Diesel Page own or drive. This month's photos and story comes to us from reader Doug McEwan.

January 1999
---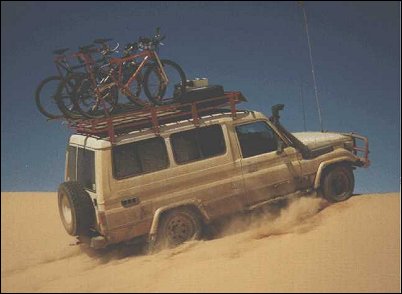 Doug McEwan's 6.5L Powered Toyota HZJ75
My name is Doug McEwan and I live in Brisbane Australia. I own a Toyota HZJ75 troop carrier. I had a GM 6.5 litre V8 diesel installed, and have been very happy with the increased HP and torque.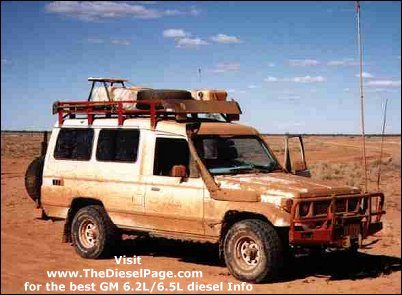 My vehicle weight approx. 3000 kg (6600 lbs) and I regularly travel through desert sand dunes carting a box trailer carrying water and fuel weighing at least 1800 kg (3960 lbs).
Doug McEwan
Brisbane, Australia
---
TheDieselPage.com
What's New: | Feature Articles: | Product Reviews: | Member's Area:
Join Us: | Duramax Diesel Page: | Advertisers: | Classified Ads: | Books:

Send e-mail to: turbo@TheDieselPage.com
Copyright © 2018 by The Diesel Page
www.TheDieselPage.com