---
Readers' Rigs
---
The Readers' Rigs page illustrates some of diesel pickup trucks and SUV's members of The Diesel Page own or drive. This month's photos and story come to us from Mark Fritch.
---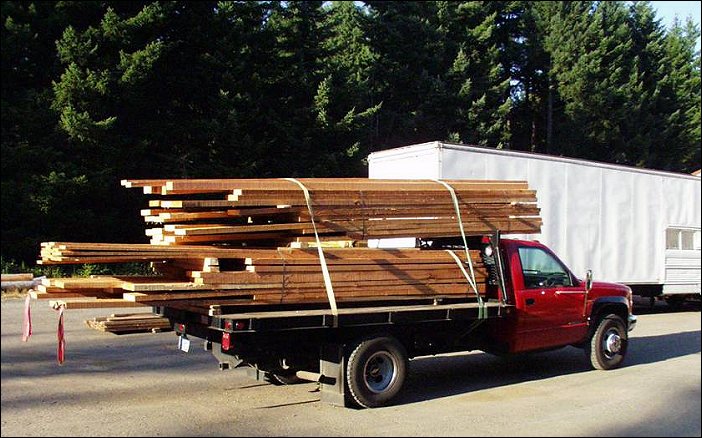 1993 Chevrolet K3500
November 2005
My 6.5L Turbo Diesel powered 1993 Chevrolet K-3500 has accumulated more than 250,000 miles, and is still running strong. I think it's still good for about another 250,000 or my retirement, whichever comes first! I'm betting on the truck outlasting me. The load of lumber was a gift from my brother for my new home. I made the 600 mile round trip recently in a little over 8 hours and averaged over 17 mpg on the trip. It handled like a dream even with the 6,000# of freshly cut western red cedar.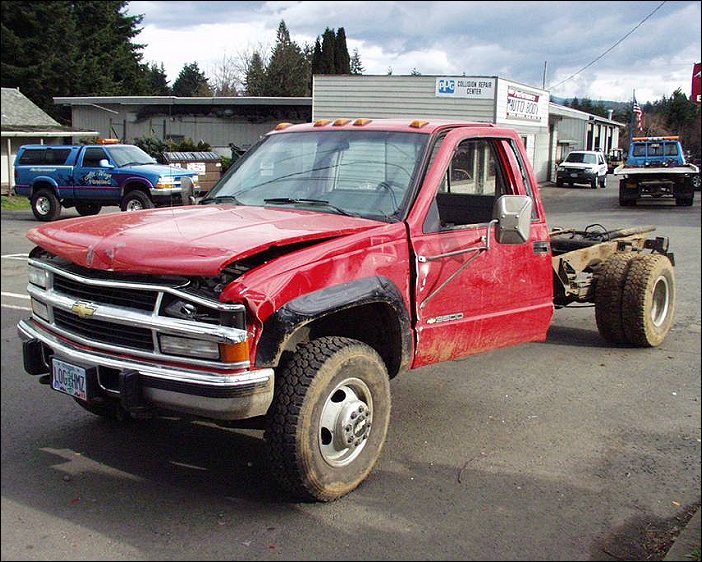 The above image was taken about two years ago - just after the truck had been stolen. They used the truck to ram their way through a steel gate on a logging road, then at some point later had stripped my flatbed and PTO hoist. It took a year and about $15,000.00 to get it back in shape, but the chassis was filled with goodies and was still in great shape. As much as I thought about buying a new Duramax K-4500 medium-duty when this truck was stolen, I just couldn't bear to see this great truck go to the salvage yard.
Mark Fritch
Mark Fritch Log Homes
Sandy, Oregon
---
If you would like to see your diesel truck or SUV featured here, please contact The Diesel Page for the details.
---
TheDieselPage.com
What's New: | Feature Articles: | Product Reviews: | Member's Area:
Join Us: | Duramax Diesel Page: | Advertisers: | Classified Ads: | Books:

Send e-mail to: turbo@TheDieselPage.com
Copyright © 2018 by The Diesel Page
www.TheDieselPage.com