---
Readers' Rigs
---
This page illustrates some of GM diesel vehicles Readers of the Diesel Page own or drive. This month's photo and story comes to us from member Dave Kuhn.


December 1998
---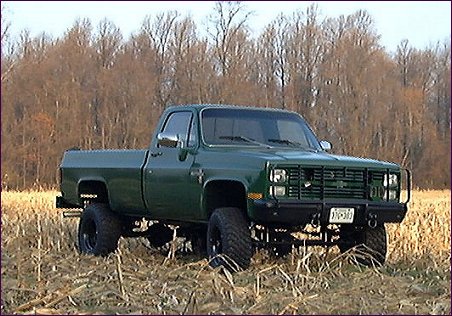 1985 Chevy K-30 Military CUCV 1-1/4 T 4X4
Finally completed a monster rebuild project here in Maryland, and wanted to upload a pic to ya to work into your reader's truck section.. It's a 1985 Chevy Military CUCV K-30, equipped with a 6.2L 'J' engine. The engine has less than 5,000 miles on it as pulled from the truck prior to a body-off frame complete rebuild. I added a Banks Sidewinder Turbo system and 3" Banks exhaust from Diesel Injection Service in TX. The 4.56 gears and the Turbo make for UNGODLY torque and towing power from this beast. I added factory air conditioning and velour dash for the custom touch.
I have to say thanks much for all your help in providing me with the best in information on engine reconditioning before placement back into the chassis. I had to buy four of these trucks at a government auction in order to get my hands on it, but it's made spare parts sourcing very easy.
6.2 L "J" series GM Diesel engine
Banks Sidewinder Turbocharger System
Banks 3" Constant Diameter Exhaust
Jet-Hot Metallic-Ceramic Coated Exhaust (from Turbo outlet flange thru to bumper)
TH-400 3 speed Automatic Transmission (didn't need a shift kit,already a neck snapper)
New Process NP208 Transfer Case
Limited Slip Front Differential-Dana Spicer Series 60 Axle
Detroit Locker Rear Differential-Chevrolet Corporate 14 Bolt rear axle-3.5"x14" Brakes
4.56 Base gear ratio
Factory Air Conditioning pulled from a donor Suburban
12 volt Starter-adapted factory wiring harness
Quadruple 800CCA batteries
Blackout Lighting System
Newer Integrated 12V GM Glowplug controller
4" Suspension Lift Springs-front
4" Custom Traction Lift- Rear
33"x12.50R16.5" Dunlop Mud Rover Tires
Once again thanks for all the info over the last year and a half, and keep up the good work.
Dave Kuhn
Churchville, MD
Member # 327
---
Back to the Readers' Rigs.
---
TheDieselPage.com
What's New: | Feature Articles: | Product Reviews: | Member's Area:
Join Us: | Duramax Diesel Page: | Advertisers: | Classified Ads: | Books:

Send e-mail to: turbo@TheDieselPage.com
Copyright © 2018 by The Diesel Page
www.TheDieselPage.com