---
Readers' Rigs
March 1999
---
This month's Readers' Rigs story and pictures come to us from Lars-Åke Krantz
---
Thank you for a fantastic web site. I have enjoyed the Diesel Page since I first heard about it from a person in Stockholm (the capitol). Iīve printed many of the pages and use them as tremendous night reading before itīs time to sleep.
I live in the northern part of Sweden. Itīs now 30°F outside, but we have not had any snow yet. I have had three 6.2 diesels so far. The first was an Olds Custom Cruiser 1980 which I converted from 5.7 to 6.2, and also installed a TH350 lock-up. Great car. My wifes favorite. The gas is extremely expensive here in Sweden due to the crazy taxes. One gallon is 4.50 dollars. The diesel is almost as expensive, but since the the diesel engines are not so thirsty they are possible to own even on a workers pay. Two weeks ago I bought a 1989 Suburban. A cream puff. One owner, low mileage and 4WD. Suburbans are quite rare in Sweden. My wifes new favorite.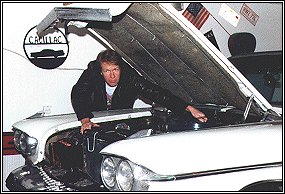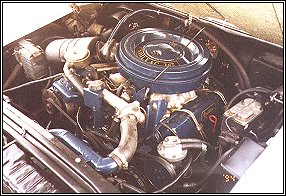 Myself, I have made my own combination. I have taken a Cadillac Fleetwood 60 Special from 1958 and shoehorned in a 6.2 with a TH700. Engine, transmisson, brake servo and all other details were imported from a 1986 Texas pick-up. The Cadillac was ready for the road in 1993. I have driven it since then.
Once again, thank you for your great web site. Attaching a picture of myself and my Cadillac 6.2.
My homepage http://hem.passagen.se/krax
Only in Swedish though. Besök gärna min hemsida
Lars-Åke Krantz
Sweden
---
Back to the Readers' Rigs.
---
TheDieselPage.com
What's New: | Feature Articles: | Product Reviews: | Member's Area:
Join Us: | Duramax Diesel Page: | Advertisers: | Classified Ads: | Books:

Send e-mail to: turbo@TheDieselPage.com
Copyright © 2018 by The Diesel Page
www.TheDieselPage.com