---
Readers' Rigs
---
This page illustrates some of GM diesel vehicles Readers of the Diesel Page own or drive. This month's photo and story comes to us from member Tom Johansen.


September 1999
---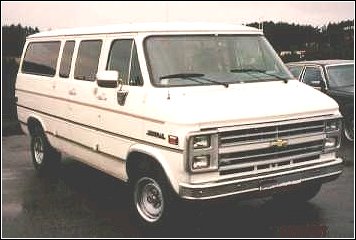 This is my 1988 Chevrolet Beauville G20 Van. I have owned it for two years, has 101,800 miles and it has PS/PB/PW/AC. The cruise control is not really necessary in Norway, no roads for it.
I use this car daily as an family car. I have 4 kids, who love to ride in this car due to all the space they have. Originally a 5-passenger version, I put in an extra seat from an Chevy Conversion van, so it now seats 9 comfortably, with enough space for two baby-trolleys without folding them together.
I must mention that the engine currently does not have a block heater installed. But, the engine will start at -15° C easily without any problems, as long as the batteries cope.
Driving this truck in the winter is no problem either. Normally, I use winter tread tires with studs. This allows me to go almost anywhere. When bad weather arrives, and road conditions (such as 25-45 cm with snow) deteriorate, I use heavy-duty tire chains, which improves the ability to drive through snow and ice. The 6.2 diesel is the perfect engine for this vehicle. This past winter I even towed several neigbors with the van (2WD!!!).
I am satisfied with the truck, now that I have become a member of the Diesel Page. This gives me more information on maintaining and servicing a diesel-powered truck. Not many mechanics in Norway are equipped to service or troubleshoot the diesel vehicles. There are a lot of dedicated GM-diesel owners in Norway, which is the most popular engine option on Chevy's and GMC's due to fuel costs. The most popular models are C/K pickups, Suburbans, Express and conversion van's, and the K5 Blazers and Tahoes.
Tom Johansen
Sandefjord, Norway
Member #1975
---
Back to the Readers' Rigs.

---
TheDieselPage.com
What's New: | Feature Articles: | Product Reviews: | Member's Area:
Join Us: | Duramax Diesel Page: | Advertisers: | Classified Ads: | Books:

Send e-mail to: turbo@TheDieselPage.com
Copyright © 2018 by The Diesel Page
www.TheDieselPage.com