---
Readers' Rigs
---
This page illustrates some of diesel trucks and SUV's Readers of the Diesel Page own or drive. This month's photos and story comes to us from Alaskan member Jeff Swisher.
---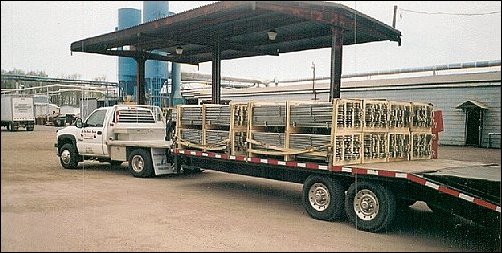 2001 Chevrolet LS 3500 4x4
Duramax/Allison
March 2002
Hello Diesel Page members. This truck was purchased in April of 2001 and is still running strong with more than 53,000 miles on the odometer. This is a lot of miles in a fairly short period of time, all with just a few minor trips to the dealer. I run my own Hot Shot service called "Go For Broke Ranch", and am a licensed and insured motor carrier. This business takes the Chevy Duramax 3500 and 25' gooseneck flatbed all across Alaska.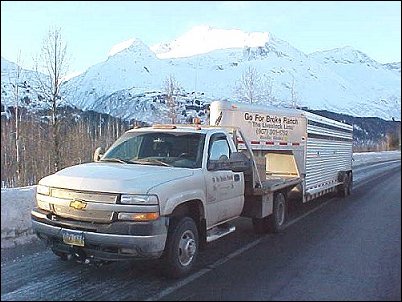 Besides hauling freight, I also haul livestock with my 24' gooseneck aluminum Featherlite trailer. There are lots of mountains in Alaska, and the Duramax takes them in stride. Gotta love this engine. Freight can be slow in the winter up here, but snow is plentiful. So what do I do to supplement my income? Plow, of course.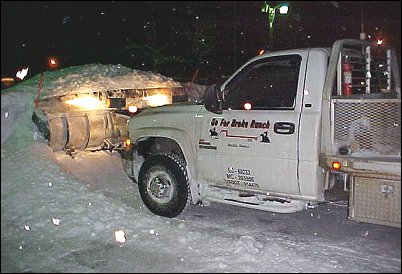 I have a 9' Sno-Way plow, and the 3500 can push more snow than the blade can handle. I have over 120 hrs plowing so far this winter with no problems. I should mention that I mainly plow commercial, with a few residential jobs thrown in. Alaskan winters can test any diesel engine, but the Duramax has started without starting aids down to as low as minus 23 degrees F.
I liked the 3500 so much that I bought another Duramax powered truck. The latest is a 01' GMC SLT Ext-cab 2500HD shortbox 4x4, with the Duramax/Allison. I love these trucks.
Jeff Swisher
Anchorage, AK
Diesel Page member #8687
---
If you would like to see your diesel truck or SUV featured here, please contact The Diesel Page for the details.
---
TheDieselPage.com
What's New: | Feature Articles: | Product Reviews: | Member's Area:
Join Us: | Duramax Diesel Page: | Advertisers: | Classified Ads: | Books:

Send e-mail to: turbo@TheDieselPage.com
Copyright © 2018 by The Diesel Page
www.TheDieselPage.com