---
Readers' Rigs
---
This page illustrates some of diesel trucks and SUV's Readers of the Diesel Page own or drive. This month's photos and story comes to us from Alaskan member Hank Swan.
---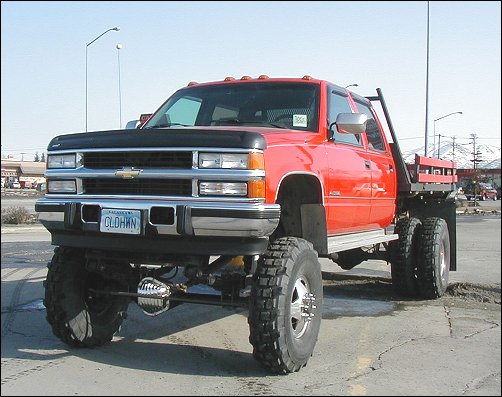 1993 6.5TD Chevy Silverado Crew Cab
I just finished the straight front axle 4wd conversion to my crew cab. My engine has the hi-flow cooling system, marine fuel injection pump, Bosch marine injectors, increased boost and new downpipe on it. The truck has never had a muffler installed during the time I've owned it.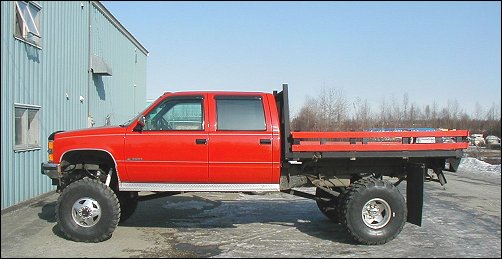 My dually now runs on Military Michelin 11X16 (38") radials with 16" of lift. I am running 4:56 gears with the air box mods, 3" down pipe & 4" exhaust with more boost than stock. With the clearance of the transfer case being tight I was going to have a local muffler shop help modify the exhaust system to fit properly.
For some reason with 700 lbs of tires my truck could use more power while pulling my boat. I have been considering an ATS propane injection system. This sounds like the easiest way to increase the power, but I'll investigate further before going that direction.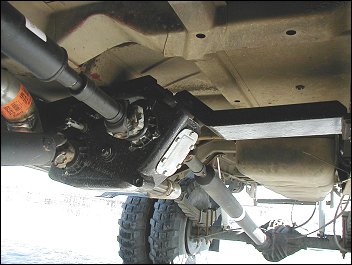 My 6.5 engine will be getting more attention before long. The head gaskets need to be replaced, and I may just go through the whole motor because it now has 200,000 miles on it.
Hank Swan
Anchorage, AK
Diesel Page member #2607
---
If you would like to see your diesel truck or SUV featured here, please contact The Diesel Page for the details. <
---
TheDieselPage.com
What's New: | Feature Articles: | Product Reviews: | Member's Area:
Join Us: | Duramax Diesel Page: | Advertisers: | Classified Ads: | Books:

Send e-mail to: turbo@TheDieselPage.com
Copyright © 2018 by The Diesel Page
www.TheDieselPage.com