---
Readers' Rigs
---
This page illustrates some of the vehicles Readers of the Diesel Page own or drive. This month's photos and story come to us from reader Kent Greenwood.


April 1999
---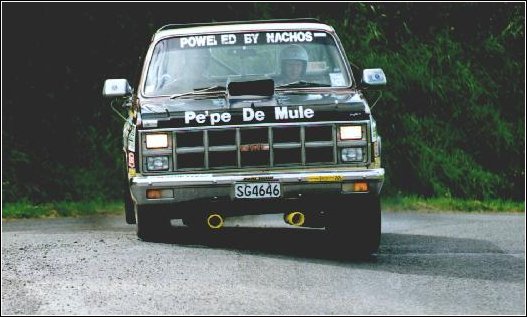 With my race car off the road, I decided to use my 1982 GMC diesel for the Dunlop Tyres Targa New Zealand road race. I installed a modified 6.5L turbocharged engine in my truck for a laugh and I love it! But, it is hard on tyres as well as the poor old 700R4 transmission. I have the turbocharger set to produce 15 lbs of boost with the DB2 fuel injection pump calibrated to match. The exhaust runs through 5" lake pipes, a computer designed mild cam was installed, and I installed a dual-idler gear drive timing set from Diesel Services Group. The engine produces approximately 270 hp with the intercooler and other modifications, so we had really good time.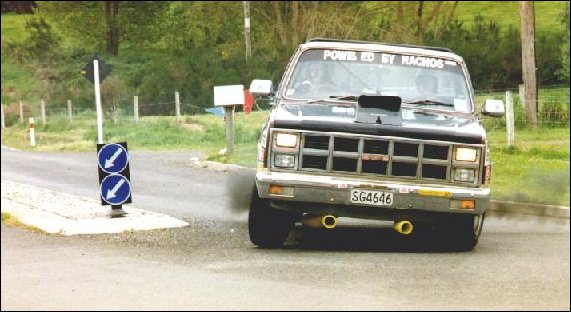 I had an air research T04 turbo set up for the windy job and modified a stock exhaust manifold to shift the turbo away from the brake master cylinder (due to the right hand drive required here in NZ). The truck looks good and goes real well. It is lethal on a wet road.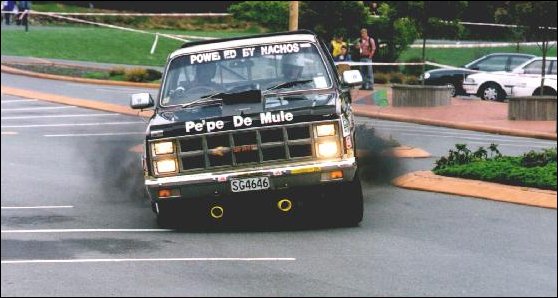 I am real excited about building a low compression 300+ hp monster later this year as I have a couple of buyers for this engine. Oh, by the way, I import these 6.2 and 6.5 engines (and parts) into NZ for resale. We also recondition these engines and provide a troubleshooting service in my humble wrecking yard called Kumeu Truck Spares.
Kent Greenwood
Kumeu, Auckland New Zealand
---
TheDieselPage.com
What's New: | Feature Articles: | Product Reviews: | Member's Area:
Join Us: | Duramax Diesel Page: | Advertisers: | Classified Ads: | Books:

Send e-mail to: turbo@TheDieselPage.com
Copyright © 2018 by The Diesel Page
www.TheDieselPage.com