---
Readers' Rigs
---
The Readers' Rigs page illustrates some of diesel pickup trucks and SUV's members of The Diesel Page own or drive. This month's photo and story come to us from member Frankie Rider.
---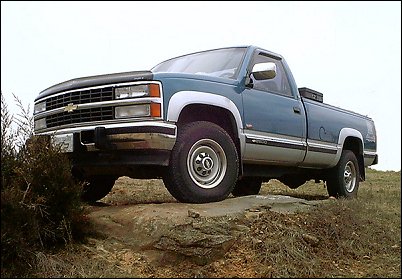 1993 Chevrolet K2500 HD Silverado
January 2003
Some info on the truck:
1993 Chevrolet K2500 HD Silverado Pickup
Original Owner
176,200 miles at present
6.5L TD 200-hp engine (according to VC decal)
4L80-E Automatic Overdrive Transmission
All Silverado options, except for sliding rear window
Lock-Right rear differential installed
Banks Power Pack modification kit installed
This truck has been relatively trouble-free since new considering how much it is driven. I've not had to do any major engine work to it yet. For the past year or so, I've had a lot of problems with the lift pumps and oil pressure units going out every four to six weeks. Right now I am on a "good set" of them, I guess. No trouble of late.
Frankie Rider
TDP Member #7748
---
If you would like to see your diesel truck or SUV featured here, please contact The Diesel Page for the details.
---
TheDieselPage.com
What's New: | Feature Articles: | Product Reviews: | Member's Area:
Join Us: | Duramax Diesel Page: | Advertisers: | Classified Ads: | Books:

Send e-mail to: turbo@TheDieselPage.com
Copyright © 2018 by The Diesel Page
www.TheDieselPage.com