---
Readers' Rigs
---
This page illustrates some of GM diesel vehicles Readers of the Diesel Page own or drive. This month's photo and story comes to us from member Jim Fleming.


March 2000
---
6.5L Turbo Diesel YJ
I built this 1989 YJ Jeep back in 1990. It has an A.J.'s fiberglass body with a one piece front clip. I am currently running the 1996 6.5L turbo diesel (military HUMVEE) backed by a 700R4 and a NP207 transfer case. I have almost too much power (never thought I would ever say that). I am still running the stock YJ axles (Dana 35 rear and Dana 30 front), but have a Dana 44 that will replace the front axle and a Dana 60 to replace the rear. I also have a NP205 transfer case to put in this summer. All this rolls on 35" BFGoodrich AT tires.
In 1993 I had a 6.2L NA in it, but one day while on the freeway it started popping and missing. I drove it home (about 75 miles) and checked the oil. It was overfull. I didn't know what was wrong (The Diesel Page wasn't "on the air" back then), so I pulled the 6.2 and installed a 4.3L gasser. I later found out that the 6.2 had a broken rocker arm.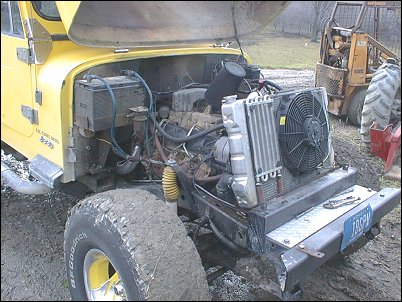 After a few years with the 4.3 and later a 305 gas engine, I decided to go back to a diesel (12-15 mpg and no improvement in power over the diesel). I lucked out and found a guy here in Michigan who was selling surplus 6.5L engines out of HUMVEE's. These were complete engines minus only the accessories. The best part was that they were available at core prices. I took my tools with me and made sure the engine would at least turn over, then bought 2 of them. One looked like it had never been run (the exhaust manifolds were still painted black). The other one had about 2 lbs of sand and dirt packed in the center by the turbo. When I got them home I installed the used engine in the Jeep and tried to fire it up, but couldn't get fuel to the injectors. I took the injection pump off of the engine and took it to my mechanic. He immediately knew what was wrong. He simply changed the 24 volt fuel shut-off solenoid to one rated at 12 volts. The engine fired right up after getting the correct solenoid installed.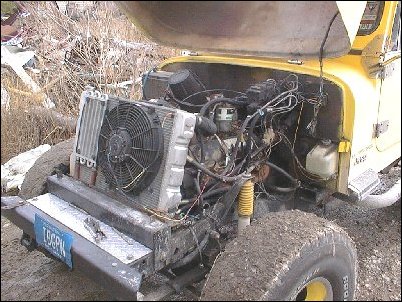 The only major problem that I had installing this engine in the Jeep was getting enough turbo clearance. Since the HUMVEE turbos are mounted at the rear of the engine valley, I had to lower the engine in the frame and bring it forward a bit to provide adequate firewall clearance. Moving the engine forward left no room for an engine driven fan, so I installed an electric pusher fan along with the new aluminum radiator. The only time engine heat becomes a problem is while idling in traffic for extended periods of time. I am using one high-capacity battery and a manual glow plug controller. I am also running a straight pipe with no muffler.
Since installing the 6.5, I have put close to 10,000 miles on the Jeep and have gotten between 18-20 mpg. As far as I am concerned, this is the best engine for my situation. A 350 gas engine could be installed that has as much power, but it would never get 18 mpg.
Jim Fleming
Member #1600
Ann Arbor, MI
---
TheDieselPage.com
What's New: | Feature Articles: | Product Reviews: | Member's Area:
Join Us: | Duramax Diesel Page: | Advertisers: | Classified Ads: | Books:

Send e-mail to: turbo@TheDieselPage.com
Copyright © 2018 by The Diesel Page
www.TheDieselPage.com