---
Readers' Rigs
June 2007
---
The Readers' Rigs page illustrates some of diesel pickup trucks and SUV's members of The Diesel Page own or drive. This month's photos and story come to us from Australian member Don Swanton.
---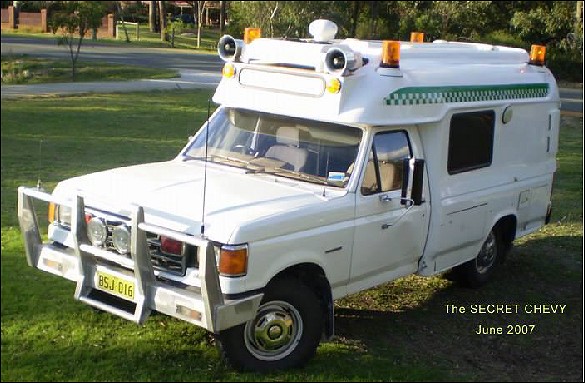 The "SECRET CHEVY"
1990 Ford F250 Ambulance
6.5L Diesel & 4L80E auto.
June 2007
Yes, the "Secret Chevy" is a 1990 Ford F250. Think of it as a Chev 2500 HD with a modest cab-over camper. Until October of 2006, it was an ambulance in Newman, Western Australia. This is a town and district in the Mid West of WA. Check your Atlas for details. I suspect that when the original petrol (gasoline) motor wore out it was converted to a naturally aspirated 6.5 Chevy diesel. That was 2002. When I bought it in December 2006, it had accumulated less than 15,000 km (10,000 miles) on the new drivetrain.
The Secret Chevy is a heavy vehicle and rides like it has a heavy duty suspension. The rear axle assembly is a super heavy duty limited slip Ford unit c/w roll bar. The axle oil seals were special order from the USA and cost the earth. Mechanically, the Secret Chevy has dual batteries, dual alternators, and a big roof mounted A/C system.
The "bull bar' is essential if you intend to drive any distance at night in rural Australia. The 'roos are very plentiful and very dangerous at night. There are also moose sized feral camels. It can really spoil your drive if you hit one. The bull bar is also the ideal place for your driving lights and antennae 400 w of QI lighting on high beam does a good job of lighting up the road and makes night driving much easier.
The vehicle came with good map lights, fluoros in the back, exterior lighting, and an auxiliary control panel for all things electrical. Of the original 4 radio systems, only the satellite phone system remained intact. I have since added a UHF CB which is useful for short range use on the road and is used for inter-vehicle communication in the field. Use of a cell phone is only possible around the 4 urban areas in a 7000 km field trip.
The engine conversion was well done with neat workmanship, an auxiliary fuel filter, high capacity radiator with a trans fluid cooler, auxiliary coolers for trans and engine oil, and a Donaldson air filter with a cold air system. The A/C compressor was new. There was lots of extra sound deadener attached to the firewall . All up, very impressive.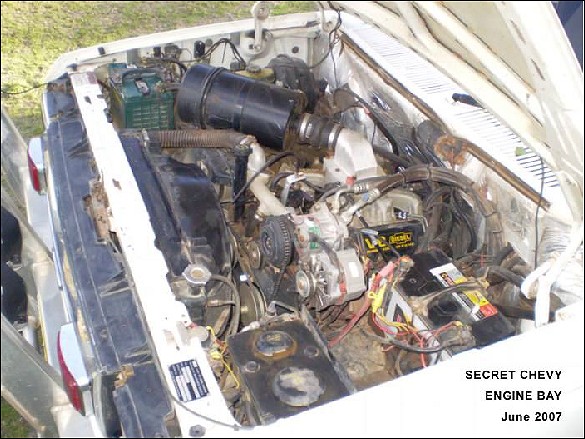 I had additional modifications carried out to make the Secret Chevy more suitable for my purposes. The rear diff was changed from 3.54 to 3.08 for more highway speed with the low rpm diesel motor. The 3" exhaust system had a minimal muffler system that had to be replaced with a quieter item. To optimize the highway performance, I had a new "old stock" 4L80E 4 speed auto trans installed to replace the 3 speed Ford C6. The GM trans was complete with torque converter, computer, wiring harness and misc bits.
I would have liked an Allison, but they are very difficult to find and Detroit Diesel is unhelpful. Out of curiosity, I got a quote for a new 5 speeder. I couldn't help it, I laughed when they quoted me $35,000 Aussie.
As part of the transmission transplant I also installed a trans temp gauge. High trans fluid temp is a killer in the desert, and there are lots of sections of heavy going in 1st and 2nd gear. I am pleased to report that it just stirs off the minimum of 60oC (140oF) in heavy going in 45oC (115oF) ambient temps. I run 10-50 semi synthetic motor oil in the engine.
The present configuration is rear wheel drive with a 3.08 limited slip diff, 6.5 liter non turbo diesel, a GM 4L80E auto trans, 235/85 R16 (Mud and Snow) Light Truck tires (10 ply) at 65 psi. Fully loaded with 200 liters (52 gal) of fuel, 50 liters (13 gal) of water and ice, various tools and supplies, it weighs in at just less than 3300 kg (7300 lbs). Max GVW is 3610 kg (8100 lbs). It's not pretty, but it's tough. The running gear makes a Toyo Landcruiser (the standard for comparison here) look a bit wimpy.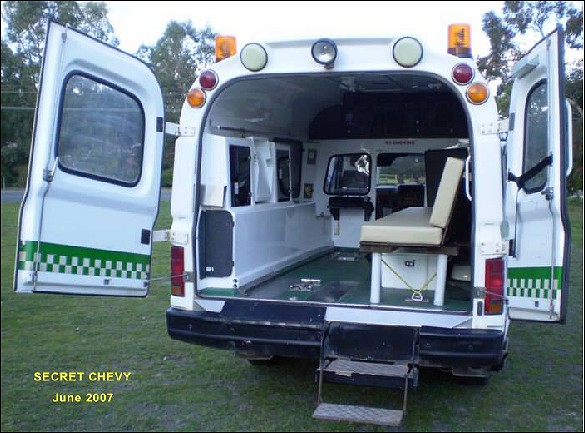 I bought the ex-ambulance because it was in very good nick and was a bargain compared with what was available at the time. The accommodation space was a bonus. It was pretty much fully equipped, right down to the stretcher in the back. All it needed was a fuse for the sirens, an oxygen bottle and a respirator to be back in business.
As an ambulance, it had access from the cab a rear section with reasonable headroom , windows (with venetian blinds), roof vents, lots of grab rails, lights, storage areas, and tie downs. There are 4 exterior storage lockers which are useful for storing heavy tools and additional fuel containers.
The "truck lounge" in the back is cunningly designed to pull out for a comfy bed. It can also be easily disassembled for sand boards if necessary. I have a large fly screen which snaps into the rear door opening and an awning that extends from the roof over the open rear doors. A bit of carpet for dirty boots completes the home away from home. Realistically, these are minimal facilities for up to 4 days in the desert. Any longer and the beer gets warm.
I'm a Petroleum Engineer. I needed a diesel powered vehicle for field work in the Cooper Basin which is located in the North Eastern part of South Australia, about 700 km (440 mi) north of Port Augusta. All up it's about 3000 kms from my home and offices in Perth, Western Australia.
To date, I've done 3 field trips totalling about 20,000 km (12,000 miles). I do have an excellent idea of fuel consumption for this 6.5 diesel.
On paved roads, I run at 110 km/hr (70 mph) at 1800 rpm in 4th gear lock up. For the bigger hills, I shift to 3rd and can run 2400 rpm at 70 mph in 3rd lockup. Generally, I slow down to 2000 to 2200 rpm and pull hills at 100 km/hr (60 to 65 mph). The terrain is generally quite flat with modest rolling hills. No mountains. Under these conditions and at these speeds, my fuel consumption is 17 liters/100 km (14mpg). My range is 1200 km (750 miles). The longest interval that I travel between fuel stops is less than 900 km (550 miles). Obviously, my fuel consumption would be less and my range would be extended if I ran at lower speeds.
Fuel consumption on poorer roads at lower speeds is the same. On "goat trails", fuel consumption and speed are not priorities. Keeping the vehicle in one piece is. My apologies for Metric but that's the system here. Imperial (read USA) equivalents are included for your convenience.
The speed limit here, in rural areas, is generally 110 km/hr (70 mph). The Secret Chevy has all the aerodynamics of a parachute. With a strong headwind, especially on a hot day with the temperature in the high 30s (100o F.), I can't always pull 70 mph in 4th lockup, and have to slow to about 100km/hr (60 mph) to stay in top gear and control the fuel consumption. Another 50HP would be nice, but this is a work truck, not a race car.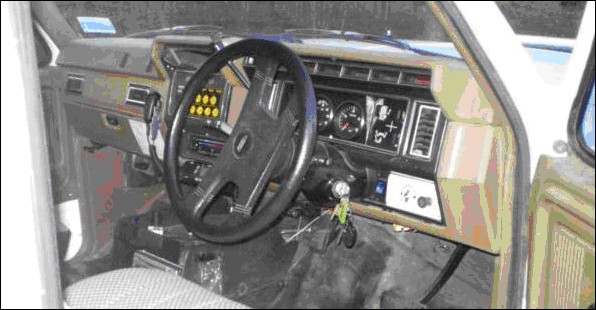 The existing dash instrumentation in the Ford could only be described as abysmal, so I modified it to incorporate a 120 km/hr (75mph) electronic speedo and a 4000 rpm tacho. The picture of the cab is not reversed, The steering wheel is on the right. In Oz we drive on the left, like the Poms.
I've now have the 3000 km (1900 mi) runs between Perth and the Cooper Basin down to a schedule. 48 hrs door to door, including sleep, rest stops, and fuel stops. The keys are a good climate control system, food and drink in a cooler within reach, a good selection of music, and the lounge in the back. When I get tired, I pull over, nap or sleep as long as required. Then get up and continue driving.
I don't recommend this regime for everyone. It is a tough grind. The roads I travel are, at best, similar to good secondary roads in the USA. At worst 20 km/hr (10mph) is too fast. I always have to pay close attention to the road surface. Unpaved areas have corrugations and "bull dust" holes that will tear the wheels off cars. The main roads are often rough and narrow with minimal shoulders and quite a few road trains. When I lose concentration on the road surface it's time for a break to rest, revive, and survive.
The Secret Chevy is not set up for offroad use, hence the 2 WD configuration. I stay on what can be regarded as trails and roads in desert country. Safe enough with the right precautions, preparation, equipment, and attitude. I'm too old for desert trekking with limited water supplies. The Secret Chevy is a work in progress. A cruise control and a better stereo head unit with USB input should complete the truck. I may then base it in a contractors yard in Adelaide South Australia, fly Perth - Adelaide - Perth and reduce the driving to 1200 km (750 mi) each way, which takes about 16 hrs, depending on the road conditions.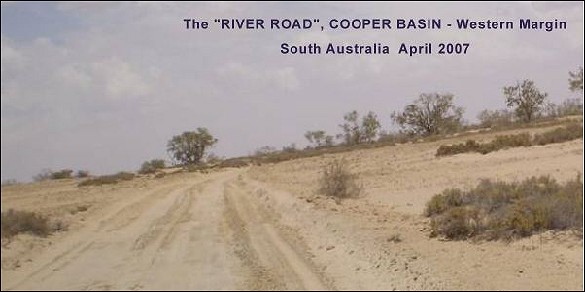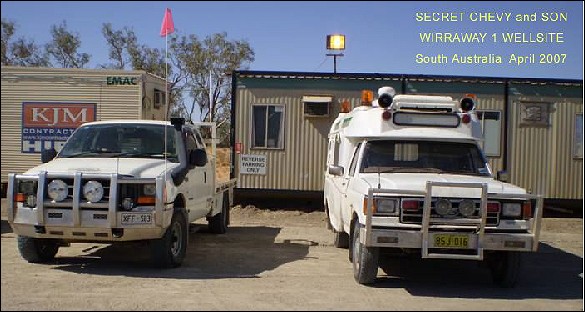 Don Swanton
Victoria Petroleum
Perth, Western Australia
---
If you would like to see your diesel truck or SUV featured here, please contact The Diesel Page for the details.
---
TheDieselPage.com
What's New: | Feature Articles: | Product Reviews: | Member's Area:
Join Us: | Duramax Diesel Page: | Advertisers: | Classified Ads: | Books:

Send e-mail to: turbo@TheDieselPage.com
Copyright © 2018 by The Diesel Page
www.TheDieselPage.com