---
Readers' Rigs
---
This page illustrates some of GM diesel vehicles Readers of the Diesel Page own or drive. This month's photo and story comes to us from member John Culver.


December 1999
---
1977 GMC 1-ton Crew Cab Dually
Isuzu 6BD1 Turbo Diesel
Here is a basic description of my truck.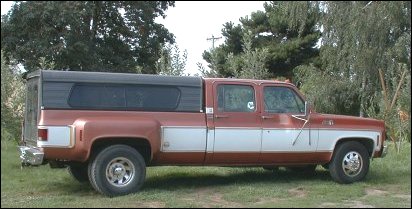 Engine Isuzu 6BD1, Isuzu's 6B engines, I was told, are the most popular Isuzu engine made, possibly world wide #1
Bore X Stroke: 4.02" X 4.65" 102X118mm
Displacement: 353cid 5.75L
Compression ratio: 17.5:1
Dimenions: LXWXH 44.1"X25.5"X30.5"
Weight: 992 lbs
Oil sump capacity: 14 QT
Injection pump: In-line Bosch A Type
Injector: multi hole Direct inject
Pop pressure: 2630 psi
Compression pressure : 441 psi
HP: N/A 130@3200 10BTDC 150@3200 20BTDC 52.7mm/ stroke
Torque: N/A 253lbs@1900 275@1900

Transmission: NP433 in NP540 case
Ranger 2spd mounted in front of NP540 (I can split all gears including reverse)
Turbo: Air Research T04B80
8 lbs Boost @ 65mph on level ground no load
During a trip to the Oregon coast last summer with this truck and an 11-½' camper, at a gross weight of 12,000 lbs, we traveled 454 miles and saw 16 MPG. With the 2-spd I can keep my rpm's within a 500 rpm window. I normally upshift at 2300, which drops the engine rpm down to 1800. 2000 rpm in 4th-over equals 60 mph. All this is with 4:10's , Ranger 2spd 22% OD and 235/85R16 tires.
John Culver
Member #487
---
TheDieselPage.com
What's New: | Feature Articles: | Product Reviews: | Member's Area:
Join Us: | Duramax Diesel Page: | Advertisers: | Classified Ads: | Books:

Send e-mail to: turbo@TheDieselPage.com
Copyright © 2018 by The Diesel Page
www.TheDieselPage.com