---
Readers' Rigs
---
The Readers' Rigs page illustrates some of diesel pickup trucks and SUV's members of The Diesel Page own or drive. This month's photos and story come to us from member Chad Morris.
---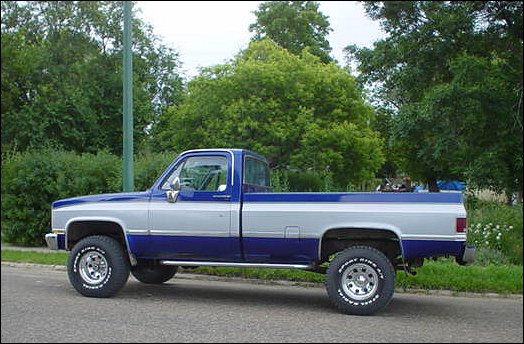 1984 6.5L Chevrolet K10
August 2004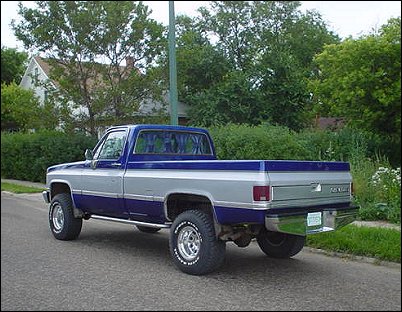 Some info on the truck:
1993 6.5L cylinder block
HD "J" intake manifold
1984 fuel injection system, I believe 56 cc's of fuel - just past J spec
Bank's ram air system
DSG dual idler timing gears
Stans headers these are cool jet hot coated headers
Upgraded exhaust system using 2.5" duals with an H-pipe/cherry bomb turbo mufflers
Remanufactured 700R4 (replaced manual trans)
3.42 differential gearing
GM posi in the front
With winter tires and the front locker, it can cut through snow deep enough to have transfer case dragging. I have a custom driveshaft of sorts. I used a 1-ton Ford shaft cut down slightly to fit the GM differential. Ford apparently used the same U-joint series as this Chevy.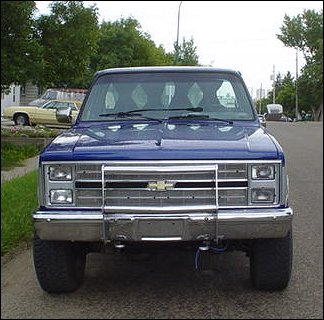 2" body lift (two-wheel drive cabs need 2" to clear transfer case).
Raised the fuel tanks 2" to look better after the body lift.
2" suspension lift using add-a-leaf in the front and blocks in the rear.
1982 cab, the wiring harness plugged right in.
1986 grille and dual headlight set up it had singles when i bought it.
1990's Chevy Grizzly push bar.
10" Luverne drop step bumper.
1990's Chevy Grizzly extended cab bars.
summer tires 33-12.50 Sport Kings on 10" American Eagle wheels.
winter tires 33-9.50 BF Goodrich A/T's on 10" white spoke wheels.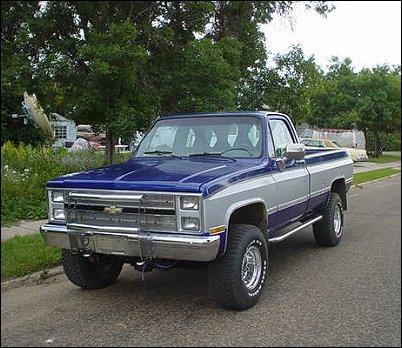 I've had the truck for about five years, and have done just about everything you can do to a truck like this. I sometimes wonder why I put all that money into an old pickup, but the costs of repairing a newer truck when out of warranty can keep some people out of the market. Don't get me wrong, I think the new trucks are great, but out of warranty repairs can be expensive. You can email me with any questions you might have about this truck at morrischad426@msn.com.
Chad Morris
TDP Member #13153
---
If you would like to see your diesel truck or SUV featured here, please contact The Diesel Page for the details.
---
TheDieselPage.com
What's New: | Feature Articles: | Product Reviews: | Member's Area:
Join Us: | Duramax Diesel Page: | Advertisers: | Classified Ads: | Books:

Send e-mail to: turbo@TheDieselPage.com
Copyright © 2018 by The Diesel Page
www.TheDieselPage.com