---
Readers' Rigs
---
The Readers' Rigs page illustrates some of diesel pickup trucks and SUV's members of The Diesel Page own or drive. This month's photos and story come to us from Jimmy Callaghan.
---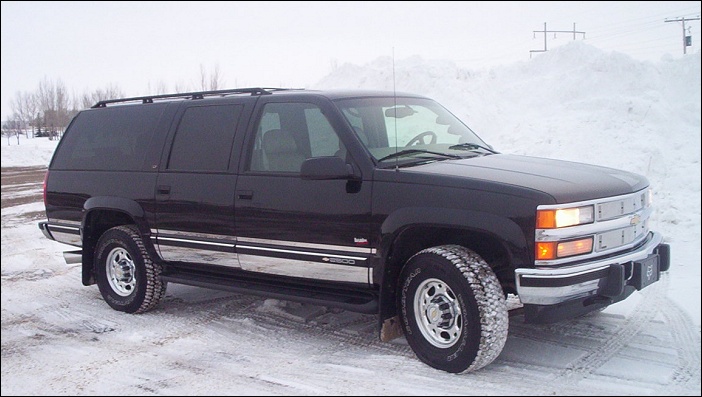 1999 Chevrolet Suburban
December 2005
After a long search I found this extremely rare 1999 Chevrolet Suburban SLT with a 6.5L turbo diesel on a farm in Saskatchewan, Canada, which I bought over the phone after haiving only seen images on the computer. When it was finally delivered, I was relieved that it was totally stock and in absolutely mint shape. It was exactly the way I would have ordered it - Jet black with tan leather and every option offered by GM that year. The first thing that I did was remove a few stripes and then polished it so much you could read a newspaper in its reflection, then I found a new set of aluminum take-off wheels that had been originally installed on a 2005 Duramax. I also upsized the tire size with a set of 265/75R16's Goodyear silent armor tires. The Suburban was originally equipped with 4.10 differential gearing, so I changed them out in favour of 3.73's. This dropped the engine rpm by about 12%, increased the fuel economy and made it a great highway cruiser. I then started on the performance part by adding a DSG computer upgrade, K&N filter, and 4" exhaust with a Banks dyna-flow muffler. The boost has gone up to around 10-12 psi with peaks of 15-16 psi, all monitored by an Autometer triple A-pillar pod with a boost gauge, pyrometer and a tranny temperature gauge. Future plans include a Diesel Services Group gear drive timing set and possibly a 2-3 inch lift to accommodate 285 tires (the 265's hit the mudflaps now).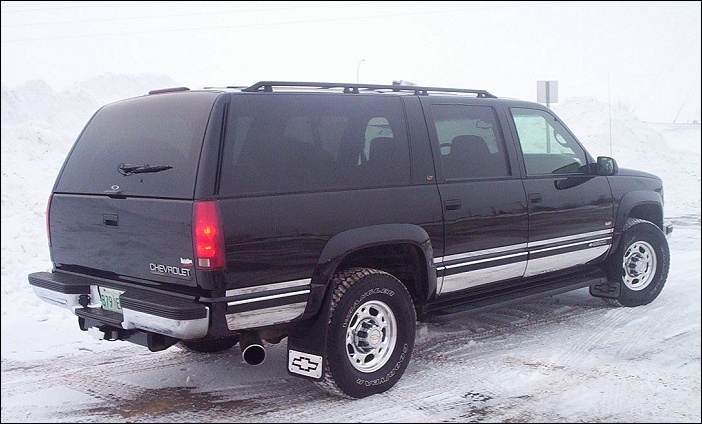 I plan to keep this Suburban for a very long time, so I consider it money well spent. For now, I just enjoy the looks and compliments I get, and hope it will last long enough for GM to get their head out of the sand and put the Duramax in the new Suburbans and Tahoes.
Jimmy Callaghan
Prince Albert, SK , Canada
---
If you would like to see your diesel truck or SUV featured here, please contact The Diesel Page for the details.
---
TheDieselPage.com
What's New: | Feature Articles: | Product Reviews: | Member's Area:
Join Us: | Duramax Diesel Page: | Advertisers: | Classified Ads: | Books:

Send e-mail to: turbo@TheDieselPage.com
Copyright © 2018 by The Diesel Page
www.TheDieselPage.com