---
Readers' Rigs
---
This page illustrates some of diesel trucks and SUV's Readers of the Diesel Page own or drive. This month's photos and story comes to us from member David L. Anthony.
---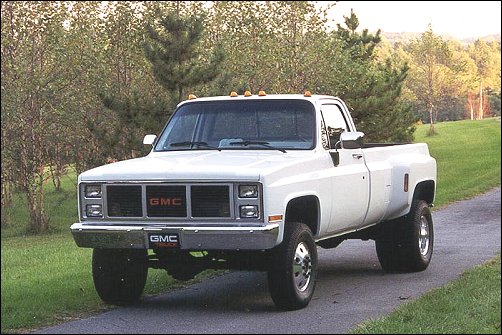 1986 GMC 6.2L Turbo Diesel
In the summer of 1998, I found myself without a truck. That was okay I thought, I had my '91 V1500 6.2NA Suburban to haul things and to tow my car trailer. After spilling a gallon of antifreeze in the cargo area and having to remove the child seats anytime I wanted to haul any lumber, I was regretting the day I sold my old '87 K1500 pickup.
So off I went to my local GMC/ farm implement dealer to look at new trucks. Since I knew that the sticker shock I was feeling was never going to wear off, I decided to look at the used trucks in the lot around back. Low and behold there it was, and it was love at first sight, an '86 GMC K2500 6.2NA Pickup with a 4.10 G80 locking rear differential, TH400, and power everything. Never mind the rusted out cab corners and the small hole in the floor. Never mind that there was every type of fluid that this truck contained leaking from it. Never mind that the speedometer registered 195,000 miles. Never mind the hideous red roof and white body. I was in love. After making a deal with the salesman, I drove it home.
In the last two years I have replaced all replaceable body parts, repaired the cab corners and the hole in the floor, sandblasted and painted portions of the frame. The entire truck was stripped, primed, then top coated with Spies-Hecker single stage urethane. The interior has been completely redone in '91 K-5 Blazer light gray. A Banks Sidewinder turbo and exhaust, as well as a gear driven timing set, a new rebuilt injection pump and rebuilt injectors were added to increase performance. The suspension was rebuilt with a 2" lift, new HD rear springs, shocks and Velvet Ride spring shackles.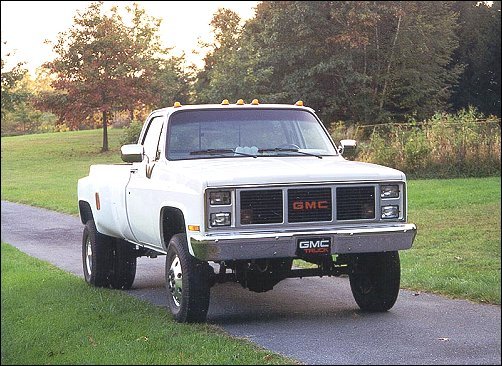 I have always wanted a dually, so I decided to convert it. All the parts used in the conversion are GM except the front axle wheel adapters and the Alcoa wheels. While the dually conversion did add an extra expense to this project, there are very few older dually's around this part of Maryland, so this truck is unique. It turns heads and solicits very favorable comments wherever I take it.
The next phase of this project is to replace the 6.2 with a 6.5, replace the TH400 with a 4L80E overdrive transmission, and finally add water injection. My truck is a project that will probably never be completely finished. After all, it seems there is always something that can be upgraded.
David L. Anthony
Diesel Page member #1459
---
If you would like to see your diesel truck or SUV featured here, please contact The Diesel Page for the details. Share your truck with others.......
---
TheDieselPage.com
What's New: | Feature Articles: | Product Reviews: | Member's Area:
Join Us: | Duramax Diesel Page: | Advertisers: | Classified Ads: | Books:

Send e-mail to: turbo@TheDieselPage.com
Copyright © 2018 by The Diesel Page
www.TheDieselPage.com