---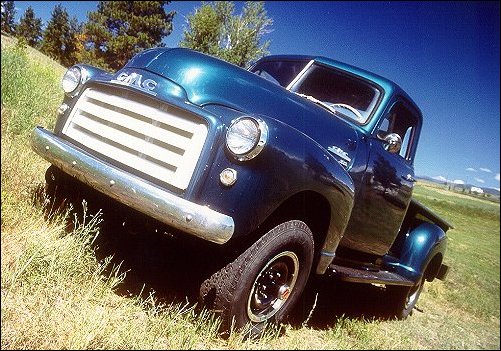 Black Smoke
A Diesel Powered '51 Hybrid
---
Photos and Story By Jim Allen
---
E

ver wondered what a diesel mechanic does in his spare time? Here's Greg Mead's answer to 15 years of spare time. Greg had a '69 K-10 at home with a body that was trashed. It was one of those "round-to-it" projects that haunted him every time he went out the back door. He also had a '51 GMC at home with a good body and little else. Why not combine the two and eliminate two backyard storage problems at the same time?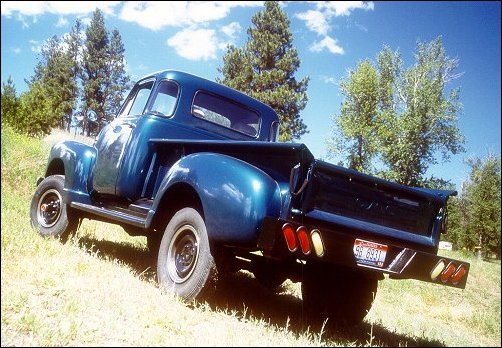 To make the body fit, Greg either removed the body mounts drom the '51 chassis and added them to the '69 chassis, or fabbed the body mounts himself. It was a long process getting it all in the right place, but the '69s 127 inch wheelbase matched the '51 125.25-inch relatively well.
To power his new hybrid, Greg procured a '93 6.5L diesel. Since all the GM engines interchange readily, it wasn't hard to fit the GM oil burner into the '69 chassis. Before installation, the diesel was tweaked by Greg to produce an honest 243.3hp at 3600rpm and 445 lb-ft of torque at 2000 rpm on an engine dyno. He eliminated the electronic DS-4 fuel injection pump and replaced it with the more tinker-friendly DB-2 mechanical unit. The injector opening pressures were altered to match the new pump. He also added a Diesel Services Group cam geardrive setup along the way and found that it added a handful of horsepower. The OE GM turbo was retained, but Greg welded the wastegate closed. A custom 3-inch exhaust was fabricated to fit the truck.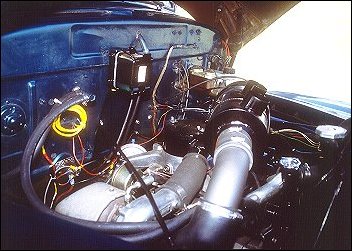 The modified '93 6.5L Turbo Diesel fits nicely under the hood. Just a bit of cutting was needed on the passenger side fender well. With 445 lb-ft of torque, the tweaked oil burner offers the Meads plenty of grunt and fuel mileage to boot.
The SM 465 four-speed from the donor '69 Chevy was retained, but an 11-inch diesel rated clutch was added along with the hydraulic clutch mechanism from an '86 GM diesel. The original Timkin T-221 divorced transfer case was also retained, as were the Dana 44F closed knuckle front axle and 12-bolt rear axle. The truck still uses 3.73 gears with open differentials. The suspension is stock '69 Chevy, as is the manual steering box. The LT-235/85R-16 Wildcat R/T tires give the truck a distinct vintage look.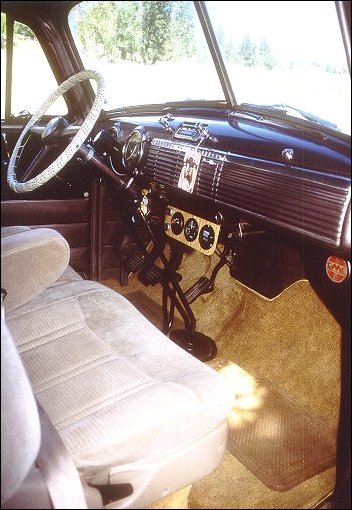 The interior combines a vintage flair with comfort. The classic dash speak for itself, but the plush front seat was donated by a '92 Ford Taurus.
All in all, Greg has produced a vintage truck with the feel of an old truck, but not too much of that vintage feel. The diesel makes it an economical powerhouse and the classy early '50s "Advanced Design" GMC body makes it a real head turner.
Specifications:
Owners
Vehicle
Estimated Value
Greg and Pam Mead
Bonners Ferry, ID
1951 GMC 100
1969 Chevy K10 Chassis
$15,000
Engine Type
Displacement
Power
Torque
Compression Ratio
1993 GM V8 diesel
6.5L (396.63 cubic inches)
243.3 at 3600 rpm
445 lb-ft at 2000rpm
21.5:1
Transmission
Transfer Case
Front Axle
Rear Axle
Ring & Pinions
Suspension
Saginaw SM-465
Timkin T-221
Dana 44F
Corporate 12-bolt
3.73:1, Open Diffs
Stock '69 Suspension
Wheels
Tires
5.5 x 16 steel
LT-235/85R-16 Wildcat R/T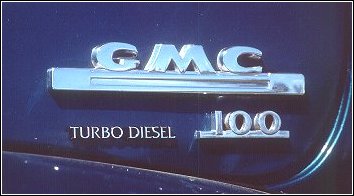 Jim Allen
---
TheDieselPage.com
What's New: | Feature Articles: | Product Reviews: | Member's Area:
Join Us: | Duramax Diesel Page: | Advertisers: | Classified Ads: | Books:

Send e-mail to: turbo@TheDieselPage.com
Copyright © 2018 by The Diesel Page
www.TheDieselPage.com