---
Readers' Rigs
---
This page illustrates some of diesel trucks and SUV's Readers of the Diesel Page own or drive. This month's photos and story come to us from member Patrick Allbritten.
---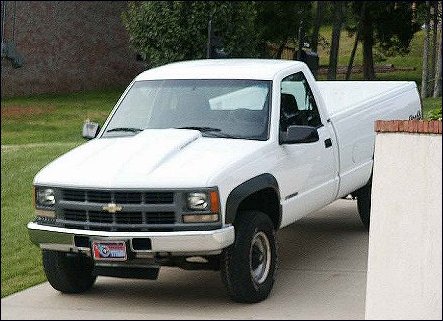 1995 6.5TD Chevy K2500
June 2003
Here are some pics of my 1995 6.5TD Chevy K2500 (C6P - 8600-lb GVW) from yet another proud member of TDP. My name on the forum is Patrick M. I bought this truck a few years ago for a "song". I was not a diesel person at the time, and most people that I knew thought the 6.5 should be avoided. I bought it anyway, thumbing my nose at their opinions. I have always liked the truck, but after applying some of the improvements found on TDP, I love it. I have driven a couple of Ford Powerstrokes, and I dont think they want any of this. Thanks for the "Page", and thanks to all the members who share on the forum.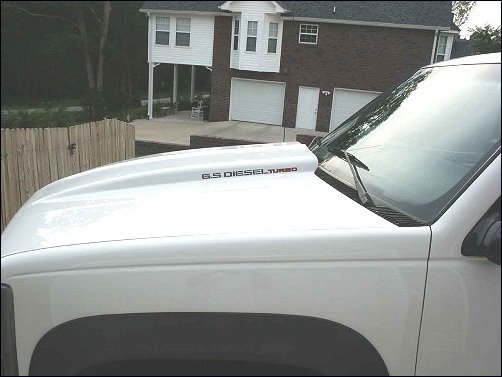 I am part owner of a wrecker service/auto repair facility. I often use my truck for equipment hauls out of town (although some of the equipment we haul is heavy enough for a wrecker). It has always done a good job, but with some loads, the highway over Monteagle mountain showed a need for some power improvements. When I got the truck it had around 135,000 miles and it was pure stock. I have since added a BD chip, built my own 3" exhaust, add the '97-up cooling package (it never had a cooling problem), new timing chain set, intercooler and boost control from Kennedy Diesel. It now has 175,000 miles on it, and handles Monteagle easily with a load.
During one on the last towing trips, I delivered a Massey-Ferguson tractor to a guy just east of Bristol, TN, on the northeast border. I suspect tractor, trailer, and equipment weighed about 4,800lbs, The truck delivered 14.5 mpg on the way up, 16.5 on the way back, quite an improvement from 2 yrs ago when my average fuel economy while running empty was 13-14. It is also my daily driver and i wouldn't take anything for it. While the original FSD module is still on the pump! An FSD cooler and new driver are on my "to do" list, even though I have not had a fuel problem to date.
Thank you for letting me share.
Patrick Allbritten
TDP Member #11252
---
If you would like to see your diesel truck or SUV featured here, please contact The Diesel Page for the details.
---
TheDieselPage.com
What's New: | Feature Articles: | Product Reviews: | Member's Area:
Join Us: | Duramax Diesel Page: | Advertisers: | Classified Ads: | Books:

Send e-mail to: turbo@TheDieselPage.com
Copyright © 2018 by The Diesel Page
www.TheDieselPage.com